Have a Summer of Fun RV Camping at Lake Tahoe!
Thinking of heading to Lake Tahoe for some RV camping? You won't be disappointed. The area is extraordinary during the summer with plenty to do from heart-pounding bike paths to picturesque hiking trails.
The pristine beaches are another highlight at Lake Tahoe with its live music and exceptional sunsets. Speaking of views, you're sure to be blown away by the spectacular sights you'll get to take in of stunning Lake Tahoe and the Sierra Nevadas.
Elevate your RV camping experience
Every getaway deserves restful and convenient accommodation and with RV camping you get to enjoy the outdoors in comfort.
Don't own an RV or don't want to own an RV? That's where RVPlusYou comes into the picture.
All you've got to do is search the available rentals in your preferred location, book your campsite, and pick your preferred RV rental. When you get to the campsite, the owner of the RV will have everything all set up for you. When it's time to leave, just head off and the owner will come by and pick up the RV with no hassle at all.
A few other bonus benefits include:
No driving or towing required
You'll get to camp next to friends/family
You'll be provided with a damage and liability policy with full customer support
You've got everything you need on the RV from a kitchen to a bathroom so you don't have to use the facilities at the campground
All RVs delivered are cleaned and sanitized.
New to renting an RV? Here are some tips for renting an RV to get you started.
Search RV Rentals Available in Your Area
---
Fun things to do around Lake Tahoe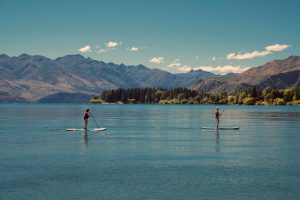 During the summer, the weather's amazing, so exploring the largest alpine lake in North America and its magnificent blue water is a must. Some water activities that you can do around the Lake Tahoe area include:
Paddleboarding. The water is amazing and clear, and you can paddle around all the signature rocks.
Kayaking. Take in Lake Tahoe at a more leisurely pace with a kayak. You can also book a kayaking tour to learn more about the history of the area.
Parasailing. It's an exhilarating experience, and there's nothing quite like taking in Lake Tahoe's gorgeous scenery from the air.
Jet Skiing. Great for families, it's a thrilling way to have some fun as you explore the surrounding area.
Boat rentals. Rent a watercraft and experience Lake Tahoe's mesmerizing waters.
Of course, Lake Tahoe is more than just water activities. Here are some other things you can do in the Lake Tahoe area:
Relax on a sandy beach. There are plenty of beaches around the Lake Tahoe area – just remember to get there early because they're popular!
Go hiking. No better way to take in the Lake Tahoe views with a hike. Some of the more popular trails include Cascade Falls, Eagle Falls, and The Angora Lakes Hike.
Heavenly Mountain. You'll get to take a gondola, and take in incredible views of Lake Tahoe, what more do you need?
With so many fun activities to enjoy at Lake Tahoe, accommodation is the next thing to consider.
Below are our recommendations for some of the best campgrounds around the Lake Tahoe area to get you started.
5 best campgrounds in Lake Tahoe
You've got everything you need at Camp Richardson from stunning views to being a short stroll away from both the beach and the Marina. This is one of the most sought-after campgrounds in Lake Tahoe and with lakefront dining and even an ice cream parlor to cool down from the heat, it's not hard to see why.
Another great campground situated in the heart of South Lake Tahoe, you're within walking distance to parks and beaches. You've also got access to all the amenities you need from barbecues to a golf course and even a recreation and swimming complex.
This award-winning campground is closer to Lake Tahoe's southeast shore. From renting watercraft to heading on a hike, there's plenty to keep you busy. This campground is also relatively close to Nevada so you can also head there for some live entertainment.
Meeks Bay Resort is the perfect spot for adventure or relaxation, you'll have access to a small private beach and a plethora of activities. Head on the Rubicon Trail, catch some fish, or go for a refreshing swim in the lake.
Close to Tahoe City, Silver Creek Campground is near both Lake Tahoe and Squaw Valley. Swim and tube on the river, go on a rafting adventure, and do some fly-fishing on Truckee River. Need to grab some essentials? Just 10-minutes away from the campground are some excellent shopping opportunities.
These campgrounds are all fantastic options, and you're sure to have an enjoyable stay at whichever one you choose. If you're new to reserving a campsite, here are some tips to get you started.
Other things to check out in the Lake Tahoe area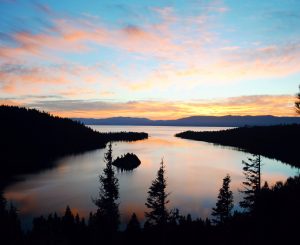 Dining options are also aplenty in the Lake Tahoe area. Here are some recommendations during your getaway.
Jason's Beachside Grille in North Lake Tahoe is a great place, as you'll have a gorgeous view of the lake and live music during the weekends. It's a family-friendly spot that serves up classic American fare from hamburgers to salads and more.
Head to South Lake Tahoe and you've got Toast Tahoe – a family-owned restaurant serving delicious food in a relaxed atmosphere. Most of the ingredients at this restaurant are organic and there are plenty of drinks to pair with your fusion cuisine.
For a legendary restaurant to catch amazing Lake Tahoe sunsets, you'll want to head to the Chart House. There, you'll enjoy an exquisite view with fresh seafood that's sure to tantalize your tastebuds.
For shopping, there are a couple of malls around the lake. They're usually peppered around the area, and there's something different in every mall.
Squaw Valley shopping for example has a grocery along with chocolatiers and even a pet emporium while Tahoe City has numerous boutiques, clothing stores, sports shops, and more.
Your vacation awaits!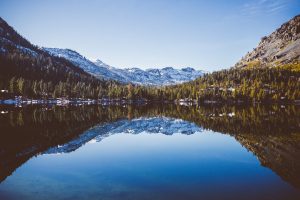 There's so much to do in Lake Tahoe, and there's nothing like enjoying the fresh air while soaking in the beautiful scenery. Start planning your next Lake Tahoe RV camping getaway for an unforgettable vacation.
If you're planning on exploring the rest of the California area, you can also do that with a rented RV. Here are some of the best RV activities that you can do in California for a memorable vacation unlike any other.