An RV camping trip allows you to enjoy the wonders of the great outdoors while still giving you access to the comforts of home. The highlight of renting a delivered RV, rather than having to drive the RV, is that your RV gets delivered to your campsite and set up for you. This allows you to focus all of your energy on reserving an RV campsite, which is a crucial piece of planning for your vacation. There are certain protocols when making a reservation at an RV park or campground that help ensure that you reserve the appropriate campsite for your vacation. Here are some of our top tips for reserving an RV campsite.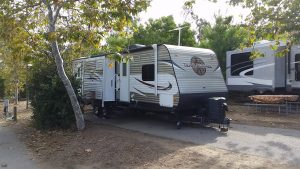 Book your RV campsite ahead of time
First, the earlier you can book your campsite, the better. Booking your campsite ahead of time gives you the best chance of securing the site you want. This is especially true if you are planning on traveling during a busy time or staying at a popular campground. Plus, some parks charge a last-minute fee, which is even more incentive to book ahead of time.
How soon you can reserve your site depends on the campground. Most National and State Parks allow visitors to make reservations six to nine months in advance. Private parks vary on when they let campers reserve sites. In the Florida Keys, for example, parks allow reservations up to one year in advance.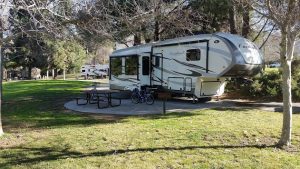 Learn the campsite's reservation policy
Reservation policies are unique to each campsite or RV park. Typically, you have to pay in full when booking at a State or National Park, with some exceptions. Most private campsites require a deposit which may equate to one night's charge.
Also, make sure that you're familiar with the campsite's cancellation policy before booking. Some sites charge hefty cancellation fees, while others are more accommodating to changes in your plans.
Once you've booked your campsite, remember to call and confirm your reservation a few days before your trip.
Finally, make sure you are familiar with the check-in/ check-out procedure before arriving and that you're on time for check-in. Keep in mind that some campgrounds close as early as 5 or 6 pm. Showing up early means that you avoid arriving after the campground closes and having to search for a place to stay overnight.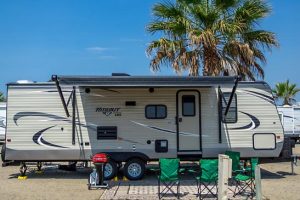 Call to reserve your site
Typically, you can reserve your site online or over the phone. That said, there are some benefits to calling instead of booking online. Talking to someone in person allows you to ask any questions that you may have. It is also important to note that just because it says that there is no availability online, doesn't mean that there is no availability. Calling the campsite and talking to someone over the phone gives you a better chance of securing a spot.
Additionally, calling allows you to arrange for any special accommodations that you might need. For example, all State and National Parks offer handicap sites should you need them. Calling the campsite allows you to request these sites.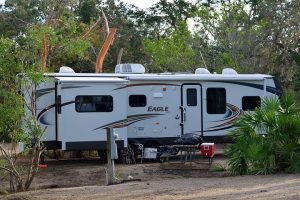 What to do if your campsite doesn't take reservations
It is important to note that some campsites operate on a first-come, first-served basis . If this is the case for your campsite, make sure that you arrive as soon as the sites open so that you have the best chance of securing a spot.
One thing that you can do is to book a sit at nearby campground that doesn't have a cancellation fee as a backup. Show up early to your preferred campsite to see if you get a spot. If not, then you still have a place to stay. If you can get a spot, then cancel the other reservation.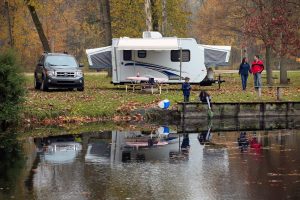 Reserving a campsite at a public RV park vs a private RV park
Public Parks
Public RV parks typically assign campers to a specific site. This allows you to find out the size of your site in order to know if your RV will fit. Remember, however, that although your RV may be the right size to fit in a certain site, tree limbs may prevent your RV from fitting. Make sure to ask about this when you call the park.
Since public parks will assign campsites, you will often see campsites available for one night over a weekend. If you're willing to move, you can sometimes book one-day reservations throughout a busy weekend by simply moving each day to your new campsite.
Private Parks
Private parks typically do not assign specific sites. Instead, they allow you to reserve categories, such as "standard" or "premium." This means that you can't always see the exact site to determine whether or not your RV will fit. It is a good idea to call and ask about the loop or road to the site and if your RV will be able to make the turn.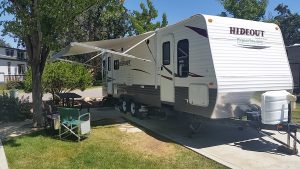 General Tips
Booking is easiest during times that aren't busy, such as the middle of the week and off-season. Peak RV camping season is summer and major holidays. This is when campsites are the most crowded and sites fill up the fastest. If possible, try to plan your vacation for a time when the campground won't have many visitors.
The best way to research a campsite is to look at its website, along with review sites, such as Yelp, TripAdvisor, and Campground Reviews.
Websites like CampgroundViews, allow you to see pictures of the campground before you go on your trip. This allows you to get a feel for the site beforehand to make sure that your expectations are met.
We hope that these tips on how to book an RV campsite help you plan a successful RV camping trip and secure the best campsite for your needs.