One of the most important parts of planning an RV trip is choosing your RV destination. With so many options of where you can stay, this comes down to personal preference. Do you want to stay near the beach? Would you enjoy camping in the woods? Do you want a nearby downtown with shops and restaurants? These are some of the things to consider when deciding where to camp in your RV. Knowing what you want will help you select the best location for your trip.
One of the conveniences of renting an RV is that it is delivered and set up for you. All you have to do is pick your location and show up! Here are some factors to keep in mind when picking your RV vacation destination: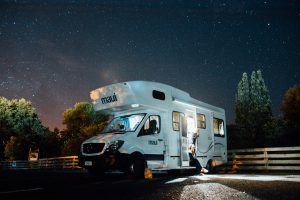 Budget
Decide how much you are willing to spend on your trip. Then figure out how much of this money you are going to allocate to different aspects of your trip. Answering these questions can help you plan your budget:
Are you planning on cooking in your RV, or will you go out for meals?
Are you going to go shopping?
Do you plan on partaking in any activities that cost money?
Once you know how much you want to spend, you can choose a campground or resort that is in your price range.
If you aren't planning on venturing out much, you might want to look into resorts or campgrounds that offer on-site activities and entertainment.
If you're looking to save money, boondocking is one of the least expensive options for RV camping. Choosing to cook your meals in your RV is another way to save some cash. One of the great things about the delivered RV rental service is that it allows you to rent an RV at an affordable price, saving you money that you can put towards other aspects of your trip.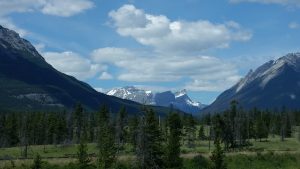 Type of Vacation
The type of vacation you desire effects where you'll want to stay. If you're looking for a peaceful, relaxing getaway, you might want to book a stay at an RV resort. These resorts offer all kinds of luxury amenities, such as pools, on-site activities, and much more. Staying at a resort gives you the option to decide if you want to go out and explore the surrounding areas, or stay on-site and enjoy everything that the resort has to offer.
If you're looking for a rugged camping experience, you might enjoy going off the grid and dry camping in the forest. This type of camping is great for those who want to get in touch with nature.
If you're seeking something in between, there are plenty of campgrounds that offer basic amenities, like bathrooms, showers, and full hook-ups, allowing you to enjoy camping while still remaining comfortable.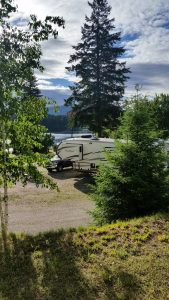 Who You Go With
RV rentals are great for any type of vacation, whether it's a solo camping trip, a family retreat, or a weekend getaway with friends. One of the beauties of delivered RV rentals is that they make it easy for others to join in on the fun. All everyone has to do is drive their own cars to the campsite, where the RV will be set up for you. If there are friends or family members from out of town, they are able to fly to the destination and camp with the group.
Additionally, RVs make it so that people who may not be able to go tent camping, such as elderly grandparents or those with medical complications can experience the fun as well. The RV's features, such as a bedroom, kitchen, and bathroom make it so that everyone can camp in comfort.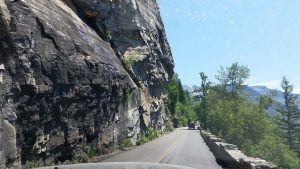 Activities
What you want to do on your trip plays a huge role in the location you choose.
If you are someone who loves water activities, such as surfing, swimming, and boating, you'll want to find someplace near a body of water, like San Diego.
For those who are interested in hiking and exploring the wilderness, state and national parks, such as Yosemite National Park, are great options.
Another important factor to keep in mind is whether you are traveling with kids or pets. If you are, you'll need a site that is pet-friendly and has a playground or some other kid-friendly activities.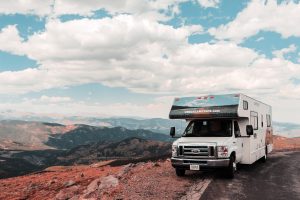 Logistics
It is important to make sure that wherever you go can accommodate your RV. You'll need to know the length of your RV and make sure that the location has spots that are large enough.  You'll also need to make sure that where you're staying has power if you are planning to hook up your RV.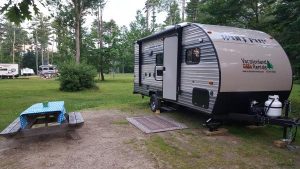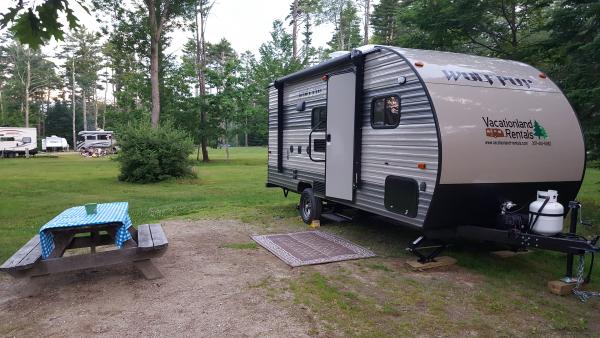 Research
Once you have chosen a destination, read up on that location. Find out all of the amenities and activities that are offered and what kinds of attractions are nearby. Make sure to read reviews to ensure that this place meets your standards.
The destination you choose sets the foundation for your RV vacation. Selecting the right campground sets you up for an exciting and unforgettable trip. Fortunately, with so many different places to choose from, you're sure to find one that meets your needs.