A STEP-BY-STEP GUIDE TO BOOKING YOUR RV RENTAL
FIRST: SIGN UP
The first step to booking an RV rental is signing up with RVPlusYou so that you can easily contact RV owners in the area where you want to rent.

Just click on the Sign Up link at the top of our web page.
Sign up using Facebook, or click on create an account using your email address.
Fill in your name, email address, and password.
Enter the CAPTCHA code and then click Create Account.

Follow the instructions. An activation link will be sent to your email address. Retrieve the email (check your spam) and

click 'Confirm Email Address'. You're in!
Make sure to verify your mobile phone using the text message containing the 6 digit security code
COMPLETE A PROFILE
Logging into your account will take you to your dashboard, the command center for managing your RVPlusYou account.
Click on Profile and enter your information—owners sharing their RVs with you will want to know a little about you!
Be sure to upload a photo of yourself

as this greatly increases your chances that an RV

owner will accept your reservation request. Remember, they are sharing their RV with "a stranger", so make it easy for them to share.
Make sure to enable Text (SMS) Message Notification for instant alerts when RV owners reply to your inquiries.
SECOND: FIND YOUR DESTINATION
Use the Search on our Front Page
Search our RV rental listings. Type your destination in the search bar of our home page.
After you enter a destination, you can shop various RV rentals on the search results page.

Most RV owners will deliver within 60 miles of their listed RV location. Many will charge an 'extra mileage fee' for destinations outside their delivery area. Don't

be shy, ask multiple RV owners for information; questions will help you get "a feel" for which owner and which RV best suits your needs.
Make a Campground Reservation
In most cases,

the renter

is responsible for securing the campsite reservation, which is paid for separately from your RV rental through RVPlusYou.
Your host can give you helpful information about campgrounds in the area and can advise you on first-come, first-serve campsites. Keep in mind many of the more popular parks and campgrounds will book up months in advance, so please plan to reserve your spot early at these destinations.
THIRD: CONTACT THE OWNER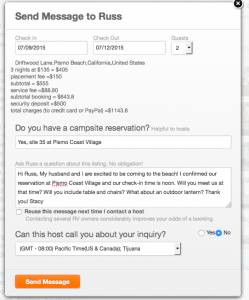 Once you determine your destination,  contact the owner of the RV that will suit your needs!
Make sure to enter the destination so that the delivery fees will calculate accurately.
Review the detailed information the owner has provided, such as photos, amenities, and other details in the description.
If you have questions for the host you'd like to ask before requesting to book, click on 'Contact Host.' Give your desired dates and number of guests. Ask enough questions to feel comfortable about renting from this owner.
Remember, RV owners are doing the same to feel comfortable sharing their RV with you!

Replies will be found in your RVPlusYou dashboard inbox.

Note

: You cannot book until

the RV owner has approved your reservation request

. Your goal is to have more than one option for your trip, so ask many questions from many

suitable RV owners to ensure that you have choices.
LAST: BOOKING AN RV
Contact the RV host and book
When you're ready to submit your reservation request, enter your dates and click on 'Check Availability'.

If you have entered your destination city, you will see an exact quote.

You

will also see a dialogue box open up. This is where you ask questions and provide  your campsite reservation status and any other details about your trip.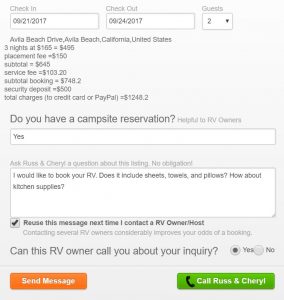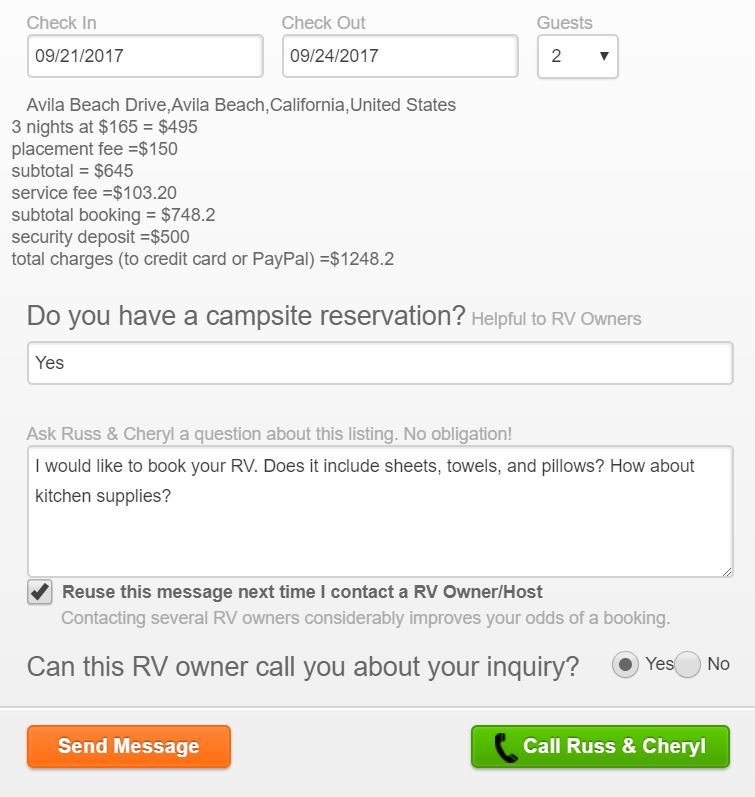 Check your messages
Watch your RVPlusYou dashboard inbox and your text messages for a reply from the owner.

The RV owner must approve your request

before you can check out

and pay for your trip.

If you verified your phone you will

also

get a

text alerting you of the reply in your dashboard inbox.
Book and Pay
Once the owner has sent you a quote, or accepted your reservation request, check your inbox to find the message from the acceptance message from the RV owner.
Click on  the green  'Book It' button. Once you click 'book it' your rental will then be put into your shopping cart and you can follow the prompts to enter your credit card, pay, and reserve your rental.
Click your name at the top of the page to find the link that goes directly to your shopping cart.
Follow the online instructions to enter your credit card and make your payment and complete the transaction, then click to agree to the terms, and finally, click on 'Check Out'.
For detailed information about payment options, check out our Payment Policy.
AFTER YOUR BOOKED
Settle on Details
When your payment is received, you will receive a booking confirmation in your RVPlusYou inbox as well as via text and

email.
Make sure to communicate. The contact information for your host will automatically be available after your RV is booked.
You can find contact information in the 'Your Trips' section of your dashboard. It's also available in the black bar above your conversation in your Inbox.

We suggest you communicate with your host to finalize

the details of your trip, such as arrival and departure time, campsite number, location of keys, check-out procedure, amenities included, whether you will be dry camping or using hook-ups, etc.
Prepare for your Trip
When it comes to camping, following the scout motto "be prepared" always makes for a more enjoyable experience.
Request a clear list of what will be included in the RV from your host.
Use our RV Renter Checklist as a guide for what you may want to bring.
Be sure your host provides instructions on how to operate systems in the RV, such as appliances, AC/heat, generator (if applicable), etc.
Have Fun!
Camping in the great outdoors is one of life's great pleasures! Make yourself at home in your RV rental; treat it with care as you would your own. Explore the surrounding area—your host may have some recommendations for things to see and do. At the end of your stay, please be sure to write a review of your experience so other campers can know what to expect.
Still have questions? See our FAQs