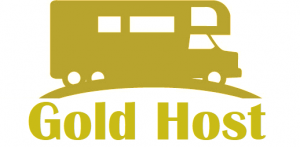 RVPlusYou's Gold Host program allows RV owners who list their RV for rent on the platform a way to distinguish themselves from other RV owners. Most RV's are listed at rates that are very close to each other for similar features and quality. All things being equal, the Gold Host has an advantage over other RV owners listed in the same delivery area.
Gold hosts are identified by the gold RV medallion in their profile. This helps renters know that they are dealing with a reputable owner who has satisfied other RV renters in the past. RVPlusYou makes sure that both parties get what they expect, but the RVPlusYou Gold Host make sure that the rental experience will be top notch as well.
Only those hosts who have met the requirements and go above and beyond for their guests will be listed as Gold Hosts, but this doesn't mean that other RV owners are not worthy of consideration, it just means that they are either  new and haven't qualified yet, or that they don't handle as many rentals as the Gold Hosts.
What are the benefits to being a Gold Host on RVPlusYou?
A stand-out Gold RV Medallion is placed on your profile to help renters identify confirmed Gold Hosts

The "Click to Call" feature is activated. What does this mean?

Renters can call you toll free with one click of a button

Phone calls from you to to renters who make inquiries are allowed before the booking.

Gold Hosts are also allowed to receive phone calls from renters before the booking.

Better placement in search results, and higher rankings.

Higher overall booking conversion rates
What are the requirements to become an RVPlusYou Gold Host?
Gold Hosts must meet the regular RV owner requirements:
Must be email verified
Must be phone verified
Adheres to all T&C's
In addition, Gold Hosts must also meet the following requirements.
At least two confirmed bookings through the RVPlusYou platform
At least two positive reviews from renters
Connected to RVPY on at least one social platform
Reaction to rental requests under 24 hours average
Must have a confirmed profile photo of themselves and/or family
Listing meets quality standards: Photos, description, amenities, etc.