As much as we love vacations, they can be quite expensive. That said, there are ways to save money on your next RV vacation. Whether you own an RV or are booking a delivered RV rental, you have many options for cutting costs on your trip. Here are our top tips for saving money on your next RV vacation:
For RV Owners: Rent your RV when you're not using it.
If you own an RV, renting it out when you're not using it is a great way to generate some extra income. Then,  you can put that money towards your next vacation.
Check out the RVPlusYou website for more information about how to rent out your RV.
---
Search for the best gas prices.
Any RV owner can tell you that RVs use a lot of gas. Filling up can easily eat up a large portion of your travel budget. This is why you'll benefit from scouting out the area you're staying in for the least expensive gas. You can  even download apps, like GasBuddy and Gas Guru, that will help you find the best gas prices in your area. It may seem like a hassle to drive further to fill up, but it is worth it in the long run.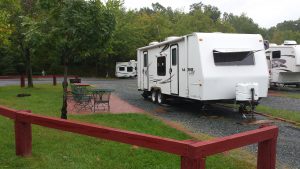 For RV Renters: Consider a delivered RV rental.
If you don't own an RV, renting an RV is a great way to take an affordable vacation. With a delivered RV rental, you get an RV delivered to your location of choice and set up for you. This means that you avoid the hassles of towing or driving and you save money on expensive hotel rooms. Plus, since the RV is delivered to your campsite, don't have to worry about filling up. This saves you even more cash. All of these pros make booking an RV rental an excellent option for a fun and reasonably priced trip.
---
Cook your meals in your RV.
Since one of the benefits of staying in an RV is having a kitchen, why not put it to use? Planning to cook in your RV means that you save money on dining out. Just make sure to do your grocery shopping ahead of time and have some easy recipes on hand so you're not scrambling at the last minute to get dinner ready.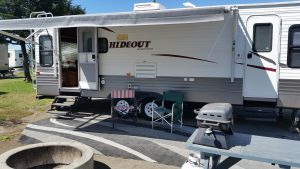 Plan your trips during offseason.
Peak RV camping season is summer and major holidays. These are the most popular times of the year to travel and are also the most expensive. If your schedule permits it, consider planning your vacation for a time when your destination is less crowded and prices are lower.
Book your campsite early.
You always want to book your campsite early to get the best deal. The longer you wait, the more prices will go up. Some campsites even charge a late fee. Booking ahead of time allows you to avoid these extra expenses.
Come prepared with camp supplies.
Pack supplies, such as sunscreen, water, firewood, and snacks, so you don't have to buy them at high priced camp stores.
Look for less expensive places to stay.
More popular destinations are going to cost more money. That said, there are lots of great affordable RV campsites. If you're not set on staying at the most popular campground, research some alternatives that better suit your budget.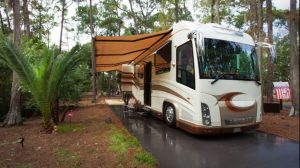 Consider boondocking.
Boondocking means camping outside of a designated campground without any hookups. These sites are typically very inexpensive, and some locations allow you to park your RV for free. One of the benefits of boondocking is that you avoid having to pay for a site at an RV campground or park. While this is a more rugged RVing experience, boondocking is a lot of fun and allows you to connect with nature.
Learn how to do basic repairs.
As all seasoned RVers are aware of, preventative action is the best way to avoid an RV malfunction. Learning how to maintenance your RV will save you money on expensive repairs down the road.
Don't let financial worries get in the way of your vacation. It is possible to take an RV trip without breaking the bank. You can use all of these tips to help plan a fun and affordable RV camping trip.