Part of planning a vacation is choosing between different vacation accommodation options.  This article will break down the pros and cons of RV rentals, hotel rooms, and tent camping. Hopefully, this comparison will help you pick the best vacation accommodation for your trip.
Rent an RV vs. Own an RV
Here are some things to consider if you are debating between renting an RV or owning an RV.
Rent an RV Pros
You have to use an RV often to make it worth the cost. Renting an RV makes the most sense if you are only planning on taking a few camping trips a year.
With a delivered RV rental, your RV gets delivered to your campground and set up for you. You are just responsible for reserving your campsite and showing up. This means you don't have to worry about setting up or driving/towing the RV. Showing up to a delivered RV rental also allows you the benefit of having a car so that you can explore the local area.
Another benefit that comes with renting an RV is that you don't have to worry about the cost of RV maintenance and repairs. You also save money because you don't have to fill up the RV.
You can take an RV camping trip anywhere in the country without having to drive or tow the RV there. If you want to take a camping trip to a location far from home, just find an RV in that area and then fly in. RVPlusYou has RV rentals in many locations for you to choose from.
If you're considering purchasing an RV, renting one is a great way to get a feel for RVing to see how you like it.

Own an RV
Buying an RV makes sense if you plan on taking it out often. If you are going to pay for the expenses of owning an RV, you want to make sure that you are using it often enough to make it worth the cost.
If you own your RV, you can make some extra money by renting it out on RVPlusYou. Renting out your RV when you're not using it is a great way to generate some extra income.
Owning an RV means that you can take it out whenever you want. With an RV rental, you have to plan your trip within the time that the rental is available.
---
Delivered RV Rental vs. Drive or Tow RV Rental
Choosing between a delivered RV rental or a drive/tow RV rental comes down to personal preference. The best type of RV rental depends on what kind of vacation you want to take.
Delivered RV Rental
A delivered RV rental works well when you want to take a camping trip in one location. You get your RV delivered to your campground or RV park of choice. All you have to do is reserve your campsite and show up.
There is no stress about set-up and take-down.
You don't have to drive or tow the RV.
Driving to the campground means that you'll have your car with you to explore the local sites.
---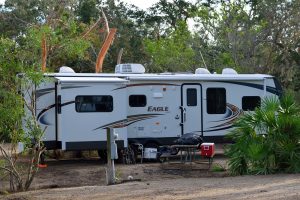 Drive or Tow RV Rental Pros
Drive or tow RV rentals are best if you want to take a long road trip. One of the benefits of this type of RV rental is that you get to experience camping in many different locations on one trip. For example, if you want to take a road trip across the US, a drive or tow RV rental allows you to do that.
This type of RV rental is best for someone with some experience driving or towing an RV.
Since RVs are self-contained, you have everything you need for a successful road trip.
RV Rental vs Hotel Room
RV Pros
An RV rental is more affordable than a hotel room.
RVs offer a variety of amenities, including beds, a bathroom, a living area, and a kitchen. This means that you get to camp in comfort and with plenty of living space.
RVs offer a ton of storage space that hotel rooms do not. This is especially useful if you're traveling with a large party or with children. Hotel rooms, on the other hand, have far less space and less privacy.
RVs allow you to surround yourself in nature while still providing you with the comfort of home.
Cooking in your RV means that you save money on food.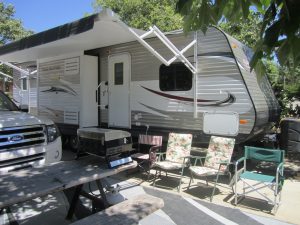 Hotel Room Pros
Hotel rooms have turndown service. In an RV, you have to do all of the cleaning yourself.
Campers run the risking of confronting technical and maintenance problems when dealing with an RV. This is not a concern when staying in a hotel.
Staying in a hotel room is better for those who don't want to spend the night at a campground. Although RV camping offers luxury amenities, you are still sleeping in a more rugged environment.
RV vs Tent
There are pros and cons to both RV camping and tent camping.
RV Pros
Tents require you to pack a lot of equipment. And if you forget anything, like a pole for your tent, you're in big trouble.
RVs have the comfort of a bedroom, bathroom, and kitchen.
An RV gives you a place to wash your dishes, unlike a tent.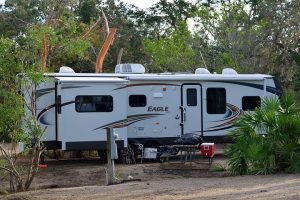 Tent Pros
A tent allows you to feel closer to nature.
Staying in a tent means you don't have to spend money on filling up an RV.
Tent camping can be less expensive than RV camping. This, of course, depends on how expensive a tent you buy and how much equipment you buy for your trip. If you are looking for an affordable vacation, purchasing a simple tent with minimal additional equipment will not cost you much.
Hopefully, this article helps you differentiate between each different vacation accommodation. Overall, your preferences and your desired type of vacation determine which of vacation accommodation is best for you.