Should I rent an RV or buy an RV? Should I rent an RV before I buy an RV?
These are great questions that many people are asking themselves every day. Buying an RV is a big investment, and making a smart purchase requires a lot of research. You do not want to make a mistake in a decision this big. If you do, not only have you lost a lot of money but now you have to deal with the hassle of what to do with the RV. Either the RV sits in storage or your driveway, unused and taking up space, or you have to put in the effort to sell it. Decisions such as these can result in a waste of your time, energy, and/or money. Since this is such an important decision, not only should you research buying an RV, but we recommend doing a trial run by renting a delivered RV.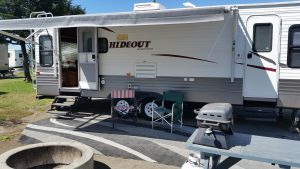 Think of an RV rental as a test run for owning an RV. Just as you would test-drive a car before buying it, you should rent an RV before purchasing one.
What type of RV will be right for your family? Will I fit in that "RV Bed"? How does the water pump work? Will the air conditioner work with the generator or do you need shore power? What is shore power anyway?
The questions you don't know to ask can be discovered while you're enjoying your weekend trial.
The benefits of renting an RV before buying:
You can try out different types of RVs.
The most important part of buying an RV is making sure that you buy the right RV. The best way to find out what you are looking for in an RV is to spend time in one. Renting different RVs with different features can tell you what you want in your RV. At an RV dealership, you only get to spend a few minutes inside the RV. Renting gives you first-hand experience with living, cooking, and sleeping in an RV. This is the best way to determine if RV life is for you.
You get to find out what features you want.
There are many different makes and models of RVs. RVs can come with anything from the basic amenities to a ton of luxury features. An RV rental allows you to see what features you like as well as what features you don't need. If you do decide to buy an RV, this knowledge will help ensure that you buy an RV that only includes features that you want and will use. Spending time in an RV makes you an informed consumer who won't waste money on anything you don't want or need.
In addition to different features, RVs also have a variety of layouts. Testing out different RVs will help you see which layout works best for you.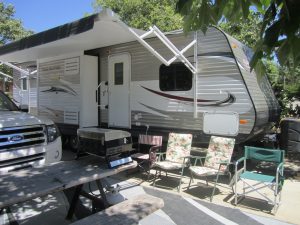 You get to feel comfortable with how an RV works.
There is a learning curve when it comes to operating an RV. Spending a few days in an RV is the best way to get comfortable with how an RV functions. Renting gives you practice so you can learn more about RVing.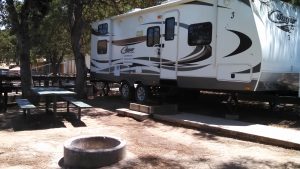 The RV owner is a valuable resource.
Another benefit of renting an RV is that you can talk to the owner about what it's like to own an RV.  This can prove extremely helpful as you research buying an RV. There is no better source of information than someone with expert knowledge.
---
An RV rental is a great way to see how you feel about RV life. Taking a trial run in an RV rental makes it more likely that you will feel confident if you decide to purchase an RV.