Why a Delivered RV Rental?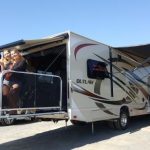 Renting out your RV, motorhome, or travel trailer is a profitable side business to generate substantial extra income. It's possible to completely pay for your RV within 2 years from rental income alone!
There are two main factors that keep most RV owners from renting out their RVs:
Damage – 90% of RV owners do not rent out their RVs due to the fear of potential damage. If you let a renter drive or tow your RV, then that creates the potential for damage.
Excessive mileage – Motorhomes are especially susceptible to depreciation due to excess mileage. The market for used RVs is robust, but buyers pay attention to high-mileage vehicles and demand steep discounts on motorhomes with a lot of miles.
As RV owners ourselves, we had the same concerns. This is why we developed RVPlusYou.com, a safe, turn-key RV rental system designed to connect potential RV renters with RV. We do this in a manner that allows owners to earn a substantial income, yet protects against damage and excess miles. The difference between us and other online RV rental companies is that instead of handing the keys of your RV over to the renter, you as the owner keeps control:
How it works:
The RV renter rents your RV for a daily fee plus a delivery and set-up fee.
You deliver your RV to the renter's chosen camping destination. The renter is never required to drive or tow!
You set up the unit on site. This creates less chance for damage.
The renter drives their car to the campsite and enjoys RV Camping in a whole new way.
You (or your driver) pick it up after check-out and return it home.
After check-out, RVPlusYou returns the security deposit to the renter and sends your portion of the rental fees to your account.
Deliveries are arranged based upon where you are willing to delivery. You can set your delivery radius, type of venue, campground, or event that you are willing to deliver to. You can also charge for extra miles beyond this area.  As the owner, you set the rules and control your RV usage. You rent to whom you like when you like, and only you get to determine how much you charge.
What does it cost?
It's free to list your RV on our website! RVPlusYou charges a nominal 3% Host Fee to you, the RV owner. Renters are charged a Service Fee of 8% to 17% when they book. This Service Fee (Booking Service Charge) covers the cost of running the website: advertising, damage policy, marketing, software, and other costs of operations.
RVPlusYou provides online customer support via a toll-free number, email, and chat to renters. We also include a Rental Protection Plan when booking through RVPlusYou during the guests' stay: $5,000 in damage and $300,000 in liability.
Partnering with RVPlusYou – What it means
Because RVPlusYou provides all of these benefits and features, at effectively no cost to you, our only request is that you do not try to self-promote your website or email to book direct. This defeats the purpose of our mission: to help you book more delivered RV rentals. The stronger we are, the more benefits we can provide our members!
---
Allow RV renters to enjoy the outdoors without having to worry about them crashing and destroying your RV. All of this allows you to earn extra income renting out your RV while filling a real need in the outdoor RV camping market.