---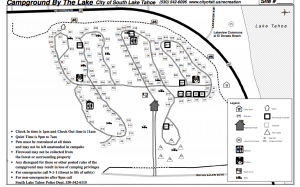 Campground by the Lake is situated in the heart of South Lake Tahoe. It's a gorgeous campground facility that's within walking distance to some of the area's most popular parks and beaches.
If you're planning a trip to Campground by the Lake, there's nothing more convenient than an RV rental. Your RV will be all hooked up and ready for you by the time you arrive. When it's time to leave, the owner will come by and collect it – no trouble at all!
Amenities
At the campgrounds, you'll have access to heated showers, restroom facilities, barbecues, and fire rings along with picnic tables.
There are also plenty of recreational amenities available within the campgrounds, from a recreation and swimming complex to a playground, ice arena, golf course, and even a historical museum.
Attractions
There's plenty to do near the campgrounds from hiking trails to bike trails. Within walking distance from the campground is also a beach where you can rent non-motorized watercraft.
Since the campgrounds are situated in such a convenient location, just a short distance away is plenty of cafes and sandwich shops. You can also rent recreational equipment from paddleboards to kayaks and more.
If you would like an RV rental delivered to your campsite, simply click the button to search RV rental options.
Campground by the Lake
1150 Rufus Allen Blvd
South Lake Tahoe, CA 96150 
For more information:
Call: (530)-542-6096