Towing capacity is a critical factor in determining what size travel trailer you should rent or buy
If you want to use your existing vehicle to tow a travel trailer long distances and be comfortable not only spending the weekend on a camping trip, but perhaps living in the trailer and also towing it, then spend a lot of time researching towing capacity. Many small SUV's and light trucks are not great at towing and are going to limit what you can tow. Be aware!
Limiting factors are brakes, engine (power), transmission, radiator, and suspension.
Brakes -Stopping or slowing is an issue all the time, but when you're going down a 7% grade for more than a mile, it's a really big issue. The right brake controller with the correct settings and working trailer brakes are critical. Overheated brakes fail completely, and the interstate isn't where you want that to occur. Brakes that are not designed for towing could potentially lead to a major issue.
Engine – Having enough power isn't so you can race up the grade. Power capacity relates to how hard an engine must work to move. Towing up hills, in heat, or just across town with starts and stops puts enormous pressure on your power train. Under-powered engines will fail sooner rather than later.
Transmission – If you're under-powered or your transmission isn't designed for towing, you put more strain on your transmission when towing. If your transmission doesn't have an adequate transmission cooler, it will overheat and fail when you put it under load.
Radiator – Cooling the engine and transmission is an issue all the time, but especially going up grades. If you're radiator is not designed for towing, then over-heating is an issue. There are after market radiators and kits that can help, but do your research.
Suspension –  Low riders are cool, but not when towing. Suspension is something to consider when adding weight to your hitch. Your vehicle will not react the same, steer the same, or take bumps and corners the same. It's absolutely dangerous to put more weight on your rear bumper than the vehicle can handle. Airbags might be something to consider, new shocks or different coils can help, but weight distribution hitches and anti-sway are a must in most cases with all tow vehicles. If you're not designed to tow, don't tow.
Here is a good article on travel trailers under 2,000 lbs., which is what you should shoot for. A good goal is to tow 80% or less of your vehicle's towing capacity. This will help keep you out of trouble.
---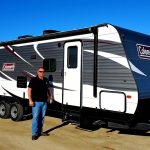 Many people don't realize that they don't have to drive or tow an RV rental to go RV camping. We are looking for experienced RV owners willing to share their rig, deliver, set up, and pick up.
Have a truck and trailer? Want to earn extra income with your rig? Consider a side gig with RVPlusYou!