With seven distinct geographical regions and an enviable collection of world-famous historic attractions, Texas is an ideal destination for keen RVers. Top-rated campsites, such as the San Antonio KOA near the Alamo and the Lakeview RV Resort near the Houston Space Center, mean you'll find a warm welcome in the Lone Star State.
---
However, a common problem when RVing is carrying too much weight. Too much weight can make your RV dangerous to handle, add excessive wear and tear to your RV, and dramatically increase your gas consumption. Clutter can also leave your RV interior looking untidy and make it difficult to find what you need when you need it. For that reason, it's a good idea to pack lightly for your RV adventures.
Balance
The trick is to find a good balance. One of the great advantages of RVing, when compared to staying in a hotel or camping in a tent, is that you can take along much more. You can pack a larger range of clothes, more sporting equipment, and all you need to cook delicious home-cooked meals. This makes it tempting to carry everything you can squeeze into your RV's cupboards and wardrobes. You need to control that urge to hoard.
Preparation
It's a pain, but there's one trick that's guaranteed to decrease your RV's weight without compromising what you need to take with you on your vacation. Before you begin packing for your RVing adventure in Texas, completely empty your RV.
Over the years, you tend to accumulate a lot of handy gadgets to use in your RV as well as cutlery and crockery for camping. If you don't keep an eye on things, you'll soon find yourself driving around with at least a hundred items you haven't used in years and are unlikely to use during your visit to Texas' beautiful Hill Country.
Make a list of everything you really need to take to Texas and only load those items into your clean and empty RV. Cross each item off your list as you pack it away to avoid leaving anything behind or duplication.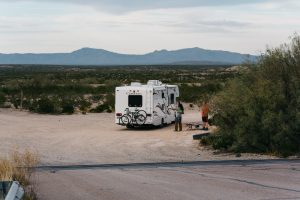 Don't pack stuff you can buy along the way
For longer RV adventures around Texas, it's tempting to purchase and pack all the shampoo, soap, deodorant, and toothpaste your whole family will use for the next 3 months. Why? You can purchase anything you need in Texas. People often buy a new tube of toothpaste for their vacation, so just buy it when you get there.
The same rule applies to food, bug spray, alcohol, and anything else you might need to enjoy your camping adventure in Texas. You certainly shouldn't pack too much food as you're likely to be tempted by the opportunity to eat genuine Tex-Mex cuisine in many places and may not consume as much of the packed food as you expect. The best plan is to pack a few snacks for the initial journey and then hit a grocery store in Texas before you cook your first meal there.
A sensible wardrobe
It's tempting to crush every item of clothing you own into your RV, but in truth, your RV doesn't have the wardrobe space you have in the bedrooms of your home. If you've got a large family, then space will be at a premium. You've got to pack smart.
First, think about what you plan to do on your vacation. If you're going to kayak on the Rio Grande in Albuquerque or hike along the South Rim Trail at Big Bend National Park, you'll need suitable clothes for those activities.
When making your essential clothing list, ensure that every item you pack is compatible with 2 or 3 other items. Choose clothes that wear well and don't stain easily. Don't take along the prom dress you haven't worn in 20 years in the hope that you'll find some excuse to wear it during a romantic evening meal in San Antonio.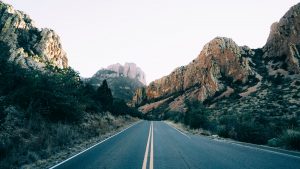 In the kitchen
Cooking in your own kitchen is one of the great advantages of RVing over any other kind of vacation accommodations. Over the years, you tend to find yourself collecting lots of handy gadgets or specialized pots for different kinds of cooking.
First, get back to basics. You only need a couple of pots, a pan, and a baking sheet for most of your cooking. Don't bring along that special Chinese dumpling steamer unless you really expect to use it during your current trip.
Second, plan out your journey. Think ahead about what meals you want to cook during your journey through Texas and make a list of the equipment you'll need to cook those dishes. If that super-duper garlic press isn't on your list, you don't need it.
More permanent actions
You can greatly decrease the weight of your RV by making a series of alterations. Doors inside your RV can be replaced by privacy curtains that weigh much less. Heavy shelving and drawers can be replaced by plastic boxes and wicker baskets.
Some RVers have even replaced their traditional RV toilet with a composting toilet. This means a lot less liquid waste in your black tank. You can even remove the black tank completely if you wish, and this will leave your RV a lot lighter.
Some RVs have exterior fittings, such as satellite dishes and roof racks, that are old or unused. If you're not using it, remove it. If you need it but it's old, consider replacing it with a newer, more lightweight model. The same goes for essential pieces of equipment, such as a generator and surge protector for your electrical devices. Newer products won't only be more efficient, they'll often be much lighter, too.
If you do decide to remove doors, drawers, your black tank, and other items, it's a good idea to put them into storage for future use. When it comes time to resell your RV, you may want to refit the original fittings so your RV looks just like it did when it came off the factory floor.