Part Two of our interview with RV business owner Erik Abbott addresses the logistics of the RV rental business.
The RV Rental Business Opportunity
RVPlusYou offers a unique opportunity to business-minded RV owners. Whether you are in a position to manage your own rentals, or you would like to engage an RV Vacation Rental Manager, we can help you with our turn-key system for 'Delivered RV Rentals,' the safer way to earn income on your idle asset.
We have two options to accommodate your goals:
RV Rental Consignment – Split nightly rental income with a manager who will handle all aspects of the rental process for your RV.
RV Rental Manager – We have franchise opportunities for RV owners, or those entrepreneurs interested in a start-up business.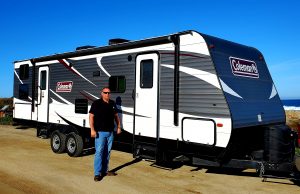 Customers and the future:
Some veteran RV owners like the concept of delivered RV rentals and offsetting the costs of ownership. But other RV owners don't like the idea of strangers using their bed or their "stuff". How do you feel about this sentiment? 
When I first began, it took me until after the first rental to get comfortable with strangers using my RV. My wife and I have a complete "rental" set of linens, kitchenware, cleaning supplies, paper products, etc. Everything is always well maintained, expertly cleaned, and held to the highest standard of cleanliness.
Why should a renter choose a delivered RV rental over a hotel?
Honestly, my wife wouldn't have it any other way! Staying in an RV versus a hotel is a unique experience. Many of our customers enjoy the ambiance of the outdoors, building wonderful memories with their children, and breaking free from the exorbitant fees associated with hotel stays. Having your accommodations delivered to your specific location makes the customer's experience even more special, giving clients the opportunity to choose from some of the most beautiful settings our area has to offer.
Given that 'millennials' prefer to rent, rather than own, do you see the demand for RV rentals continuing to grow? What about baby boomers and demand from this aging market segment?
I have already seen in the past 3 years a tremendous increase in the RV market in our area alone. From rentals to purchases, more younger families, as well as retirees, are  taking advantage of what an RV can offer and the extraordinary places they can afford to go.
Not every RV owner has time to get involved in the peer to peer RV rental business. What advice would you give those who would like to earn extra income but don't want to do the work?
I would ask them to consider utilizing our services. We provide complete assistance with booking, delivery, set up, tear down, managing direct contact with renters, and cleaning. We are familiar with the local RV parks and speak to potential renters to ensure that the rig will be a good fit. We want every renter's/owner's experience to be a positive one and to maintain the great client record we have achieved.
Do you see this business as a way to offset the cost of the RV lifestyle? Or is this a business that you plan to expand and grow? 
We see ourselves growing this business to its maximum potential. We have embraced the RV lifestyle and feel so fortunate we can incorporate it in our lives. Our options for growth are to expand our owner pool and provide them with peace of mind when renting out their RVs. Reaching out to fellow owners who don't necessarily want to do the work themselves but would like to start generating extra income is our future client base.
Any other closing thoughts on the industry, RV'ing, or renting an RV?
Please contact Erik Abbott at (928) 846-9137 or Erik@montereybayrvrentals.com with any questions about our rentals or having us manage your RV to rent out in The Monterey Bay area.