In this two-part interview, we speak to an RV owner who listed his RV on RVPlusYou, and we explore where the
inspiration to earn some extra income and share his RV came from, how it all works, and what it took
to launch.

Interview with Erik Abbott of Monterey, California
Background:
Can you tell our readers about your first camping memories and what made that experience so impactful?
One of my very first camping experiences was with my father when I was young. We had no accommodations and slept in the back of a pickup. I fell in love with the outdoors at that moment and knew this was something I would always remember. Since that time, I enjoy camping with my own family using our RV's with additional comfort and amenities. Our daughter loves to camp with us, whether it be right here along the Monterey coast or one of our many trips along the Oregon and Washington coastline.
When did you first introduce your family to camping and what was their response?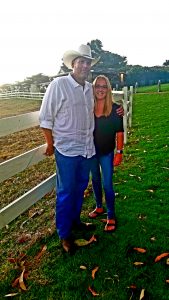 My first experience of camping with a trailer was that of myself and my wife taking our small Winnebago out into the Arizona desert landscape. We thoroughly enjoyed the solitude, the beauty, and the feeling of being closer to nature in general. It was then that we both fell in love with using a travel trailer to extend our camping experience and provide the extra comfort we desired.
When did you first share (rent out) your RV and how did you decide to begin your RV rental business?
We first rented out our RV 3 years ago after my wife came across RVPlusYou. I must admit, I was not sold on having strangers use our rig, but after the first booking, I was hooked. We have always been very thorough regarding our clientele, and because of this, I feel we have always had a tremendous amount of success. Since our first rental, we have maintained 5-star reviews and have had repeat customers. We form a rapport with our clients and give them extra attention to detail as well as the support they require. We have now grown with additional RVs to our fleet and look forward to expanding so that we can assist customers with a unique, "concierge" RV experience in and around the Monterey Bay area.
How and why it works:
What do you like about RVPlusYou's 'delivered RV rental' platform?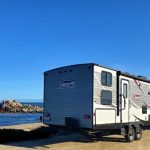 RVPlusYou has been by far the best platform for our RV rental business, providing immediate responses to any questions we may have, and a streamlined process with booking ability, billing, and reimbursement. Russ has been a great source of information and has always responded to our inquiries immediately. We don't feel "lost in the mix" with RVPlusYou, being given the personal attention they have provided us. The delivery aspect has been a very positive part of our experience.  Our trailer is safely parked and set up by us so we can maintain its integrity and closely monitor any issues that may arise.
Does the revenue from RV rentals cover expenses? How much can an RV owner expect to make, on average per rental? Are you able to write off expenses?
The revenue more than covers our RV expenses and has provided us with a generous profit as well. On average, I would say an owner can expect anywhere from $500 to $1500 a booking depending on the length of the booking and asking price. Expenses can be written off if necessary, although our expenses have been very minimal.
How important a factor was the low 3% owner fee when you listed with RVPlusYou? What other factors lead you to RVPlusYou and how do you compare those factors with other platforms?
The 3% owner fee was a real draw for us to use the RVPlusYou platform. It was certainly the lowest fee we have come across for the amount of support and marketing the platform provides. RVPlusYou has proven to market their site well, giving us the opportunity to increase our overall bookings substantially.
Would you recommend this 'side gig' to other RV owners? What advice would you give them on how to buy, own, and sell an RV?
I would highly recommend renting your RV out as a way to generate extra income and meet some amazing people. When looking at purchasing an RV, many of our clients are those looking at different types of RVs and wanting to "test" out an RV before purchasing.
How has your business evolved, and do you think RV rental consignments are a good way to grow your business?
Our business started 3 years ago as a small side "gig" to earn a few extra dollars and has now evolved into managing multiple rigs for our owners and giving them the peace of mind that their RV is being well taken care of. We are continuing to expand and look forward to managing future client's RVs with our complete delivery, set up, break down, and cleaning of their rigs while owners relax and benefit from a stress-free transaction.
Click here to read part two of this interview!