How to Practice Social Distancing, be Responsible, yet Still Have Fun!
At this moment, coronavirus is in the news every day. Health officials advise shelter in place, isolation, self-quarantine, and work from home. But can this be sustained? How will these safety precautions impact our mental well-being?
Getting outside is key to preserving our mental health during isolation.
RV camping may be one of the best ways a family can comply with CDC guidelines while still maintaining sanity and health. After all, who can stay inside for more than 14 days with a house full of screaming kids, especially when the candy runs out? Video games and movie streaming can only get you so far, which is why getting outside in an RV may be the key to getting through this pandemic.
RVPlusYou provides a peer to peer platform for delivered RV rentals by owner. This means that a novice renter can engage an RV owner, rent their RV, and have it delivered to a campground or RV park. No driving or towing is required, and RVPlusYou will expedite as well as provide a damage and liability policy with full customer support.
Novice renters can enjoy the outdoors in comfort while still practicing social distancing. Families simply show up and start camping in a clean, sanitized RV ready and waiting. The RV owner handles set up and pick up.  On check out day, the renters load their car and leave the RV where it is. Try this beginner's guide to RV travel for detailed information about RV camping.
---
How does one rent a delivered RV?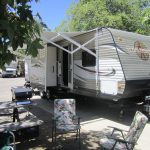 Most people don't own an RV, don't want to own an RV, have no room for an RV, and don't know how to tow or drive an RV. These extraordinary circumstances require a creative approach to help those struggling, such as nerve-wracked parents and isolated seniors, find a way to make it through. We believe that RV camping is the solution that will allow people to stay healthy and safe while maintaining their mental well-being.
RVPlusYou makes this easy. Simply search available rentals in your desired location, book your campsite, then book one of our thousands of delivered RV rentals and drive your car to the destination. It's that easy.
Is RV camping socially responsible during this pandemic?
We all have a responsibility to assist our fellow citizens during this crazy time. It is up to every individual to respect the protocols of social distancing, avoiding gatherings of more than 10 people, hand washing, self-quarantine, and other measures. The elderly and medically fragile are most vulnerable, which is why self-quarantine and shelter-in-place orders are critical. The nice thing about camping in an RV is that you may be able to practice all of these socially responsible actions yet still have fun with your family or spend time alone in nature.
What activities are available while RV camping?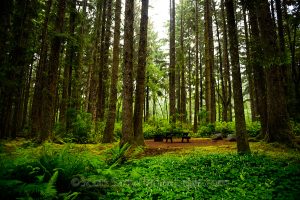 Outside activities, quiet, fresh air, and connecting with nature are the main draws of RV camping. An RV allows you to get away, yet remain comfortable. You have your own bed, kitchen, bathroom, shower, TV, and other amenities. Often times, RV owners share their camping gear, such as chairs, BBQ, patio mat, and other items, for you to enjoy. But what is safe to do while camping? The following activities are options for things you can do  while practicing the guidelines set forth by the CDC:
Reading, prayer, meditation, writing, exercise, and being alone with nature
Biking, skateboarding, and related activities
Walking, hiking, and running. There is no better place to get outside than our national, state, and regional parks. Some park activities and tours may be closed, but most campgrounds remain open.
Boating, fishing, swimming – Again, some of these rental activities may be limited.
ATV's and other off-road activities
Campfires, games, picnicking, flying kites
Time to consider RVing?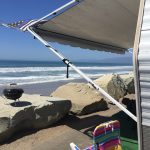 RV Camping is still relatively foreign to most people in North America.  To most, RVing remains unknown or implies long trips on the open road in a big box. For many RV camping feels out of reach because RVs are expensive and driving or towing is inconceivable. Our mission is to match the 10 million RVs sitting in storage with novice renters at an affordable price, and without the need for driving or towing.
Our hope is that we can help match RV owners willing to share their RVs to help offset the cost of owing, with novice renters who want to experience the outdoors during these trying times and beyond. To that end, we've partnered with RV Education 101 to provide free online RV training for novice owners who recently purchased, novice renters who want to know how the components of an RV work, or RV rental companies who want to prepare their renter for their camping experience. Apply for your free training scholarship here…
Final thoughts on safety precautions while camping during the coronavirus pandemic
While getting outside for sanity and exercise can be just the cure for many to get through this pandemic, it is necessary to follow some safety precautions:
Follow all local and federal guidelines for approved activities, and health care advice. Social distancing and hand-washing is always critical.
Travel local – Going too far away from home to get that exercise and fresh air can put a strain on local health care facilities that are not equipped to handle the large numbers of visitors to state and national parks. Look for local campgrounds and regional parks to visit.
Wipe down your RV and sterilize it before renting it out to guests. At the same time, guests can take precautions to do the same; sterilize all areas before moving in for your stay.
Bring your own food and supplies rather than relying on the local grocery stores in remote areas.
Following common sense guidelines when getting outside for sanity and exercise is critical. Be smart, be healthy, and get outside whenever possible.