Is it possible to practice physical distancing and self-quarantine in an RV during a pandemic?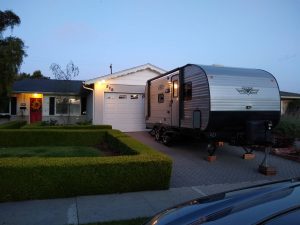 We are hearing this question asked more and more as essential workers, families, caregivers, and friends realize they need to practice physical distancing from their loved ones. Humans are social animals by nature, so isolation is not normal or easy. However, these abnormal times require extreme precautions. We have to think outside the box if we are to stay safe and sane.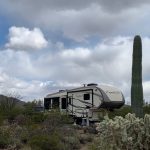 At this time, my wife and I are in the Tucson area, self-isolating from our friends and family in California. Our plan before Coronavirus hit was a 6 month RV trip to the East Coast. We had dozens of hard-fought reservations to visit bucket list destinations like Boyd's in Key West and John Pennekamp in Key Largo. We'd then head North to the breath-taking Acadia National Park in Maine, and return by August.  Once this pandemic hit, however, we realized there was no way our trip was going to happen this year.
We learned the severity of the pandemic by the time we hit Tucson on March 16th. That was the day we looked up, read the news, and did some research. We realized then that COVID-19 was more than just a "seasonal flu" and that our situation required physical distancing. This quickly put our trip on a different path. Given the stay-at-home orders flying out of all corners of government, plus the rapid closings of campgrounds and parks in California, we decided that Arizona wasn't such a bad place to ride this out. The challenge was just finding a campground that would take us.
Social distancing at campgrounds and RV parks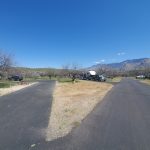 Our current location is Catalina State Park, just North East of Tucson. We're in the loop A campground and have 5 more days before we have to leave. The sites are spaced about 50 to 75 feet apart, and everyone  is practicing total self-isolation and social distancing. There are a lot of hello's, from at least six feet away, but that's about as close as you get to socializing. Camping is always fun, but this time the playgrounds, picnic areas, and group areas are closed. Everyone is isolated, and we miss the loud laughter late into the night, parties, and screaming campground kids. That said, RV camping may be a great option for riding out this pandemic.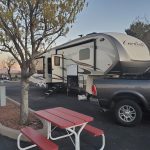 Whether you're a full-timer, a part-timer, or an RV renter, RV camping offers the perfect way to keep your distance, preserve your mental and physical health, and get outdoors. But remember, your campground recreation will likely be contained within your family. Campgrounds are closing amenities such as pools, playgrounds, club rooms, and other areas. You probably won't make new friends as you would normally would while camping.
How would self-quarantining work in an RV at your home?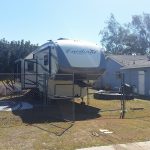 An RV is a self-contained one bedroom, one bath home on wheels. It can hook up to water, power, and sewer… or, it can provide those things on board. It has holding tanks for wastewater, a bathroom, and a full kitchen connected to freshwater tanks and battery power. In most cases, you will enjoy multiple beds, sofas, a TV, a sound system, and a microwave. An RV can sleep as few as 2, and as many as 10.
So, the short answer is that you simply put this space to work for you where you need it, for as long as you need it, and for whom you need it. Many people use delivered RV rentals for house guests, home remodels, or family reunions. They just have their RV rental set up in their driveway, alongside their home, or in their back yard. Read a real-life example to learn more about this opportunity.
Temporary housing for transient workers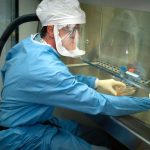 All of the hot spots in the US are calling for more health care workers, and it's all hands on deck for a vaccine. We're likely to see even more and more nurses, doctors, and other healthcare workers volunteer to join the fight.
As a result, our first responders and those on the front line supporting them while they're working in a COVID-19 environment may want to consider this option. Also, those who own an RV and can share it may be able to join the fight as well. Most open spaces such as parking lots, side yards, driveways, and open land can accommodate a self-contained RV that allows for social distancing. Hookups, RV owners, and a willing property owner can come together for this viable option to use an RV to temporarily house those on the front line battling this pandemic.
How does the "Delivered RV Rental" concept apply to this pandemic?
RVPlusYou is a peer-to-peer delivered RV rental platform. No driving, towing, or set up required…ever. We simply pair RV owners with RV renters and expedite the transaction with software, support, and a damage and liability policy that is included in the service fees. RV owners deliver, set up, and pick up after the rental. It's a vacation rental on wheels and our hope is that we can match the 10 million RVs sitting idle 86% of the time with those people who need the accommodations.
So, whether you're looking to "social distance" outside in a safe way, or self-quarantine away from family while staying nearby, this is an option for you. Many of our RV owners are offering discounts to assist those who need temporary housing. We're working to amplify these discounts where possible to provide more choices and better access. Our platform is the perfect way to match up these willing private party RV owners with those who need mobile accommodations.
Shop online and check availability
If you would like more information, simply click on the search button below to find RVs that are available for delivery and arrange to have it set up at your chosen location.
Have more questions about how to list your RV, or how you can safely rent an RV for your family? Visit our knowledge base or call us at 800-977-5444.
---