---
Most people are familiar with the concept of renting a car for a vacation, and many understand renting an RV to tour around and see the sites. However, very few people are familiar with renting a "delivered RV".
RVPlusYou allows everyone to rent an RV: The young, the elderly, the disabled, and those who simply don't want to drive or tow, or master the art of emptying a holding tank.  We facilitate RV rentals that are delivered to your destination of choice, set it up for you, and then pick it up afterwards.
How it works is simple and there are so many conveniences and benefits that can make renting a delivered RV the best choice for your vacation. Here are some reasons that you should consider an RV rental.
More convenience, less hassle
Many RVs come equipped with a variety of amenities and deluxe features. Renting a delivered RV on our peer to peer website comes with essentials such as camp chairs, a BBQ, linens, kitchen supplies and more. This means that you don't have to worry about packing these things and bringing them to the campsite yourself.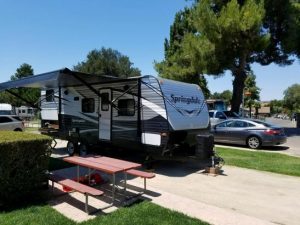 You can take a vacation with mixed experiences and destinations
Delivered RV rentals work out well if you want to take a vacation with multiple destinations, as you can arrange to have RVs delivered at different locations along the way. Then, when you arrive at your next destination, the RV is already set up and ready to go.
Say you want to take a road trip along the West coast. You could arrive in San Francisco and tour the city while staying in a hotel. Then you can drive to Tahoe and check in to a delivered RV rental at a local campground. Next, you can head towards San Diego and stay in another RV rental on the beach, before driving to LA and checking into an Airbnb. From here, you can complete your trip by taking a coastal drive to Pismo Beach and arrive at another RV that is already setup. From there, you can head home.
You have your car to drive around
Delivered RVs are great if you want to camp but you also want to explore the local area because you have your car to drive into the city. For example, you can have the RV delivered to a campground in Bend, Oregon and then take day trips to all the wonderful sites in Central Oregon.
You save money on meals, entertainment, and hotel rooms
Big events, such as weddings or family reunions, also benefit from delivered RVs.  A delivered RV  rental allows you to stay directly at the venue or a nearby campground  instead of having to pay for a pricey hotel room. RV's generally sleep more people and have more beds than hotel rooms so you can fit the entire family in one unit.
Because you have a full kitchen, you can cook in your accommodations and avoid expensive restaurants. Hey, you're camping! You can't find better entertainment than the great outdoors. It's fun, healthy, and accessible to all.
You avoid illness by limiting your exposure
By keeping your family together and outside, you can avoid multiple outings for groceries, meals at restaurants, passing through hotel lobbies, and exposing your family to more close encounters inside of public places.
Summary
There are very few people who don't like to be outside. Most people love the idea of camping and hiking, or biking, and we know that spending time outside is synonymous with a healthy lifestyle. We recently learned this after living through the COVID-19 pandemic. All of these advantages are reasons why anyone can and should book a delivered RV rental for their next vacation. Remember, an RV rental can be delivered anywhere for camping in comfort and with less hassle!
---