Opportunities for family gatherings come fast and furious during November and December, with Thanksgiving, Hanukkah, Christmas, Kwanzaa, even Festivus.
The holiday season can be  stressful for a lot of reasons, not least because you typically have dozens of family members – who may not have seen each other for a year – coming together in a house, and perhaps a few impersonal hotel rooms if the house is too small to fit everyone comfortably.
Crowding everyone together into a small house may seem like fun when you're in the planning stages, but when everyone's actually together and having to wait for bathroom access or making late-night kitchen raids, things can get kind of testy – even if nothing is said out loud!
The key to a happy and relaxing family gathering  is to have a lot of room where people can go when they need some alone-time, and yet still be close enough so that they can come out and join the festivities within a few seconds, rather than having to drive five or ten minutes from that impersonal hotel room.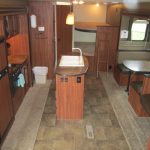 The solution is a delivered, luxury RV.
RVs are as luxurious as small hotel rooms, with one or more TVs, a kitchen with a fridge and cooking area, and a bathroom with toilet and shower. And it can be parked in a driveway or on the street (in a neighborhood where RV parking is allowed, of course) so that the whole "family gathering" dynamic is not disturbed by long-distance commutes.
With delivered RVs, it's not even necessary to go to someone's house. Choose a favorite camping spot with great scenery and have two, three or even four luxury RVs delivered there.  Family gatherings can thus become a "moveable feast" – each year visit a different location, but with none of the hassles of having to drive an RV over mountains or through horrendous traffic to get to that beautiful destination.
Stress-free family gatherings
The host and hostess of a family gathering will feel the most stress, because it's only natural that they want the gathering that they are planning to go well, and for everyone to have a good time. Not only a good time, but a memorable time. The host and hostess will be thinking to themselves, "I want our guests going away saying, "They really surpassed themselves this time!"
Guests can help ease the stress on their hosts by making a point of doing as much for themselves as possible. Those visitors who like to cook can help out in the kitchen. Those who don't cook can always help clean up afterwards.
Make a few plans in advance regarding what to see and do – but always coordinate with the host/hostess to make sure activities don't conflict.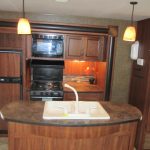 If your hostess likes to keep her kitchen to herself – pots and pans may have to be treated 'just so', for example – be sure to invite her for a snack in your own little delivered RV domain, and at the end of the trip before you head off home, take your host and hostess out to dinner to a nice restaurant as a special thank you.
Then head home, and let the owners of the delivered RVs come and retrieve them – once again taking care of the stress of having to head home in time to return an RV to the place from which you rented it!