The closer we come to the holiday season the more we want to listen to old favorites on the radio – Christmas carols and beautiful songs like White Christmas. Most people want to have a white Christmas – although they want the snow to be only an inch thick on every surface in their town except roads and sidewalks, but a good twelve inches thick on the nearest ski hill or mountain! Outdoor enthusiasts can enjoy skiing, snowshoeing and snowmobiling, while everyone else can walk safely to and from work or shopping and enjoy the beautiful snow cover on lawns and in the trees.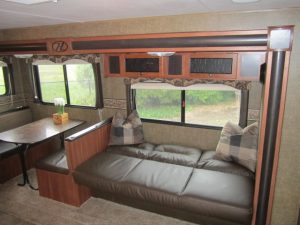 Unfortunately winter snows aren't that obliging! Winter travel, especially for RVs can be quite hazardous if roads haven't been properly cleared of ice and snow. Driving in the mountains can also require that chains be put on tires – and that can be time-consuming and frustrating if you've never done it before.
The delivered RV is the perfect solution. RV vacation rentals are gaining in popularity. Delivered RV rentals  – where the renter doesn't have to do anything but enjoy the luxury RV in a pristine setting – continue set the bar for this popular vacation niche.
Let someone skilled in such winter driving bring their RV to the location you choose. Then you simply arrive on the day your vacation starts and enjoy its comforts and conveniences until it's time to go home. At that point, the owner of the RV comes and drives his or her RV back home or to the next rental destination.
There are many luxury RV parks across the country, so it might not even be the case where an owner has to bring the RV to you – you simply go to the RV.  That's what delivered RV rentals are all about.
Luxury RV parks have every possible facility to make you feel at home – large outdoor pools, indoor pools if they're in a wintry area, hiking trails and beautiful scenery. Some are located near golf courses – these are extremely popular. Even if the RV park is located in the middle of town – for example in Las Vegas quite near a casino! – it will typically be located close to tourist attractions – or at least near a "main drag" so it will be easy to take a bus or drive to where one wants to go.
There is no limit to where you can travel and find a delivered RV to rent for the duration of your stay. If you're traveling in a large group, you can rent several RVs side by side, or at least located in the same general area so you can get out and explore together when you want and return to your comfortable RV vacation rental for privacy at day's end.