Lot Rot Can Be Costly: Fire Destroy's RV's Due to Lack of Attention
RV's don't do well sitting idle. Non-use takes a toll on plumbing, electrical, and mechanical parts. Beyond having to replace expensive parts or perform expensive maintenance, you can also cause some real damage and endanger lives as this KSBY news video shows. Time to give your RV some attention?
KSBY.com | San Luis Obispo and Santa Barbara Area News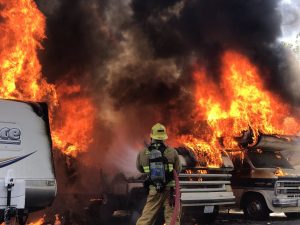 Some owners find out the hard way; when preparing for the annual vacation, some RV's just didn't like being alone all year long.
Regular attention and maintenance can solve this issue, which is one of the arguments behind the concept of sharing at RVPlusYou.
RVPlusYou shows owners how to avoid problems, create a quality RV rental listing, and earn extra income by renting out their RV, and sometimes it's a lot of extra income.
You don't have to share it a lot to make money, but regular use can help avoid costly repairs, adding to the benefit, as this story illustrates. Letting an asset like an RV sit and rot is hard enough on the pocketbook, not using it or allowing others to use it imposes a real opportunity cost on owners as well.
Just 8 rentals per year can generate as much as $5,000; enough for a pretty swell road trip. Oh, and it may save you thousands in costly repair and hassle.
For more information on how you can earn extra income, and keep your RV in shape and ready to travel, check out our free RV Rental Business Guide.