Are you planning a holiday or a vacation with family or friends on a budget? Want to get away for the weekend and avoid the driving or towing hassles? Yes, it's possible! An RV rental vacation is an excellent option for your next trip.
If you are preparing for a weekend getaway, a family reunion, going to a festival or even a wedding you can book a Recreation Vehicle (RV) through RVPlusYou rentals online and they can help you set up the RV at your requested location.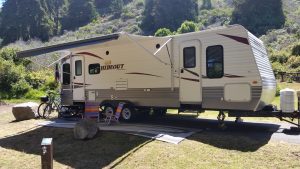 An RV often referred as a caravan or a motor home normally includes a kitchen, a bathroom and one or more sleeping facilities.  People often rent RV's for camping or recreation.
---
The online booking platform  at RVPlusYou.com connects RV renters to RV owners. RV owners, can list their unit with photos, amenities and locations they are willing to deliver. RV renters, based on their requirements, can search the global database of RV owners for the perfect RV. Owners will then drive their RV to the decided location and set it up so renters can simply start enjoying the outdoors at a reasonable rate, and owners on the other hand can earn extra income. You can even book an RV for extra space if, for example the house is full of guests, or for any special occasions.
Win- Win
Risk is virtually eliminated because the renters are not allowed to drive or tow the RV.  RV owners control when, where and what rate they rent it out. RVPlusYou looks after the payments and transactions, so there is nothing to worry about. Just sit back and relax! RV renters simply arrive at the agreed upon location and check in! Hence it's a win-win for both owners and renters.
Protection and verification of parties is vital. At RVPlusYou we ensure all parties are safe, secure and verified! Everyone is required to complete a profile. On top of that, RVPlusYou provides a protection policy to cover both owners and renters.
Flexibility and RV Rentals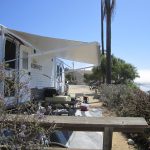 An RV can be rented on many different occasions and locations. For example, tourists who fly into the country and want to combine nights in hotels and the outdoors while traveling around America, for a date weekend where you might want something different, and even in crisis where your house might be damaged. Delivered RV rentals can come in handy in many situations.
Costs and RV Rentals
This is certainly a budget friendly alternative as it does not have the same costs as hotels and motels, and it is much cheaper to rent from a private party than one of the big corporate RV rental companies. It allows the flexibility for you to be relaxed and at ease wherever you might be! Please view the website for costs and listings at your destination.