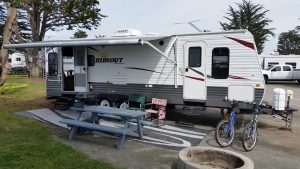 Why should smaller privately owned RV rental companies rent out their RV's to customers who want an RV that is already set up and ready?  Why rent through online peer to peer RV rental websites like RVPlusYou? 
There are a lot of reasons why it doesn't make sense for Cruise America, Road Bear, Apollo, and El Monte, all big corporate RV rental companies, to rent through online travel agencies like RVPlusYou. The biggest reason is they don't need to.  Their model is a niche vehicle rental business, as opposed to RVPlusYou which is a niche inside the vacation rental market. It focuses on the "Delivered RV Rental" model.
So, what about the smaller mom and pop RV rental companies? Why should they list their inventory on a peer to peer website? What's the downside? The short answer is that there is very little downside and a lot of upside. Let's go through the list.
On the upside:
Marketing – Simply put, RVPlusYou does a lot of marketing and buys a lot of ads. While RV rental companies are in the business of renting RV's, and hopefully good at it, they're typically not very good at marketing.
Seasonality – RV rentals are typically a seasonal business for most companies. So what if you could get a few more weeks out of your season? RVPlusYou helps fill in cancellations and broadens the shoulders of your season.
Delivered vs. Driving Rentals – Because renters don't drive or tow, there is less damage when a professional backs that beast into the campsite. Renters cause damage, period. They also chew up the miles and cause depreciation of inventory faster than delivered rentals do.
Target market – Most RV rental companies attract those who want to drive. RVPlusYou targets those renters who want a comfortable camping experience, need some extra space for family at their home, or they're attending a wedding or an event. RV rental companies don't typically spend marketing dollars on these markets.
Cost of Service – Because RVPlusYou charges only a 3% "Host Service Fee", the cost of a credit card transaction, there is no affect on your business model. All services effectively are free of charge because RVPlusYou charges the renter, "found" customers that are either members of their site, or that they find.
RV Rental Fees – All fees and cancellation policies are set by the RV owner, or rental company when they set their listing. This way, there is no confusion and both parties know what to expect.
Service – The following services are provided at no extra cost for all RV owners and rental companies when they sign up and list:

Customer support – Toll free service, online chat, and email support 24/7.
Online Booking Engine – Cuts down on operational time and expenses for most rental operations.
Reservation and booking software – Maintained and supported by RVPlusYou, used by RV owners.
Protection Policy – $5,000 supplemental damage, and $300,000 liability
On the downside:
Booking – Renters must book on RVPlusYou.  Most see this as a positive, but if you have a unique booking system, other than a phone and a fax, then this might require a work-around for your operation.
Rental Fees – Because the credit card transaction is handled by RVPlusYou, rental fees are not dispersed until the rental period ends. For some, cash flow is sited as problem. But since most of our rentals are last minute "found" revenue, it's not an issue.
Summary:
It's free to list and there is no obligation to rent to anyone who inquires. You can activate and deactivate anytime with no long-term commitments. With all this upside and very little downside, why not give it a try? Click here to sign up and list!