Camping is just one family pastime to partake in an RV. But, with the proper preparation, you can transform your home on wheels into a fully self-contained unit with all essentials you need to have fun beyond the campsite.
With an RV, you can attend your favorite social events and experience some of the nation's great spectator sports up close and have a party as epic as the game or race itself. But how do you tailgate in an RV? Use the following tips to celebrate like a champion.
First, Can I Tailgate in an RV?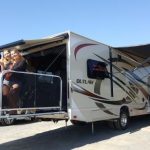 Tailgating isn't just for trucks, SUVs, and cars. Motorhomes and towable RVs are, in fact, the perfect tailgating vehicles. Attending in a camper is a surefire way to make any game day party a hit. While other vehicles can only carry a few supplies, an RV allows you to bring almost your entire home with you.
You'll have an entire kitchen at your disposal, a full fridge, a personal bathroom, an awning, and you can stock up on a wide variety of foods and drinks without worrying about running out of space. You can also carry a bigger grill, and a good number of folding chairs and tables, too. If it's an overnight party, you'll have a bed to sleep on and even a shower to freshen up.
From festivals to sporting events, there are so many great events to tailgate in an RV. Some of the best events to visit in your camper include auto racing, national and college football, baseball, rodeo, golf tournaments, concerts, and beachside parties.
Reserve Early
To get the best parking spots, you want to make reservations pretty well in advance. This, of course, depends on the type of event you're attending since not all require reservations. If it's a NASCAR race or a football match, the best spots fill up fast, so you'll want to book early.
Simply visit the organizer's website and look for all the details on what is available and how to make reservations for the various options. When booking, decide whether you want a family-friendly spot or an area reserved for those who want to party. This is also the best time to inquire whether there are restrictions on music, alcohol, or fires and if your camper will fit in a parking spot.
Rent An RV if You Don't Have One
Don't own an RV but still want to try out tailgating? Look for delivered and set up RV rentals near the event location. You can bring your supplies in your own vehicle and let the RV owner pick it up after the event.  Rent an RV that has the features you want, then the owner will drop it off and set it up at the site you reserved.
RV delivery services eliminate the hassle of driving or towing a huge box that you're unfamiliar with. All you have to worry about is stocking it with food and drinks. After the event, the owner will clean up and remove the RV.
Plan your Tailgate Party Menu Ahead of Time
Tailgating isn't just about the sports event—it's also about great food. Apart from some juicy hamburgers, take advantage of your RV's kitchen and step up your culinary game. Try fancier foods that you rarely eat at home. But you won't get to enjoy much of your party if you're cooking and preparing every part of your tailgate meal while the action is going on.
On the day before your event, assemble all ingredients, marinate meats, thread skewers, shape your burger patties, slice veggies, make salads, bake desserts, and pack everything in the RV. Shop all food supplies at home, since you'll find higher prices and less variety at the event.
Pack All Essentials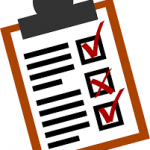 Besides the food, make sure your RV has everything you need to make your tailgating trip a stunning success. Pack matches, lighters, kindling for certain charcoal grills, plastic plates, and cups, cutlery, containers for leftovers, bottle openers, camping chairs, picnic tables, and, of course, the barbecue grill.
Other must-haves include table clothes, a drink dispenser, a meat thermometer, a trash can, hand sanitizer, portable chargers, and a change of clothes. You'll also need a cooler to keep drinks frosty. Most tailgating lots don't have full hookups, so fill your propane and freshwater tanks, and top off the generator.
Go Early and Set Up Everything
Whether you have your own rig or a rental, plan to arrive at least four hours in advance. In big events, showing up early will help you avoid traffic and give you ample time to set up things before the bulk of the fans in cars and trucks arrive. Unpacking your equipment, setting up everything, and cooking also takes time.
Arriving early allows you to enjoy the process of preparing meals, ensuring that your food is delicious and your party rocks. And since there'll be a sea of vehicles parked on massive lots, mark your spot or save your parked location directly into Google Maps before you go strolling. With such crowds, you may forget where your rig is parked.
Plan for Extra Guests
Apart from the usual fan rivalry, there's a sense of camaraderie to tailgating at a big event. This is part of the fun of being there in the first place. You'll meet old friends and lots of new people, so prepare for both invited and uninvited guests.
As you pack the stuff you'll need, bring additional folding chairs, plates and cups, and even a parasol if you expect your awning to be full. It also doesn't hurt to prepare bigger meals and buy more drinks.
Prepare for the Weather
To best appreciate the outdoor party and engage in the festivities, you need to be outside your RV almost all the time. But don't be that person sitting in the rain or thoroughly baking in the sun because you didn't bring a canopy. Check the weather reports for event day and come prepared for the elements.
Having a functional RV awning is a lifesaver when you want some time to cool off and get out of the sun. To stay protected from the rain, invest in an awning extender. If it's going to be cold, be sure to bring layers to stay warm. Sunscreen, sunglasses, a hat, and bug spray are also great things to have on hand.
Get Game Day Activities Ready
Apart from feasting and enjoying the game or race, you'll want something else to do. Pack a few friendly competitions for you and your friends to battle over. Many tailgaters love cornhole, ladder toss, tumble tower, horseshoes, and cards for passing the time until the game starts or after it ends.
Having a big screen TV or projector, movies, and a Bluetooth speaker can also provide you and your neighbors with sufficient amusement. If you aren't in the stadium, the TV will help you keep up with all the updates of the game or race.
Decorate Your RV
Making your setup stylish and unique is an unspoken competition in tailgate parties. Tailgaters with the coolest setups and fun decorations easily attract others to come by and socialize. And getting to meet and converse with fellow sports enthusiasts is one of the greatest pleasures of tailgating parties.
Show off your pride by putting pro-team stickers on your RV, displaying signs with a personal stamp, flying custom bunting banners, and hanging string lights. You can also jazz up the site with an outdoor rug in your favorite team colors. If you have friends attending, fly a flag that stands out so they can easily find where you're parked.
Observe Rules and Clean Up Before You Go
Every tailgating venue has its own rules, which are meant to keep everyone safe and happy. Be sure to read the specific details. Generally, keep your setup contained to your parking space, don't restrict the flow of traffic by extending your slideouts, awnings, or lawn furniture into pathways and driving lanes.
A lot of venues ban cooking on open flames, while others don't allow glass bottles and containers. There could also be restrictions on pets, weapons, and loud music. Bring a fire extinguisher and first aid kit just in case. Treat your site with respect by using trash cans, cleaning up, and leaving it nicer than you found it when you arrived.
Kick Back and Enjoy Tailgating in an RV
Attending a NASCAR race or football game and doing a tailgate is an experience like no other. The tasty grilled food, the camaraderie, and the electric fan atmosphere are often more exciting than the main event itself.
To take your celebration to the next level, use an RV as your tailgate vehicle. The tips above will help you transform your rig into a mobile entertainment center, so you can throw an awesome party for your family and friends.
Finally, be sure to book your delivered and set up RV rental a few weeks in advance since there's usually a high demand for rental motorhomes and rental trailers on game day.