What are the different types of RV hook ups and what does this mean when RV camping?
This is a great question that I've noticed on many of the RV forums such as GoRVing. Similar questions are showing up on Reddit and Quora. The pandemic has brought many new RV'ers to the lifestyle and many are looking for information about how an RV works. RV renters on road trips are asking as well.
While we try to leave these questions to the experts like RV Education 101, we can still take a quick look at the different RV hook ups available here. For detailed training, sign up for online video tutorials from Dawn and Mark Polk.
What does "full hook ups" mean?
Generally, full hook ups at a RV campground means that you have shore power, water, and sewer utilities connectivity. All RV's have the ability to connect to 20, 30, or 50 amp service to power components such as a microwave, TV, power outlets, and your on-board converter that turns AC into DC and charges your batteries. There is one connection for water and one for sewer.
What do RV utility hook ups look like?
Here is a photo of one of the best sewer hook ups I've ever used. Notice the stainless steel sink connection to contain spills. It's also lower than the ground which helps gravity do it's job. The wide sink allows enough space to connect the hose which is flexible, but still has to rise above the rim. UV light on stainless steel takes care of any lingering bacteria.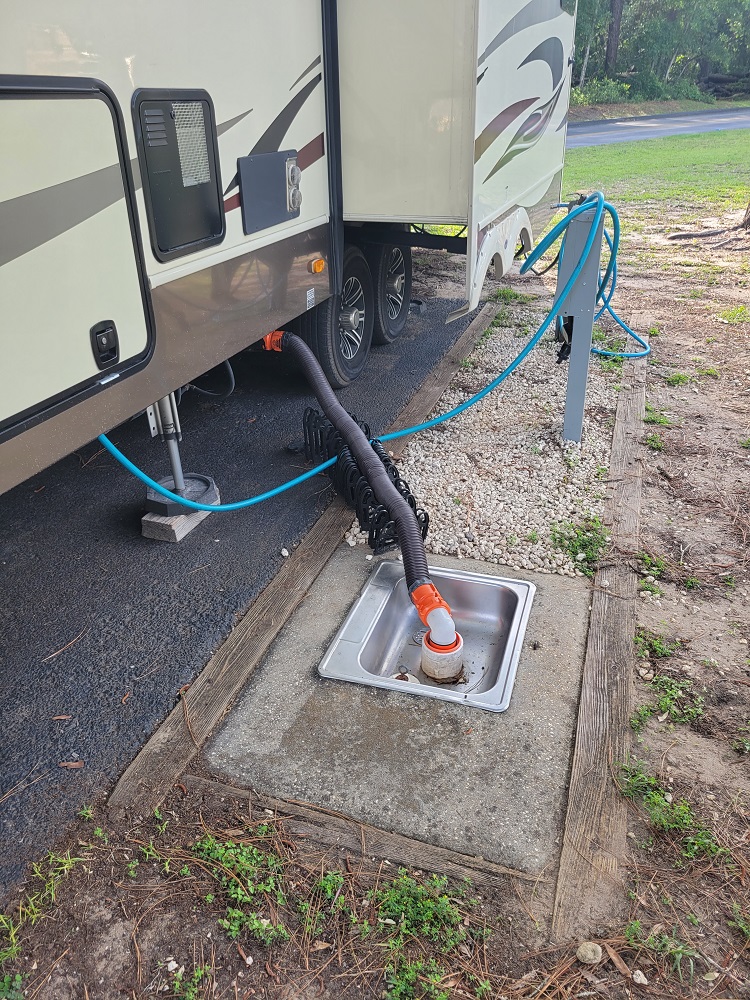 RV Hook Up – Power Pedestal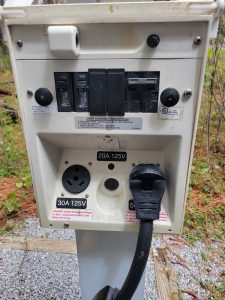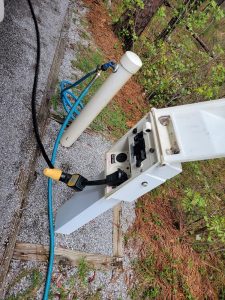 Here you see a pedestal with a plastic housing. This was a surprise to find at Blackwater River State Park. The sites were very well maintained and the full hook ups were well placed and well  designed. Some thought and engineering went into this design.
Notice the water spigot on the left. This was very sturdy and easy to connect with. Many of the spigots you will find at RV parks or campgrounds are simply pipes popping out of the ground that are very flimsy.
Final thought on RV hook ups at residential locations
There are a good number of questions related to utility connections for residential RV hook ups. How can I provide full RV hook ups at my home? How much does it cost to install RV hook ups at my home?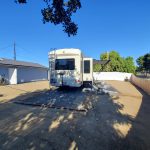 Questions about installing hook ups are complex due to zoning laws and unique conditions. It's always best to consult local building code. The answer is generally yes, you can install full RV hook ups at your home if you have the space. The cost to build depends a lot on unique conditions.
For details on this question, see Tips for Building an RV Pad on your Property. We built a pad with full hook ups. We share the cost and provide some photos on what the hard work looks like. Check it out!