If you're in the market for a used RV travel trailer or 5th wheel, follow this advice for a great deal and peace of mind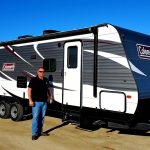 It's always a challenge to shop for a used RV. How does one know that the used RV they are buying is not a lemon? What about hidden damage caused by leaks or prior accidents? How can you determine quality with just a quick look?
The short answer is that you can never be 100% sure you're buying what is being represented. Even the owner may not be aware of issues. However, if you follow this our advice, you can at least be sure you have the time necessary to test your prospective purchase.
Nada Guides
From J.D. Power, NadaGuides is a valuable resource to use when shopping for used RV's or boats. They do a great job at tracking the market and presenting features, specs, options, and values. Use Nada to determine the market price of the RV you're interested in.
Try before you buy
Rent before you buy. Most owners listed on RVPlusYou will sell you their RV, so make an offer! We promote a "Try Before You Buy" process whereby RV owners let you rent their RV prior to buying. So, simply ask if the rental price can be applied to the purchase price. If you make an offer and they accept, you not only have a good deal, but you also have peace of mind.
Used RV Rental Search

Use RVPlusYou to find RV's for rent or for sale nearby. Simply visit our website, enter your location and follow these steps:
Click on the RV that might work for you
Research the sales price for that year and model using Nada Guides. Have an idea of the market price before you decide to make an offer.
Put in your trial dates, say 3 days that are available with the RV owner
Click on "Check availability" and it will take you to a sign up page. Fill that out and follow the instructions to verify your phone and email.
Send a message to each RV owner for each rig that you like and ask if it's for sale.
Make an offer and include the "try before you buy" idea. This way they will deliver to the space.
Go RV camping! If you like it, buy it. If not, they will take it away and you can try another with no buyer's remorse.
Craigslist, RV Trader, and Facebook Marketplace
All 3 of these platforms are great places to find used RV's for sale, AND you can still use the try before you buy technique! Simply ask the RV owner to rent their RV for a 3 day trial using the above steps. The RV owner can easily list their RV on RVPlusYou and take advantage of our Protection Plan to cover possible damage and liability. It takes about 5 minutes to list their RV and it's free. Once complete, you simply book the dates and proceed with the sales process.
What to look for?
Rather than go down a written  list, we recommend you take some time and learn from others. Check out this video and the great tips in the comments section on buying a used RV.