RV camping is incredibly fun. You're surrounded by nature, and every day is an opportunity for a new adventure. One of the benefits of a delivered RV rental is that you can have your RV set up at any location of your choice, from a remote dispersed-camping location to an established RV campground.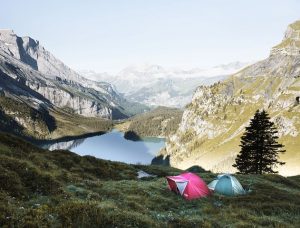 It is important to note that there is an etiquette involved in camping at an RV park.  As an RVer, you have it in your power to improve the experience of your fellow campers. Remember that your actions have an effect on those around you. Think about how you want other campers to act towards you and treat them in that same way.
This is your guide to being a good RV park neighbor.
RV Etiquette
Follow the rules
All campsites have their own set of rules. Make yourself aware of these rules and follow them at all times.
Arrive on time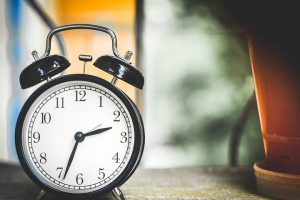 It is common courtesy to show up for your campsite reservation on time.
Clean up
Keep your area clean at all times- the campground is not your trash can.
Remember to throw all of your trash away and don't leave any items lying around. It is especially crucial that you don't leave any food out after meals as it could attract wild animals.
Pets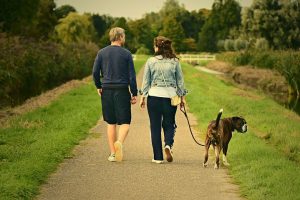 If you bring your pets camping, keep in mind that other people may not love your furry-friend as much as you do.   Make sure that you:
Never leave your pets unattended
Keep your pets on leashes at all times
Always clean up after your pets
Be careful with campfires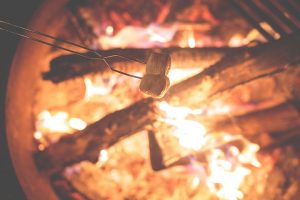 Campfires are a lot of fun, so long as they are done safely. Practice caution. No one wants to accidentally start a forest fire.
No trespassing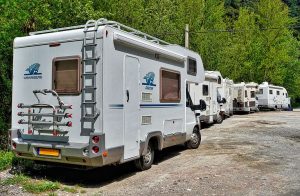 Respect those around you by not entering other people's campsites. You wouldn't want people disturbing your site, so make sure to extend that same courtesy to others.
Smoking
If you smoke, make sure to do it downwind of your neighbors.
Quiet Time
Be aware of quiet hours and make sure to keep the noise level down during this time. This means no loud music, talking, or any other kind of disruptive noise.
Generator time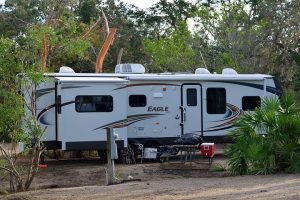 Don't run your generator during quiet hours
Figure out when the optimal time to run your generator is. Try to find a time when campers around you are also running their generators.
Additionally:
Consider paying extra for quiet generators, such as these from Honda and Yamaha. They are an investment, but they reduce generator noise by half and last twice as long.
Solar is an alternative to loud generators. It is costlier up front, but it will save  you money in the end. Plus, there is the added benefit of getting rid of the annoying generator noise altogether.
Welcome your neighbor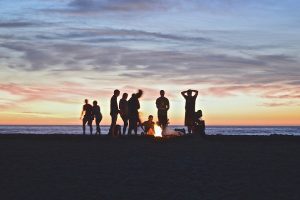 People like to feel welcome. Make a point of introducing yourself and saying hello to your neighbors. Offer to answer any questions or help in any way you can. It's never a bad idea to make new friends!
Meeting new people is part of the fun of RVing. Follow these guidelines and you and everyone around you are sure to have a good time.
Now that you know the proper way to act at an RV campground, you are ready to book your RV rental for your next camping trip. Click here to search for an RV in one of our many locations.