How much can you make renting out your RV?
Looking to start your own home-based business? The RV rental market is a lucrative and often overlooked opportunity to generate a very profitable income stream.  However, you must do your research. It's not a side gig that is for everyone and if you're not careful, you can find yourself winning a few battles on the revenue side, but losing the war when it comes to depreciation and value.
For help getting started we provide RV owners with a 5 Step Guide to starting your RV rental Business, a checklist of items to include in your rental, and if you want to know how to buy, own, and sell an RV…. click here.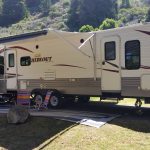 RV rentals are typically a seasonal business opportunity. For that matter most recreational vehicles, off-road toys, and boats are by nature seasonal. Most rentals happen during the peak camping season: Memorial Day in May through Labor Day in September. However, in some markets, e.g. "Snowbirds," the season is reversed and some operators move their inventory each season to follow demand.
When looking for a new business opportunity or a work from home based business, you want to find a market that has significant demand, relatively low barriers to entry, and excellent profit potential. RV Rentals can be just the right business for individuals on a tight start-up budget and there are options to add inventory easily and inexpensively through consignments to help build your business. More on that later.
At RVPlusYou.com, the average RV rents for $145 dollars per night, plus $150 delivery/set up. Our average rental goes for 3 nights minimum, but 4 nights is the average and they are busy every weekend in high season. Do the math: For a home-based start-up, launching an RV rental business can make a lot of sense mathematically. You can finance an RV camping trailer  for a couple hundred dollars per month, then rent the unit out for 2 nights and your payment is covered!
The math gets even better if you already own a RV.
We have found that with most RV owners, after the initial excitement wanes, their use of that asset drops and owners do not use their units as often as they thought they would. Enter pandemic (COVID-19) where demand for RV's skyrocketed in June of 2020. If the shine fades after two years, we're in for supply glut in 2022.
To make matters worse for owners, when an RV sits, it starts to deteriorate quickly, which costs you money in depreciation, maintenance, and storage. By flipping the equation and using the RV to make money, RV owners and RV rental managers, are able to take a liability and turn it into an asset.
RV Rental Consignments
A word on consignments. Starting an RV rental business with your own RV is very easy, but is it really a business or a side gig? You have one unit in your inventory, if it's damaged on the last rental, how do you fill the next rental booking without back up inventory?
Many business owners serious about growth will consign RV's for their fleet. A rental consignment is essentially an agreement to manage the rental operation of an owner's RV. They don't do the work, you do the work to rent it out. You typically share 40% to 50% of the nightly revenue and keep the rest, including cleaning, delivery, and other upcharges. You can grow your fleet quickly this way, then replace consignments with new purchased inventory.
Getting Started
Starting a peer to peer RV rental business allows you to use your RV to generate income to start. Adding inventory can be done through consignments, buying used RV's from private parties, buying from dealers, or buying at auction. Marketing and renting out your fleet can be done easily through Facebook Marketplace, Craigslist, and any number of peer to peer RV rental sites such as Outdoorsy and RV Share.
RVPlusYou is one of a number of RV rental listing sites you can use to post your RV for rent (Free to list) and find potential renters. We will keep 3% of what you charge and return 97% of the total rental revenue. Keep in mind that not all RV rental business models are the same. In general, you have two choices:
Driving RV Rentals – These are Class A, B, and C models mostly. Smaller caravan type models are easier to drive and would fit in the B class of RV. The A class RV is a big "bus type" RV and are arguably harder to drive. The cab over models are the Class C models and are most popular for RV rentals where renters drive.
Delivered RV Rentals – These are mostly travel trailers that are delivered and set up at the renter's destination: Campsite, wedding, music festival, or reunion that can be at a private or public property. RVPlusYou specializes in 'Delivered RV Rentals'.
Which RV rental business model is best?
RVPlusYou is a peer to peer RV rental business designed especially for delivered RV rentals. Why did we choose this business model? After all, one could argue that renting more often would generate more income. The answer is that our inventory is mostly privately owned RV rentals and small RV rental companies with less than 15 units, not fleet RV rentals, and in order to sustain this business model, it's important to be able to sustain the inventory.
The biggest difference between delivered and driving RV rental business models is damage
The reason we choose to focus on delivered RV rentals is damage, which tends to happen when a novice RV renter is moving the rig; corners, backing up, navigating trees, etc. As a private owner, how can you maintain a business model that requires repair on your rig every other rental?  It turns out that it's very difficult. Besides, that, the already high depreciation rates for RV's skyrockets with high mileage.
Using the delivered RV rental lets you out of some revenue, but it avoids the double D's: Damage and Depreciation. We address the next biggest challenge for the RV rental market, finding and reaching potential renters by doing all of the marketing and advertising.
At RVPlusYou, we generate hundreds of leads per month for our RV owners. The best part is that it costs you nothing until you say yes to the renter. RVPlusYou offers a damage and liability protection policy, as well as customer support,  and reservation and booking software at no  charge. Our fees for booking through our platform are just 3%. 
Starting an RV rental business means working in a recreational-based business that allows you to spend time outdoors while helping others enjoy the outdoors too. RVPlusYou.com is here to give you the tools to help you start an RV rental business.
You can download our RV Rental Business Starter Kit for free, or find out more in our Knowledge Base! Ready to get started? Sign up and list your RV today, it's free!