What items and amenities should be considered for your RV rental offer?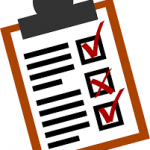 If you're going to rent out your RV and share with others in exchange for a rental fee, what items and amenities will you include? It's an important question and we boil it all down for you below keeping in mind the balance between what is expected, and what is over the top and not a value add.
The following list is not considered a complete list of optional items, it is considered an optimal list based on six years of experience renting delivered RV's and setting up at campsites for novice RV renters. it doesn't include the assumed necessities such as water hose, electric connection, and sewer hose. The following items can be included in the rental, or made available for an extra charge. It's your choice but beware of the nickel and dime effect.
Outside Amenities to include or make available in your RV rental
Camping chairs (2)
Patio mat
Propane BBQ
Cooking table – Sturdy plastic folding
Awning and/or easy up (extra charge?)
Bikes (extra charge?)
Generator (extra charge?)
Inside Amenities to include or make available in your RV rental
Kitchen essentials:

Trash can, hand towels, area rug, utensils, lighter, microwavable dishes (4), pots & pans, spray cleaner, dish soap, hand sanitizer, towels, sponges, washcloth, heating pads, cooking knives, ice cube tray, broom/dustpan, bowls, coffee mugs (4), cups (4), baking pan, coffee maker, filters, coffee, trash bags, paper towels, foil, plastic wrap.

Bathroom essentials:

Toilet chemicals, toilet brush, trash can, rapid-dissolve septic safe toilet tissue, hand soap, bath soap, hand sanitizer, bathroom sink/shower cleaner, bath and hand towels, bath mat.

Bedroom essentials:

Linens, blankets, pillows, duvet, throw pillows

Renter's Manual:

The manual should be pointed out in your RV listing description as well as your welcome letter to your renter. It should include everything the renter may ask about with regard to "How it Works". What happens if the water heater light comes on? Should I turn off the water pump if I run out of water? Everything you have encountered as an RV camper may be encountered by your renter, so list it in your manual.
Summary
The main school of thinking about 'Delivered RV Rentals' is centered on what one might find in a well-equipped vacation rental or cabin. The nice to have items that will make your rental stand out and be a candidate for repeat business might include a deck of cards, games, up to date magazines, Kleenex, family oriented DVD's, and other miscellaneous family oriented items.
Keep food and personal items out of your RV rental: Shoes, jackets, butter, personal photos, and other similar items won't be appreciated like you may imagine. Think of what you find in a hotel room and shoot for clean and professional.
If you haven't started down the path to building your RV rental business, consider reading our 5 step process to starting your RV rental business.