Looking for an "Airbnb RV Rental" near Galveston Texas? Check out the amenities and great prices of this unique RV resort.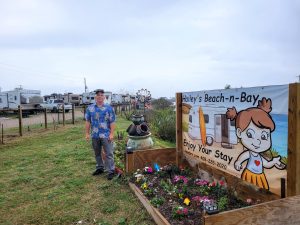 Just outside of Crystal Beach on the Bolivar Peninsula, about 12 miles Northeast of Galveston Texas, lies a tiny new RV park called Hailey's Beach-n-Bay RV Resort.
Hailey's concept was conceived and recently built by a really cool husband and wife team, David and Elia Hatfield. The little girl on their marquis is Hailey, their 4 year old grand daughter.
The Hatfield's finished building and opened their RV resort in May of 2020. When we visited, they were at 100% occupancy and under pressure to finish the second phase of building to accommodate reservations.
How it was built and what it costs to stay there
David and Elia had to bring in 120 trucks (12 ton trucks) of sand and 30 trucks of gravel in order to build the first 15 RV pads.  They recently added another 40 trucks of sand and 5 trucks of gravel for their new  waterfront sites. Hailey's RV Resort now has 20 RV spots, 15 of which have "Airbnb RV Trailer Rentals".
The sites alone are renting for an average of $35 for full hook ups, and the average nightly price for a trailer rental is around $100.  Not a bad deal given the average RV rental on RVPlusYou is over $145/night, not including campsite or delivery/set up costs.
About our stay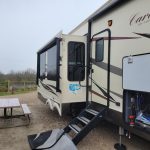 We stayed in site #13 recently as our "Florida Trip" unraveled along the Gulf Coast. We found ourselves intrigued by the miles and miles of drivable and accessible beaches on the Bolivar Peninsula.
My wife found Hailey's on Rover Pass, just one of several peer to peer platforms that David and Elia use to market their Airbnb RV vacation rentals. "It's been working great", says David. "Guests love the location, accommodations, and amenities provided by Hailey's."
We agree! It's a fun place to vacation with the locals. Can you find RV parks with a pool and more amenities? Yes, but not for the price. If you own an RV, the spaces are about as close together as most parks. If you don't own an RV and want to vacation on a budget, this is your place. Each camper trailer is fully equipped. You simply drive up and check in.
The RV park is just a quarter mile from the beach and a few steps from a dock on the canal that accesses Rollover Bay. The bay is host to Goat Island, and interesting little slice of land with a bit of history. Hailey's offers free kayaks to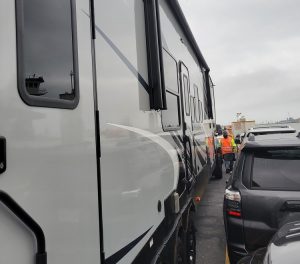 explore the water ways which lead out into the bay and the entire area has great fishing. In addition, the birding is spectacular. Hailey's is surrounded by 7 different bird sanctuaries.
You're not "on the beach" at Hailey's, in fact you're on the opposite side of highway 87 which runs along the beach and ends at the ferry to Galveston. But for the price, you can't go wrong with this private RV resort.
This said, it's an easy 3 minute walk to the beach. Or if you prefer, just pack up and drive on to the beach. You can set up your day camp right where where you park. We drove on to the beach, set up chairs, walked the beach, took in a sunset, while enjoying a glass of wine. It's a great place to venture out and explore, collect sea shells, off-road, fish, or just relax.
Stuff to Do
Crystal Beach is a small beach community with plenty of amenities that support the activities available. We visited Steve's Landing for cocktails and appetizers. The restaurant is right on the canal feeding Rollover Bay, so great sunsets and views can be had from their deck overlooking the water.
We noticed plenty of bait shops, Jeep rentals, and small stores. Galveston is a short ferry ride away. It's free and you can even get your RV on it with no problem. That  was  a fun  day.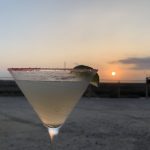 If you live in the Houston area and want to visit the area without breaking the bank, consider visiting the Bolivar Peninsula.  Book an RV rental at Hailey's, then go explore the surrounding area.
If you are thinking about buying an RV but want to try out the RV lifestyle first, consider a trip to Crystal Beach and book an "RV Airbnb" at Hailey's Beach-N-Bay RV Resort. You can experience RV camping in a fully outfitted travel trailer. Each rental comes complete with beach chairs, patio mat, linens, towels, utensils, and everything you would normally find in a vacation rental.