RV camping and golf carts are just about perfect companions. Today, golf carts are one of the most popular ways to get around at a campground. And the trend is really catching on. Many RV glampers are even customizing their carts to enhance their performance and appearance and make them more useful beyond the campground.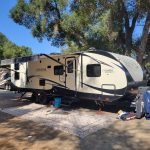 If you have the space to bring one to the campground, it will definitely elevate your RVing experience. Let's learn the top reasons why golf carts and RV camping are a thing.
And if you don't own a rig or a golf cart, you can have an RV delivered and set up on a campground of your choice, then rent a cart at the grounds.
Golf Carts Offer a Convenient Way to Get Around an RV Park
When you're at the campground, a golf cart can be a real asset when you want to run errands. Whether you want to visit the bathhouses, take the trash to the dumpster, make trips to the camp store, head to a restaurant, or check on friends, they provide a fun and easy way to move around.
Super Practical in Large RV Parks
Golf carts are not just luxury items. In some campgrounds, they are a necessity. Some parks and resorts are really massive, and having to walk to every facility, back and forth all day long, could be impractical or downright impossible. Just imagine trekking 4 miles to the clubhouse and another 3 miles to the pool in hot and humid conditions.
You can Venture Farther
Another reasons many campers are in love with golf carts is the fact that they are perfect for shorter day explorations of the surrounding area. They are a great option for nearby sightseeing, beachcombing, or identifying local hiking routes. Some glampers are even modifying their carts to the point they can drive them over dunes, through shallow creeks, and up rocky trails.
Even if you just want to buzz around the campground, having a golf cart makes it much easier to see what the neighbors are up to.
Mobility Accessibility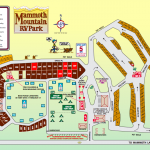 Walking long distances can be challenging for those with health conditions or limited mobility. A cart can make the difference whether you get around at all. It allows everyone, including those with mobility challenges, the elderly, and young kids to enjoy the full RVing experience.
When you go for excursions around the park, nobody has to be left behind because they can't walk, even in those larger RV parks and campgrounds.
Transport Heavier Items Faster
Lugging gear around the campground can be frustrating and even difficult. Many RV'ers have customized their carts to allow them to carry more cargo within the RV park and when out on an adventure. In the campground, you can use the cart to transport the supplies you just bought, gas cans, or loading the laundry. When you want to explore, use it to carry fishing poles, lawn chairs, towels, a camera, and a cooler.
They Increase Your Site Options
Some RV'ers pick a campsite depending on the amenities nearby, while others prefer to park in a peaceful and quiet spot. With a golf cart, you can scout a large campground with ease and pick a camping spot anywhere without worrying about being too far from facilities. And when you're ready to visit the different amenities, your cart will allow you to get there with ease.
Everyone Loves the Rides
Kids can't have enough of the cart rides they get to take around the campground. The allure of riding around in buggies can help your kids fall in love with camping, and it also allows them to spend quality time with their parents or loved ones. Adults, too, will enjoy a fun zip around the park, cruising on a sandy beach, or riding along the river banks.
A Safer Way to Navigate the RV Park
Maneuvering a motorhome around the campground every time you need to grab something at the store can be quite risky. There are kids running around on their bikes, plus playful pets everywhere. In a busy campground, a cart is safer than driving your rig. It's small and wide open, allowing you to see everything happening around you. Plus, they are easier to operate and slower than RVs.
Perfect for Golfing Enthusiasts
Golfing and RV camping are two pastimes that are a natural fit. No wonder many campgrounds have golf courses. When you want to play a few rounds, having your own cart can be really convenient. Especially where there's considerable distance between holes or on cart-only courses. Owning your cart will save you the cost of renting one, and you never have to haul your heavy bag of clubs on foot.
You can Use it at Home
Seasonal campers or weekenders can still find a use for your golf cart when they aren't camping. If you have a large property, a cart is a valuable tool for tasks like landscaping and yard care as you can haul tools and materials instead of carrying them. Want to take the trash down your long driveway? No problem. If you live in a golf cart-friendly town, you can use it for grocery store runs or dropping your kids off at school.
They are Better for the Environment
For RV enthusiasts who want to be environmentally conscious when camping, a golf cart is the way to go. Compared to a large rig, a cart can help you lower your carbon footprint significantly. An electric model in particular uses renewable and non-polluting energy. So whenever you use your cart rather than your RV to run errands or explore, you'll be protecting the environment.
Things You Need to Know About Camp Grounds and Golf Carts
Not all campgrounds allow golf carts, so research in advance before booking a place.
Most campgrounds that are golf cart friendly only allow electric models as they are more silent and green.
Some campgrounds charge extra if you have an electric golf cart as you are consuming more energy to charge.
Campground that allow golf carts have a set of rules, ranging from driving requirements, surfaces to drive on, speed limits to driving hours. Read and understand the rules.
To stay safe when cruising around the campground, always wear your seat belt, don't overload the cart, slow down, and use your hands to signal turns.
For a more fulfilling experience and to transport items with ease, fit your golf cart with accessories like a roof rack, storage basket, and lawn chair holders.
Kick Up Your RV Experience With a Golf Cart
If you are an RV glamper, a golf cart will enrich your camping experience. With a cart in tow, you can get from point A to point B more quickly, haul all your stuff easily, discover attractions in the area, and enjoy breezy joyrides around the park. Plus, everyone, including those with mobility challenges, can access any location in the campground and enjoy the full camping experience.