Meet RVPlusYou's Top 5 RV rental hosts in California!
When choosing which RV to rent, what do you look for in a host? At RVPlusYou, we have a multitude of trusted RV rental owners and pride ourselves on having rental owners who take the time and effort to ensure high customer satisfaction. 
If you're looking to rent an RV in California, check out our top 5 rental owners located in California on RVPlusYou. Apart from having in common 5 star review ratings from guests and 100% response rates, as a Gold Host on RVPlusYou, they've taken the time to put together informative profiles (accompanied with photos) and have been verified too!
If you're an RV owner looking to rent your RV to fellow campers, check out our playbook on how to get your listing to stand out and a list of the best RVPlusYou platform features to grow your customer base.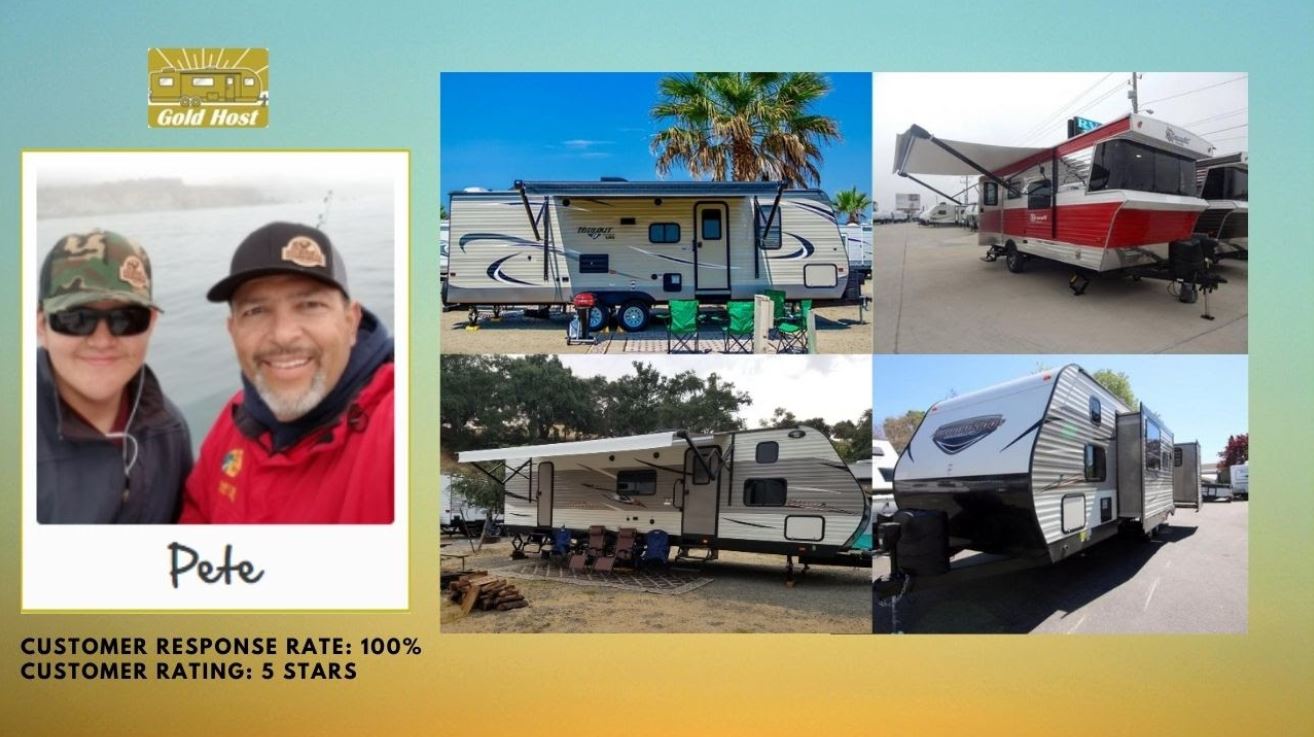 Located on the Central Coast, Pete has been a RV rental owner with RVPlusYou since January 2018. A self-confessed outdoorsman, it's little surprise that Pete owns 3 RVs and loves outdoor camping and fishing. Having grown up in the area, he knows the best-kept secrets and all the best spots along the central coast! 
What do customers have to say about Pete?
Mariah's first experience renting an RV went smoothly with Pete:
"Great experience! I was a newbie but the fact that Pete responded to every email and query quickly set me at ease. At the campsite, he explained everything clearly and was very prompt and efficient. Was 100x easier and more comfortable than a tent. Especially at Jalama beach where it gets very windy. I would definitely rent from him again."
Desirae was pleased with the hassle-free process and RV facilities: "Pete was very accommodating and easy to communicate with. From beginning to end, the process was easy, quick and hassle-free. He and his son worked well as a team and explained everything well. The trailer had plenty of sleeping options and was fully stocked. We loved the shower/tub combo to bathe the infant. We are scheduled to use their trailer again in July."
Check out Pete's profile, listings and more customer reviews here.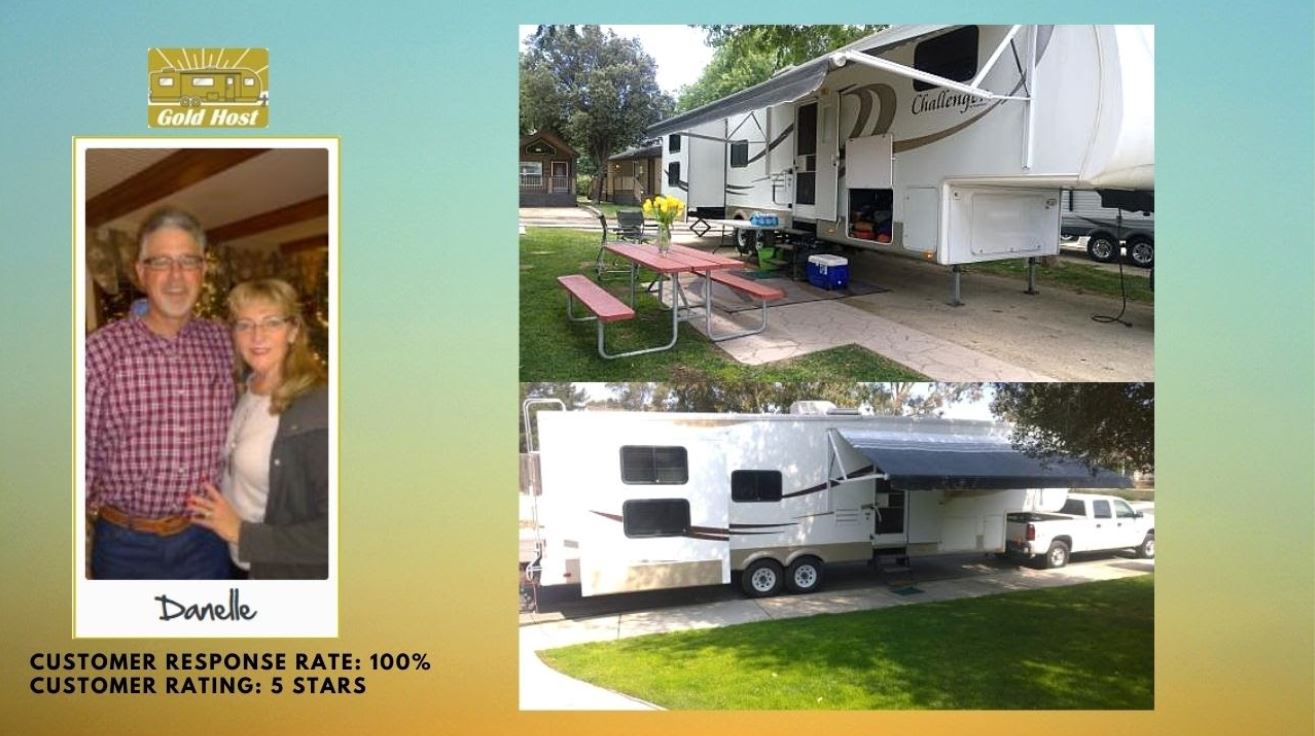 Danelle Wineman and her family are big on camping and share their love for it by renting their RV to fellow campers on RVPlusYou over the past 6 years. Located on the Central Coast, they have a 38ft RV that sleeps 6, with 3 slide outs, 2 bedrooms and 2 bathrooms. For those with big families or simply want to experience the definition of RV glamping, Danelle is the RV rental owner to reach out to! 
What do customers have to say about Danelle?
Ruben had a great first experience renting an RV with Danelle:
"Our experience with Danelle was really great. The trailer was awesome. Super clean and FULLY stocked. We brought only our clothes and bikes and didn't want for anything. This was our first time renting any RV, we hope to be lucky enough to be able to rent this specific one again. It's huge! Danelle and her husband were very gracious hosts. They set everything up before we arrived and we were ready to enjoy our trip as soon as we put our car in park. Definitely recommend!!"
Liz was impressed with the RV's facilities and Danelle's hospitality: "I can't begin to explain how good of an experience we had when we began the process of renting the RV from Danelle. She was friendly right from the start, very easy to talk to and always returned my texts and phone calls. When we arrived she had the outside picnic table set and her husband had a big box of berries for us and the kids. We were BEYOND pleased with the RV. It's actually a 5th wheel so it's very very big and roomy. The master bedroom has its own bathroom and shower. When I say shower, I don't mean one of those tiny space ones that have a really low shower head that you can barely move around in. This shower is a regular-sized one with a glass enclosure. My husband is a big guy and stands 6"
Check out Danelle's profile, listings and more customer reviews here.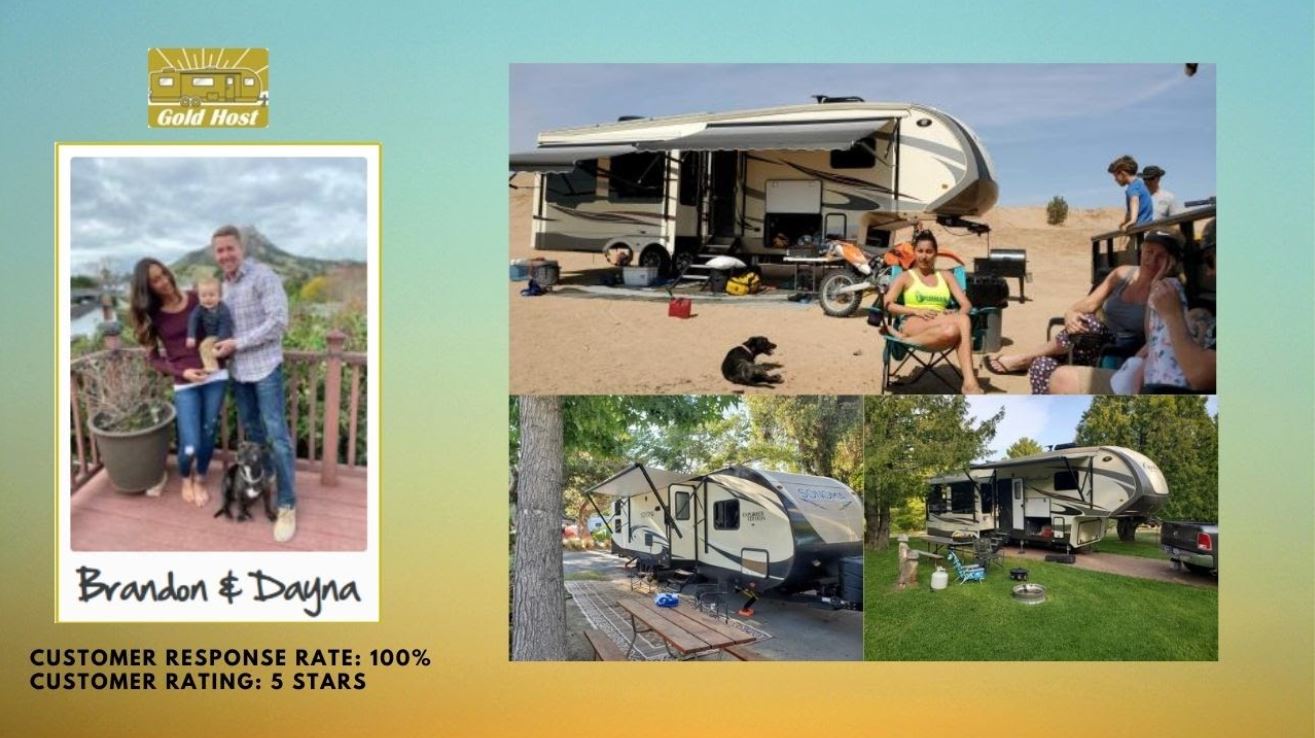 Brandon and Dayna Lovell, based in San Diego, took a leaf from their parents who have been renting their RV since 2015. Brandon and Dayna took over in 2020 and now rent RVs for events, weddings, or weekend RV camping trips with friends and families. In San Diego, their RV is a 33ft 2017Sonoma that sleeps 8 adults comfortably and delivers to Santee Lakes, Silver strand, Campland, Mission Bay RV resort, KOA, and San Elijo.
What do customers have to say about Brandon & Dayna?
Keith, an experienced RV camper was thoroughly impressed with the RV's upkeep:
"Brandon Thanks what a great experience – I am a longtime camper and RV's I have owned many trailers and various motorhomes. I still own my own units so I am familiar with most RV systems and how everything works in them. I rented this trailer for one of my staff to enjoy with us at the beach and it was in excellent condition! This is a very clean and well-maintained trailer. All the systems worked well and my guest loved the trailer. Brandon made the experience no hassle and easy. Our group actually rented two trailers this past week. I rented this one from Brandon and my friend rented another from a different website. Turns out they were the exact same model and floor plan trailer…. Boy, what a difference the other trailer was clearly poorly maintained rental… Unlike Brandon & Dayna's trailer. The other trailer had a furnace issue meaning it did not work at all and it got cold. Batteries were dead and there was nothing but excuses, in fact, the other renter tried to say that the furnace only worked if you were plugged in to."
Check out Brandon & Dayna's profile, listings and more customer reviews here.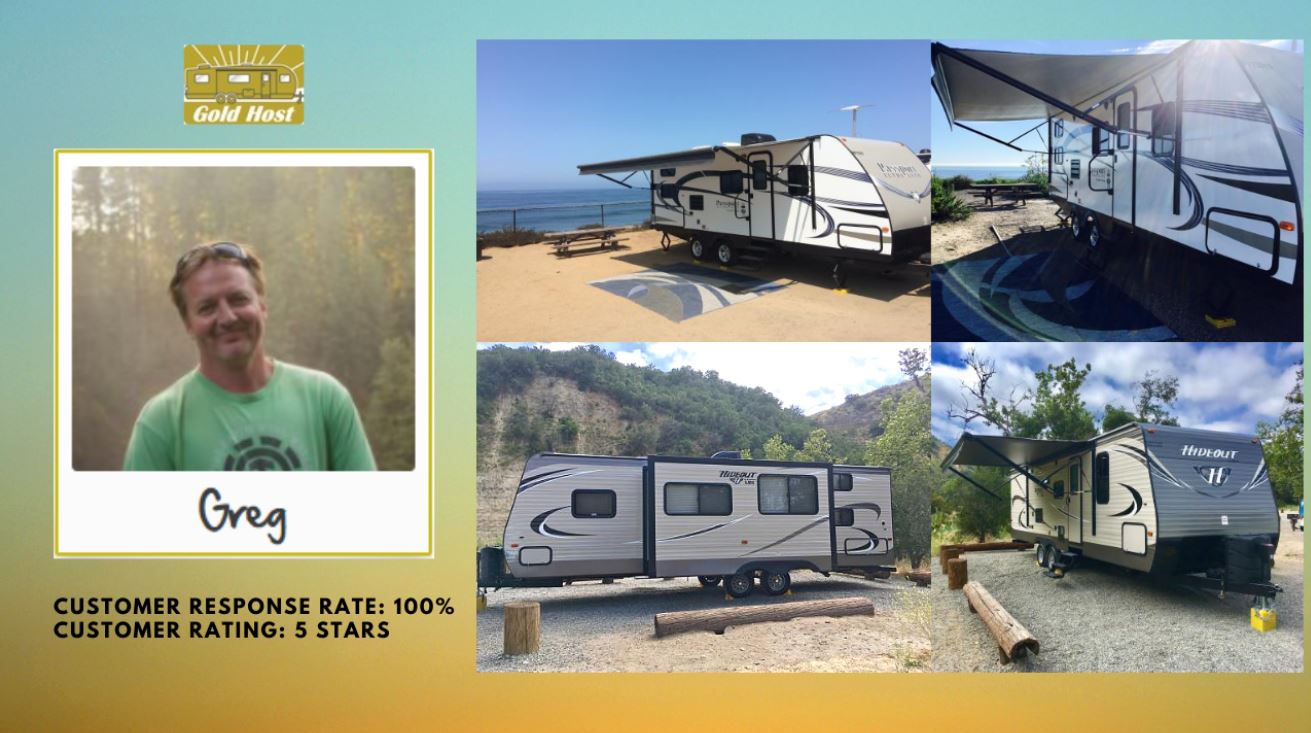 Greg is currently located in San Diego but is an experienced RV camper having travelled by RV through 35 states and pulled trailers over 40,000 miles. With deep knowledge in RV camping, you can count on him to know what's best for a fellow camper. Sharing his beliefs that RV camping is a wonderful way to spend time with family, he has two Keystone Passport travel trailers – one 25ft and another at 26ft that sleeps 5 and 6 adults respectively. 
What do customers have to say about Greg?
Kevin was impressed with Greg's attentiveness to customer needs and the RVs amenities:
"Greg was easy to work with and great at communicating. He was able to rent us his trailer very last minute and made sure everything worked properly. He even showed up within 30 minutes when the trailer needed some more propane. The trailer was very clean and comfortable and had everything you needed from cooking utensils, paper towels, toilet paper, a flat-screen tv, stereo and more. We would definitely recommend renting from Greg and we will be using him again in the future."
Kathi had a wonderful experience and is already looking forward to her next RV rental with Greg: "We had an amazing time! Greg was very helpful. He had everything set up for us in about 30 minutes. The trailer was in excellent condition. The ac worked great, the radio inside and out added a great touch for hanging out outside of our trailer. This experience was terrific and can't wait to make it an annual event with Greg as our host."
Check out Greg's profile, listings and more customer reviews here.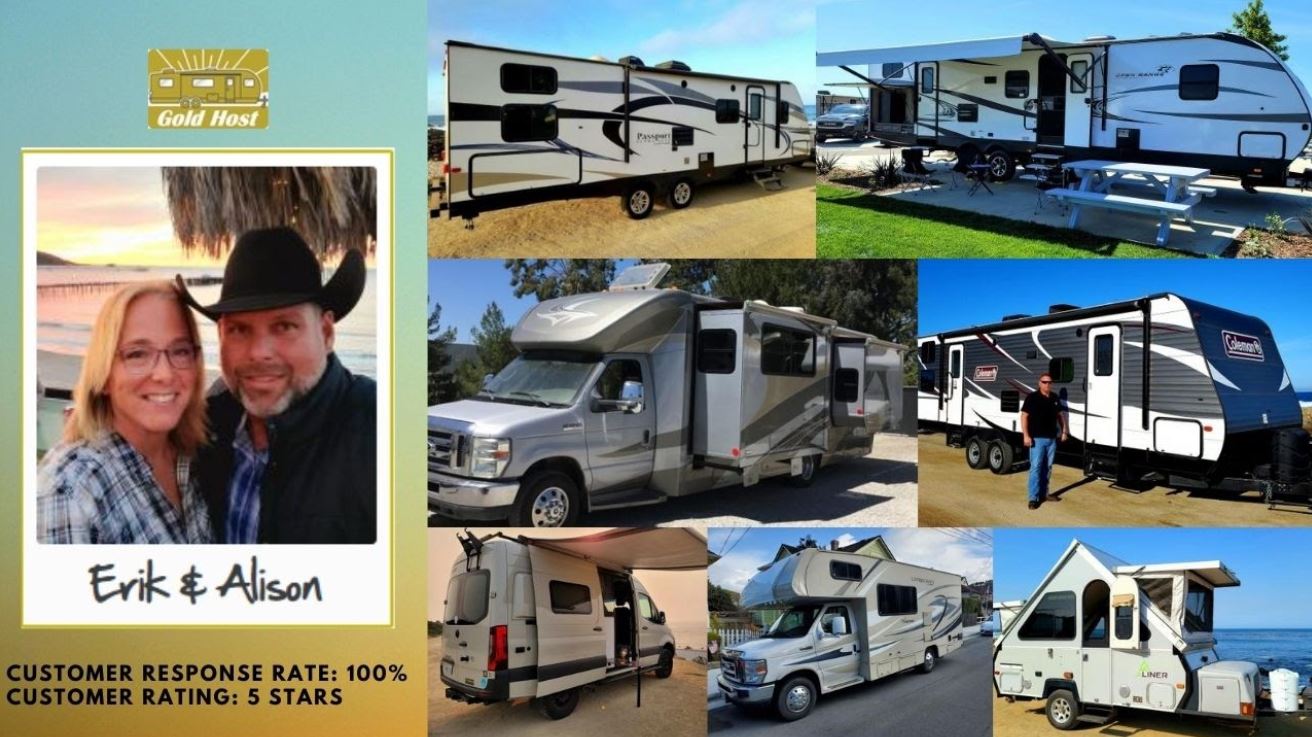 Erik and Alison have lived on the Monterey Peninsula for over a decade and have made camping an integral part of their lifestyle on the bay. They own seven RVs from Class C's to Class B vans and even a Jeep Gladiator with a roof top tent for the ultimate camping experience. As experienced RV campers, they've shared their love for camping on RVPlusYou since July 2018 and are right on the nose when it comes to providing all the necessary details and assistance both new and experienced renters might need. 
What do customers have to say about Erik & Alison?
Navneet was delighted at how Erik and Alison went the extra mile to make her family's RV camping experience a memorable and fuss-free one:
"Erik and his wife Allison are super hosts! When we arrived we had our RV all set up for us. They had it fully equipped with a BBQ station, burner, camp chairs, fire pit, linen, toiletries. The kitchen was all equipped too! They had thought of every little detail and that made our camping experience extra relaxing and special! To top it all their coffee machine with delicious coffee made a good start to each day!! Oh yes, the marshmallow kit for the kids was an added bonus! We will definitely be renting out more with them in the future! We highly recommend them if you want to take the hassle out of camping and just get on with the fun part of creating memories."
Robert was pleased the RV exceeded expectations and with the professionalism of the hosts: "Erik's 2018 37ft Open Range was everything the profile said it was and more. Erik was very prompt and professional with his communication. Everything was set up and ready for us before we pulled into camp. The unit was spacious and cosy, with newer accessories and items. Next time we go to Monterey, Erik is absolutely our guy."
Check out Erik & Alison's profile, listings and more customer reviews here.