With summer round the corner, now is the perfect time to plan that holiday. If you're in California or planning on heading there, what better way to enjoy cooling off from that California sun than in the waters! Whether you're in an RV park campground near the beach or not, having a campground with a pool on site always guarantees a fun time with friends and family.
---
Which are the best RV Campgrounds with pools in California?
1. San Diego RV Resort
San Diego RV Resort has a full-sized pool, perfect for doing laps or just kicking back against the palm trees. It's temperature controlled too which means cooling off on hot days and a nice relaxing swim in a heated pool when the temperature dips. If swimming isn't really your thing, chill out on the deck chairs because San Diego RV Resort's pool has the perfect aesthetic and backdrop needed for that pool-side Instagram selfie! 
San Diego RV Resort also has a spa, gameroom, showers, laundry room and free wifi amongst many other amenities. It is walking distance from San Diego Trolley's Green Line, making it easy to get to downtown San Diego. Additionally, it is located right next to Mission Trails Regional Park and is in close proximity to many local attractions.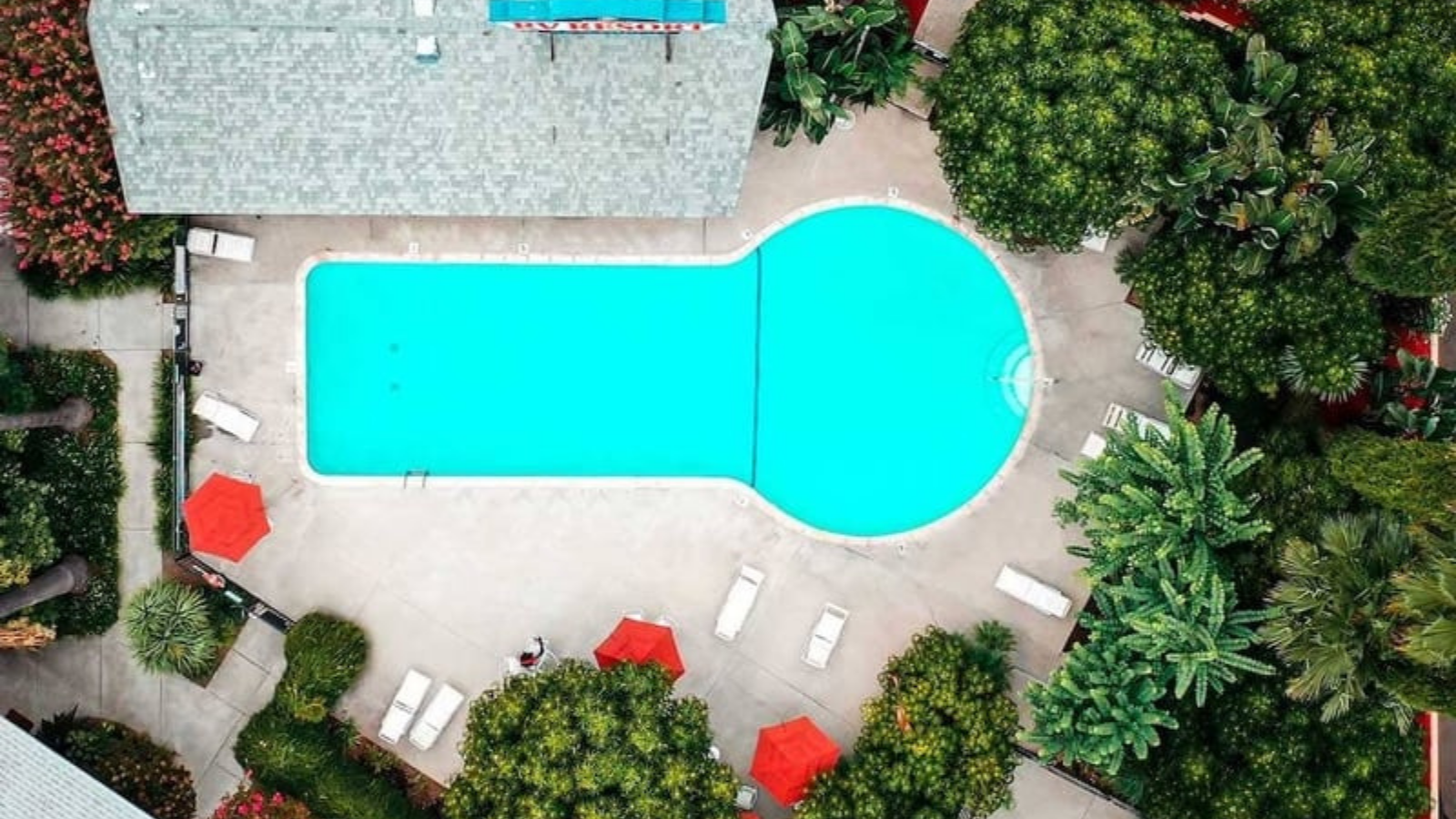 Image Source: https://bit.ly/31E6bQA
2. San Fancisco North/ Petaluma Koa
San Fancisco North/ Petaluma Koa boasts a huge pool with wine country cabanas, a must for the Napa Valley region. The pool is 10,000 feet of relaxation space, with enough space for laps and two shallow ends for the kids to wade in. San Francisco North/ Petaluma Koa hosts Memorial-Labor Day weekend pool parties that guarantee a ton of fun too! The pool is open from 1 May to 31 October. 
San Francisco North/ Petaluma Koa is located near San Francisco, Napa Valley, and the many beaches along the central coast. The nearby SMART train station to San Francisco allows for easy transportation. There are a variety of local attractions to check out, including wineries, parks, restaurants, the Premier Outlets mall, and beaches.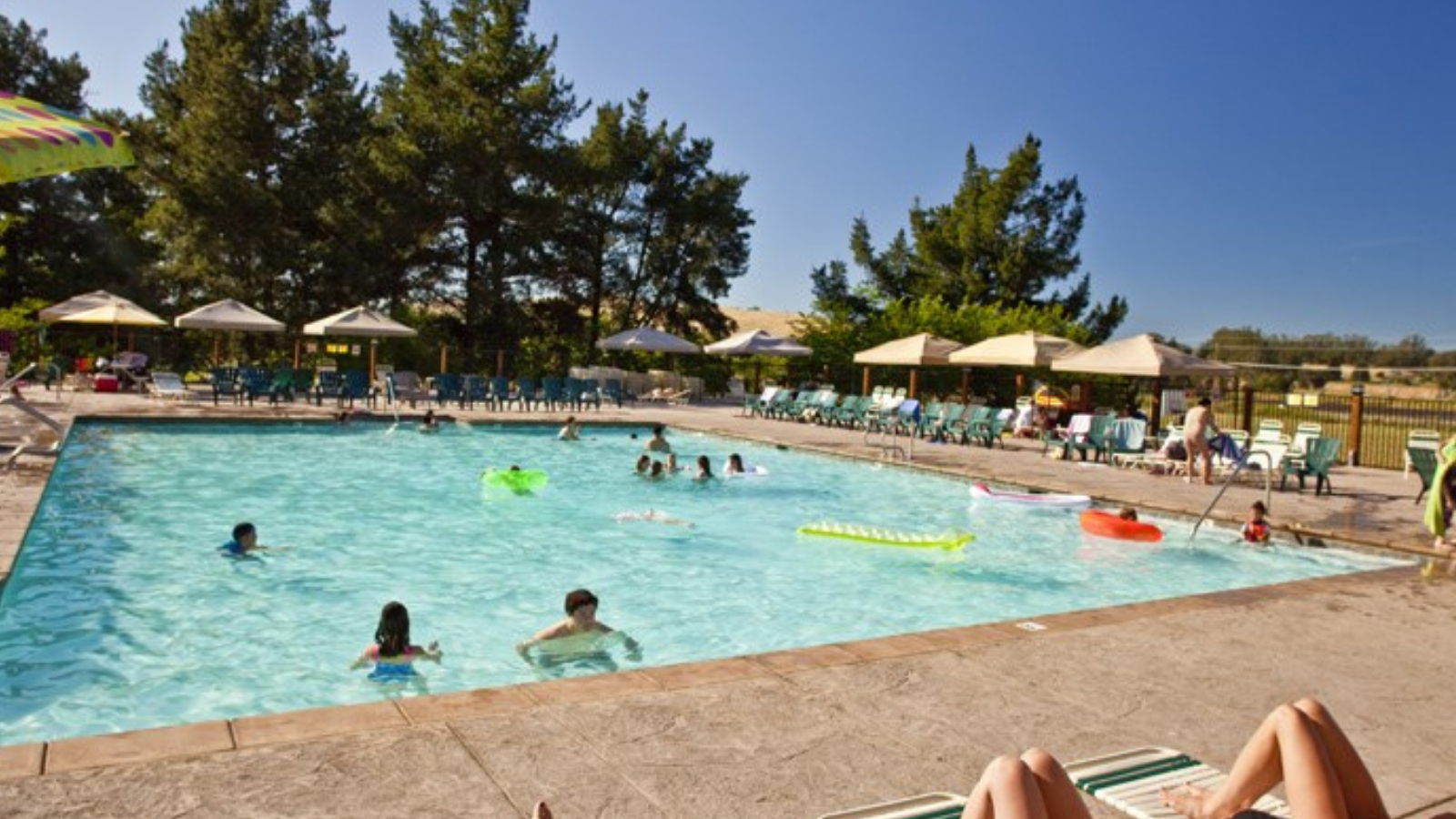 Image Source: https://bit.ly/39BP5Y4
3. Santa Cruz/ Monterey Bay KOA
Santa Cruz/ Monterey Bay KOA's brand new pool and hot tub is a must-visit! Not only is it bigger and better than before, it is also temperature controlled which means it's open all year round. Whether you're practicing those cannon balls and having a splash (yes, pun intended), or just want to relax those tense muscles from all that holiday planning, there's something for everyone.
Made for an excellent and family getaway, Santa Cruz/ Monterey Bay KOA also offers bike rentals, outdoor movies, jumping pillow, a KOA Express Fun Train, and much more! With 300 days of Californian sunshine, you're in for an unforgettable holiday.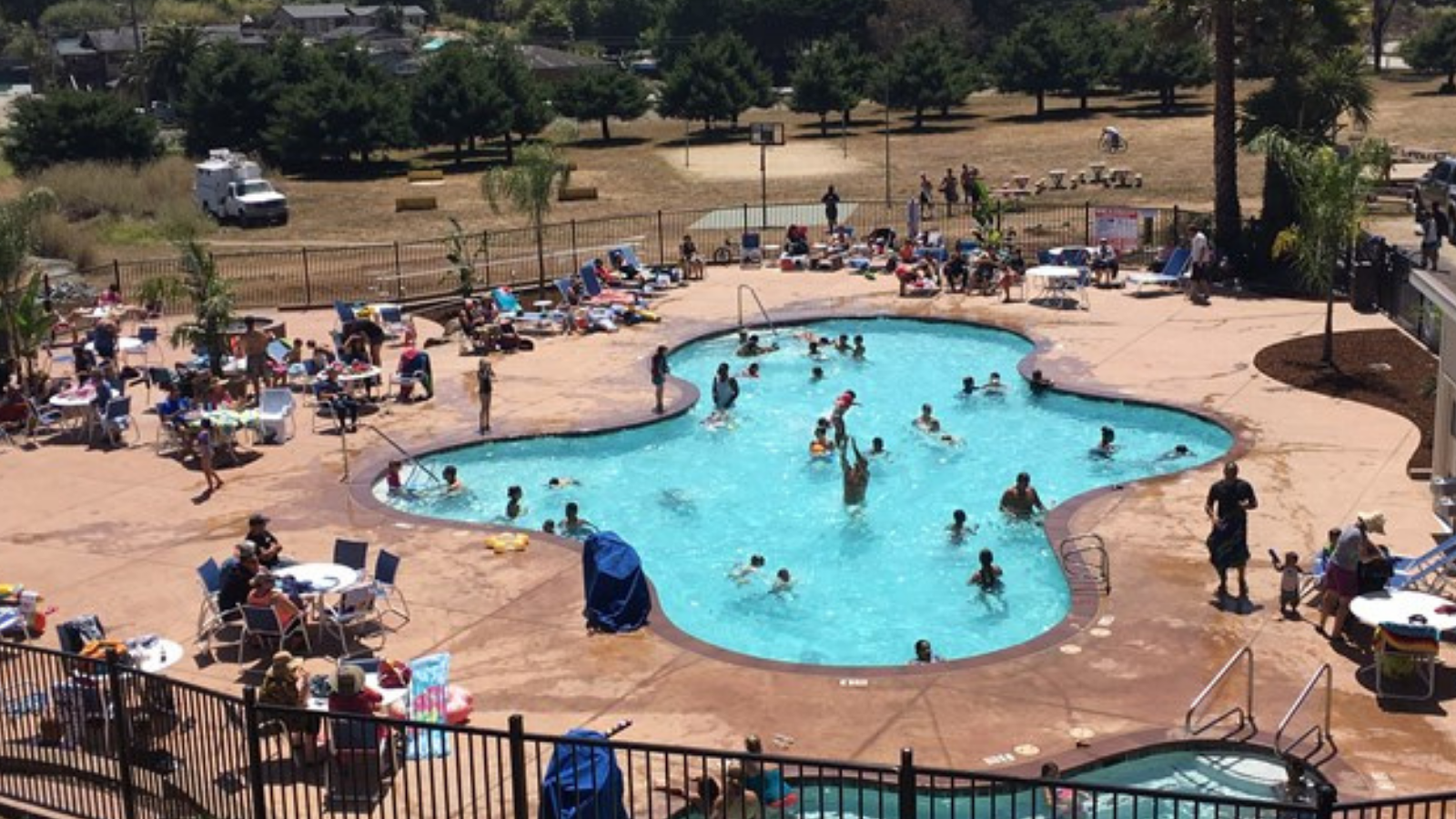 Image Source: https://bit.ly/3rPDBpT
4. Yanks RV Resort
Yanks RV Resort's pool is the perfect place to guarantee a pleasant afternoon. Not only is the pool temperature controlled but there is also an outdoor heated spa as well. The pool looks up to vast skies and sits on the picturesque Highway 101, allowing for a leisurely afternoon swim or a relaxing tanning session on the deck chairs. Catch the gorgeous sunsets after at the outdoor fireplace just beside the pool area. 
Yanks RV Resort is located near several local wineries and the beautiful Monterey hiking trails. The resort has the luxury of space being able to take in RVs of all sizes with pull through RV sites of up to 100 FT.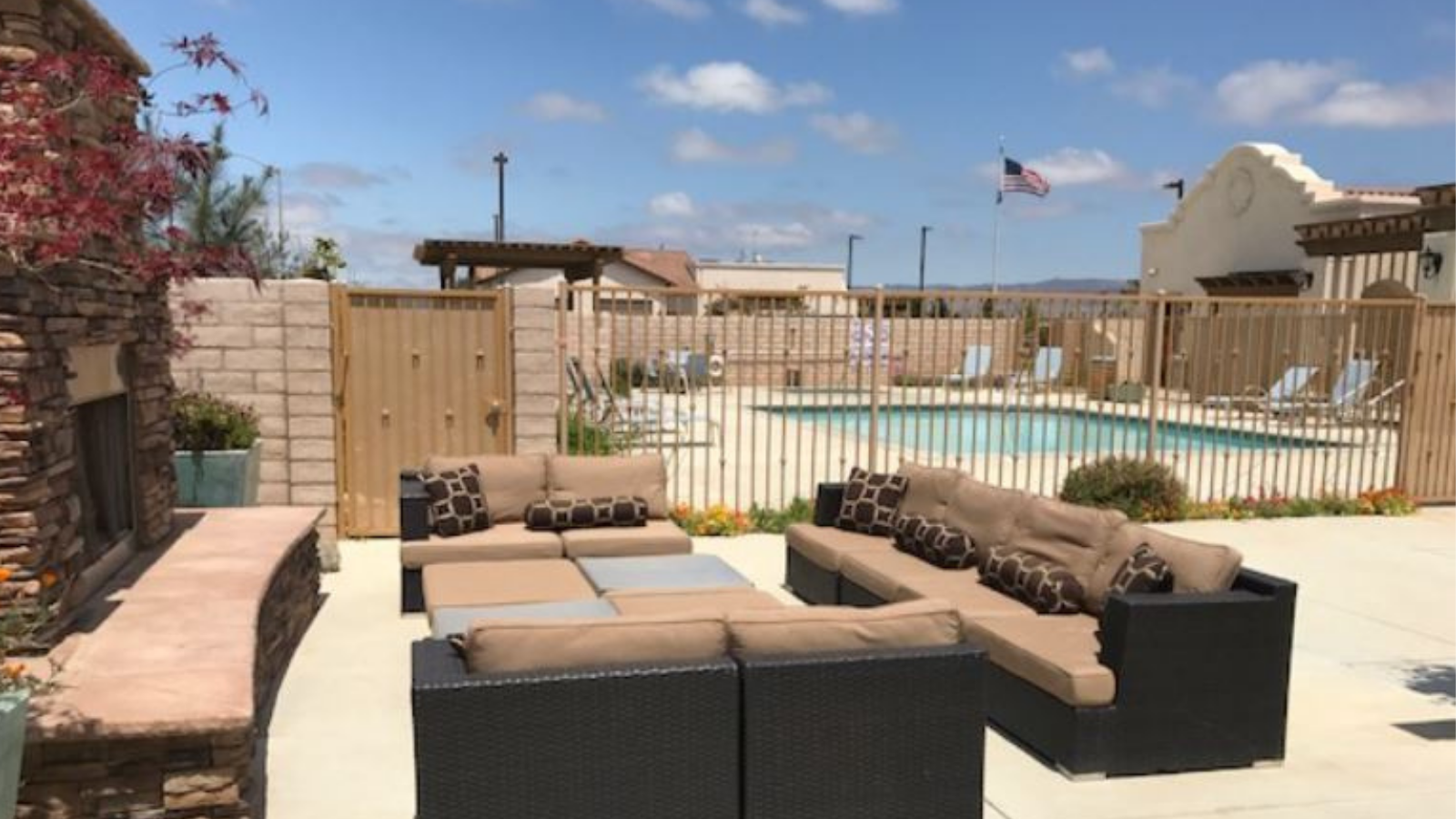 Image Source: https://bit.ly/3dxbg2u
5. Saddle Mountain Ranch RV and Campground
Saddle Mountain Ranch RV and Campground's full sized swimming pool is nestled within oaks, monterey pines and 89 acres of forest land. It's idyllic and great for a peaceful morning swim where you can watch the gorgeous sun rise from behind the mountains. If you need a break from the hustle and bustle of life, Saddle Mountain Ranch is the perfect place (with the perfect pool) to find that escape. The pool is open from the months of May to October. 
Saddle Mountain Ranch RV and Campground is located off Carmel Valley Road, just 5 miles from HWY 1. With the ocean just 15 minutes away, this campground is the ideal getaway for you to be one with nature.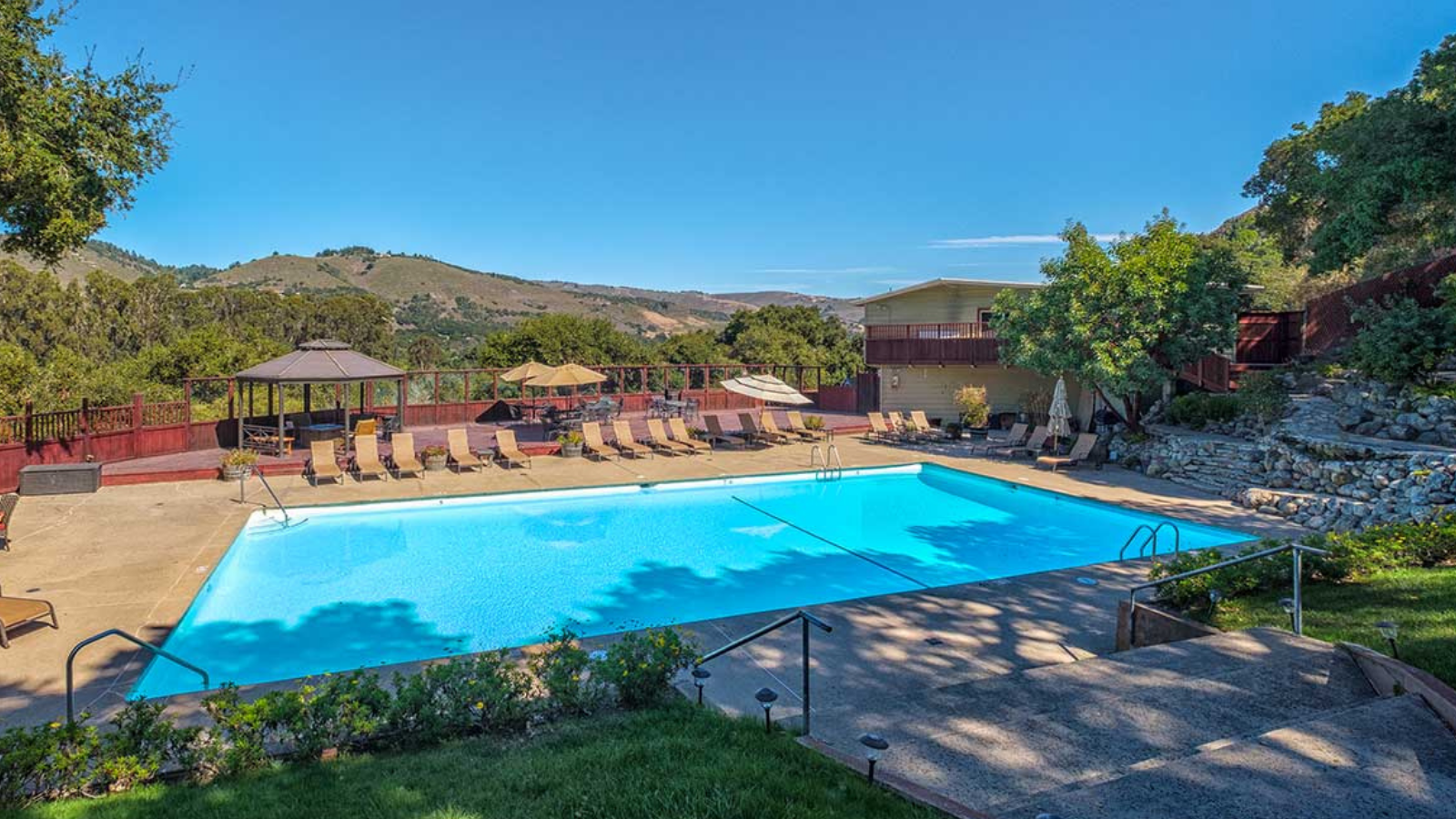 Image Source: https://bit.ly/3cIkt9e