The future is promising for campground and RV park owners—72 million Americans plan to go RVing in 2022. With plenty of people getting on board with RV travel, it's time to think of upgrades that will make your campground more interesting to campers.
After all, RVers always pick a campground based on how attractive the amenities and services are. Since the boom in RV travel isn't about to slow down anytime soon, it's the perfect time to update and improve your campground's features.
Remember: RV parks and campgrounds that invest in additional amenities get more bookings, register an increase in revenue, and see an uptick in positive reviews.
Let's dive in and discover the standout features and services that will win the hearts of RVers from far and near.
Include Camping Cabins or Yurts
For the road-wary traveler who has spent too many nights in a cramped RV, onsite-lodging can be a welcome relief. Getting creative with your accommodations is a clever way to appeal to a wider range of campers.
People are increasingly interested in unique or unusual accommodations, so you can add options such as cabins, yurts, teepees, tree houses, or vintage trailers. You can even include bio-domes or hammocks for those who want to soak in the stars.
Work With an RV Delivery and Set-Up Service
No doubt the people you're targeting are RV owners and renters. However, there are other travel enthusiasts who want to experience camping in an RV but don't want the hassle or risk of driving or towing a camper for miles on end.
By working with an RV delivery and set up service, your campground will appeal to a broader range of campers. Guests will use a delivery and set up platform to rent a motorhome or travel trailer that suits their needs; then RV owners will deliver their rigs to the campsite and set it up. They'll then pick up the RVs after the guests have finished camping.
Add a Playground
One of the easiest ways to upgrade your campground and entice more visitors is to add a spacious playground. While adults appreciate the peacefulness of a getaway, kids prefer to be more active. And a playground provides a space for children and even adults to have fun, make friends, and develop social skills.
Of course, a playground wouldn't feel the same without equipment. So, consider installing swings, bridges, slides, climbers, interactive panels, and a themed pretend play zone. Just make sure the equipment you install is safe for kids of all ages.
Build a Lazy River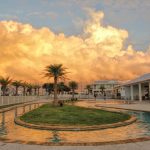 Creating a lazy river is a new trend that campground owners are using to woo RVers. It's also a nice touch to make the place feel like a resort. Although this addition may require significant initial investments, it will pay off in the long run.
Visitors can spend the day riding on a tube after a long drive or hike. Alongside the lazy river, you can add a swimming pool with a diving board or waterslide. In addition, install a kid's pool, hot tub, lounge chairs, as well as a game such as pool volleyball.
Add the Infrastructure for Water Activities
If you're lucky enough to have a campground adjacent to a water body, invest in more infrastructure to promote additional water activities. Add boat docks, fishing piers, fish cleaning stations, docks with ladders for open water swimming, nature trails, and a sand volleyball pitch.
Gear rentals can also attract more visitors as not everyone wants to haul their outdoor equipment. Start renting out canoes, kayaks, stand-up paddleboards, and floatables. You can also sell fishing gear and hire out bikes, winter sports equipment, and golf carts.
Set Up Free or Cheap WiFi
Nowadays, camping isn't always synonymous with being disconnected. Many RVers work on the road full time, while others want to check and answer their emails occasionally. For this reason, WiFi has become a staple feature at campgrounds.
To set up WiFi, take note of every structure in the campground where people are likely to spend more time. This will ensure there is enough signal strength in the key areas. Moreover, add power outlets for visitors to charge their devices.
Install Zip Lines and Obstacle Courses
Thrill-seekers and outdoor enthusiasts can't resist the urge to zip high above the trees, take in the fresh air, and marvel at the beautiful surroundings. And your campground doesn't have to be located in a hilly or mountainous area to install a zipline. All you need is a slight slope.
Another way to pull in campers to your campground is to incorporate obstacle courses. Some interesting obstacles include monkey bars, rope climb, cargo net, mud crawl, inclined wall, and tire drag.
Offer Some Planned Activities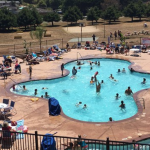 Organizing family and group-friendly events will help visitors create memories that could keep them coming back for generations. You could offer activities like guided nature walks, bike tours, scavenger hunts, yard games tournaments, or craft classes.
Even better, you could organize fun events like community campfires, spooky stories by the campfire, live music, comedy routines, outdoor movies, and brief night hikes for stargazing. You could also bring in experts to talk about the local wildlife or history.
Build an On-site Grocery Shop or Snack Bar
Another way to increase profitability and consumer satisfaction is to set up an on-site grocery shop or snack bar. These shops are a win-win. They offer shopping convenience for campers and a revenue stream for owners.
Wondering what to stock at the store? Sell camping staples such as firewood, ice, bug spray, sunscreen, flashlights, and small tools. You also need to stock up on basic cooking items, canned goods, snacks, beverages, toiletries, board games, and keepsakes.
Establish a Pet-Friendly Policy
Many RVers are increasingly bringing along their furry babies when they travel. Showcasing your location as pet-friendly will make it easier for travelers to spend their money with you. But how can you make your campground truly pet-friendly?
Some great ideas to draw pet owners include pet washing stations, an off-leash dog park or play area, and a spot for pets to relieve themselves. You also need to communicate pet rules clearly. Similarly, you can provide pet parents with information on local pet-friendly hiking trails, supply stores, and hospitals.
Level-up Your Campground and Start Earning More Money
Sure, every RVer wants to stay in a campground with full hookups, beautiful paver patios, stone fire pits, gas grills, and comfortable outdoor furniture. But don't stop there. Increase the variety of offerings to make your RV campground appealing to more guests.
And to attract non-RV owners who aren't willing to drive a rental camper, partner with an RV setup and delivery service. Catering for camping enthusiasts who don't want to drive or tow a rig is a sure way to grow your customer base.