Travel nursing with an RV offers adventure, freedom to choose where you want to work, and lots of flexibility. For many nomad healthcare professionals, traveling in a recreational vehicle is an opportunity to combine your love for helping others and your desire to explore different parts of the country with all the comforts of home at your side.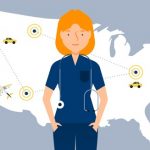 But becoming an RVing travel nurse comes with its own set of challenges. Thankfully, we've compiled the best tips for travel nursing with an RV. Use them to learn whether the lifestyle will fit your needs and how to make it work for you. For detailed information on what it's like being a Travel Nurse, the pros and cons, or how it works, check out this detailed information guide.
Weigh the Pros and Cons of Travel Nursing With an RV
Travel nursing in a camper is not for everyone. But how do you determine whether the lifestyle is perfect for you? Your best option is to weigh the pros and cons of traveling in an RV.
Pros of Travel Nursing in an RV
Here are some reasons travel healthcare workers choose the RV lifestyle.
Staying in your mobile abode is generally cheaper than renting a hotel room or apartment. Your per diem housing budget will usually far exceed that of an RV pad rental.
You don't have to pack your whole household every time you get a new assignment.
Transitioning is easier for your kids when you move, since you'll always have your home with you.
You get to visit, stop and discover parts of the country that you can't explore without a camper.
Staying closer to nature is easier since you can always locate a regional RV park in major cities. Finding a short-term furnished rental apartment or hotel is tough and expensive.
You have the freedom to travel with pets.
You get to be meet other RVing healthcare providers, form a community, and even make lifelong friends for both you and your children.
Alternative RV spaces are popping up all over in cities across North America and they're available for rent on major platforms such as Airbnb under unique spaces.
Cons of Travel Nursing in an RV
Here are some reasons that dissuade some travel nurses and health care workers from living in an RV.
Finding a campground or parking spot that's close enough to the hospital may be a challenge in some cities. But again, try Airbnb, Hip Camp, or Harvest Hosts.
RV ownership costs may add up significantly. Expenses such as maintenance, repairs, fuel, and campground fees can be a turnoff.
Living in an RV isn't as secure as residing in a more traditional form of housing.
RV storage capacity is limited, no matter how big it is, so you won't be able to bring all your belongings with you.
In cold regions, living in an RV may not be an option year-round.
Now that you know the main advantages and disadvantages of RV travel nursing, let's learn how you can ease yourself into this lifestyle.
Rent Before You Buy
To get a clear picture of what travel nursing in an RV feels like, rent an RV for a few days. You'll get an idea of how much space your family will require, the belongings you should pack, expenses to expect, where an RV can go and can't, and if your loved ones are comfortable with it. Click the orange button below to search for RV rentals that can be delivered to your destination.
After trying out a few different camper rentals, it's easier to tell whether the lifestyle fits your family's needs and which type of RV will meet your expectations. If you're planning to live in a hired camper for a considerable time to see if you like Rv'ing, consider a long-term rental option instead of paying the daily rate.
Talk to RVing Travel Nurses
Although renting an RV for a few weeks will give you a good sense of what it is like to live in a camper, it's hard to tell how the lifestyle will turn out long-term. Consulting with healthcare workers who live in a motorhome or towable is another smart way to learn the long-term realities of calling an RV home. And the best place to find and speak to RVing travel nurses is online forums.
These platforms welcome any questions you might have about healthcare traveling and RVing. Apart from learning what the life has in store for you, you'll also get advice on the most desirable places to journey and work, discover career opportunities, and stay in touch with what's going on in the travel nurse community.
Research the Area You Plan to Travel and Work In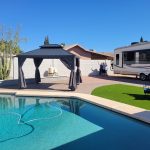 No matter how enthusiastic you are about RVing, you need to learn whether the area you plan to work in is suitable for a camper lifestyle. Before taking an assignment or investing in an RV, learn whether there are RV parks, campgrounds, RV pads available for rent to traveling nurses, or RV space rentals near your hospital or workplace.
Next up, check whether there are repair facilities close by and learn the experiences of other RVers in the area. Some areas are not RV friendly as they lack the must-haves, like campsites, dump stations, large gas stations, and spacious parking spots. Others have super narrow streets, lots of traffic, and steep winding roads.
Be Conscious of Weather
When living in an RV, the weather can be one of the most challenging factors you will face. That's true because most RVs aren't built to handle harsh conditions. Before choosing an assignment or camper, research the type of climate you'll encounter and whether you can find open campsites during the off-season.
To circumvent this problem, perhaps you should not take assignments during seasons where a region is extremely cold or when hurricanes, tornadoes, or wildfires are prevalent. If you decide you want to travel and work in cold climates, you'll need to invest in a 4 season camper or find temporary housing during those months.
Make Sure You Have a Vehicle to Get Around In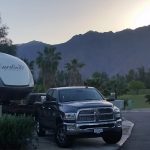 Don't assume you'll find a campsite close enough to walk to your workplace. Most travel nurses who live in an RV soon discover they need an extra vehicle to move around in. For instance, if you have a motorhome, get a toad—an everyday car that you'll pull behind your rig.
It will make it easier and cheaper to get to work, explore the city, shop and run errands in the areas you can't drive your RV. If you have a fifth wheel or travel trailer, you can use your tow car or truck for your daily commute. Another option for commuting is a motorbike or bicycle.
Get the Right RV
Since your camper will be your family's full-time home, it needs to meet certain requirements. The first thing you'll want to look into is space. Many travel nurses with families love fifth-wheels since they offer enough room and feel like a one-bedroom apartment.
Ideally, look for a rig with a separate living space, a spacious kitchen and bathroom, ample storage, and different sleeping arrangements that offer enough privacy. Consider the ease of setting up, taking down, driving, and towing. To make an informed choice, go to RV shows, dealership lots, internet, and learn about the different types of RVs.
Travel Nursing in an RV can Be Personally and Financially Rewarding
An RV could help you enjoy the perks of being a travel nurse and also ensure you feel at home no matter where you take an assignment. But to have a fulfilling experience, you need to know what the lifestyle entails. Learn the pros and cons, consult experienced travel nurses, research the area you're traveling to, and select the right camper for your needs.
To test whether RV living is for you before dipping your toes into the world of full-time RVing, consider renting a motorhome or travel trailer. And you don't have to worry about driving or towing a giant rental rig on the busy highway. RVPlusYou can deliver and set up the RV rental at the campground or RV pad of your choice.