You must upload photos, and you must activate. Your RV will NOT show up in search results until you "Activate" your listing. Make sure to upload quality photos. You can edit photos after you upload: Brightness, rotate, crop, etc.
After uploading photos, make sure all your information is correct: detailed pricing, delivery fees, extra mileage fees, cancellation policy, address and description, etc.
Click on the round button in the red slide shown below to activate. The red "Hidden" slide will move to a green "Visible". Your all set!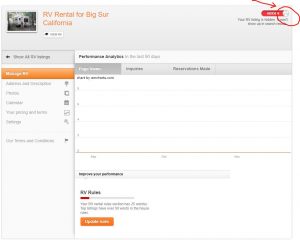 Your RV will now show up in search results. We highly recommend that you read our How to Book guide so that you may assist your renters with the booking process. After two bookings, you qualify to become a Gold Host.