As Cal Poly parents know, finding affordable lodging in San Luis Obispo can prove extremely frustrating. The high cost of hotel rooms and vacation rentals during popular events such as WOW and Cal Poly graduation is leading some parents to get creative in their vacation accommodations. If you're looking for lodging for your next visit to Cal Poly, San Luis Obispo, consider an RV vacation rental.
Booking reasonably priced accommodations in San Luis Obispo is an annual challenge for parents of Cal Poly students. Hotels fill up fast, you have to make reservations months in advance, and rooms cost a small fortune. This is why parents should consider booking a delivered RV rental when looking for a place to stay in San Luis Obispo.
What is a delivered RV rental?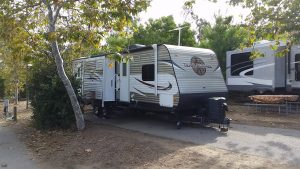 RVPlusYou is a peer to peer platform that connects RV renters with RV owners. RV owners can rent out their RVs to people looking to take an RV vacation. Then, the owner delivers the RV to the renter's chosen location and sets it up. Both parties benefit because renters get a convenient and reasonably priced RV vacation and owners get to make some extra money.
How can Cal Poly parents benefit from a delivered RV rental service?
If you book with RVPlusYou, you can have an RV delivered and set up at a campground in San Luis Obispo, such as El Chorro Regional Park, and then spend time with your child. Not only do you save money on lodging, but you also get to enjoy the benefits that an RV offers. RVs provide you with all of the comforts of home, including a bedroom, a living space, a bathroom, and a kitchen. The extra space  means that there is plenty of room for all of the family members who want to visit. Additionally, having the option to cook your meals in your RV allows you to save money on food during your visit.
What events could you book an RV rental for?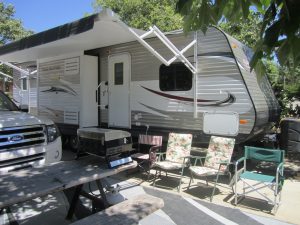 A delivered RV rental is a great option anytime you want to visit your Cal Poly student. It is especially beneficial to rent an RV for Cal Poly's most popular events, such as:
Move-in/move out
Poly Royal Rodeo
Cal Poly Parents' Weekend
Sporting Events
Cal Poly's Open House
A delivered RV rental allows you  to visit your Cal Poly student without  worrying about expensive hotels and vacation rentals. Check out the RVPlusYou website to see our many RV rental options in the San Luis Obispo area.
---