---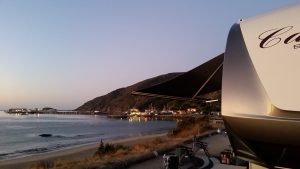 Our choice for the top 10 campgrounds in San Luis Obispo, CA .
San Luis Obispo County is located on the central coast and is the birthplace of RVPlusYou. From the beaches to the lakes, and hundreds of world renowned wineries, this area definitely makes it to the list of 10 RV rental destinations.
For a list of RV Rentals that deliver to these area campgrounds, click here.
Below are  the top 10 destination RV campgrounds in San Luis Obispo, CA.
Location: Avila Beach, CA
Securing a campsite at Port San Luis is a unique process. There are no reservations; the campground works on a first-come, first-served basis. If you are planning on camping here, it is recommended to have an alternative plan in case there are no campgrounds available.
The max stay at this Port San Luis RV Campground is 14 days. In order to secure a site, you must be in the campsite with your RV. Self-service payments are made at the Iron Ranger Pay Station.
Amenities:
Full hook-up sites available
Dump station costs $23 and is by appointment only
Pet-friendly (must be kept on leashes)
Additional Information:
Campfires and wood or charcoal BBQs are not allowed
Location: San Luis Obispo, CA
Situated between Morro Bay and San Luis Obispo, El Chorro Regional Park allows you easy access to many of the Central Coast's great attractions.
This land was originally used for dairy production and cattle grazing, and then, later on, was converted into a training camp for the U.S. Army during WWII and The Korean Conflict. President Nixon's Legacy of Parks program turned the land into a recreational park for the people of SLO County.
Amenities:
61 campsites (43 Full hook-up)
30 Amp electric
Pull-thru sites
Restrooms and Coin-operated Showers
Pet friendly
Hiking trails
Barbeque facilities
Volleyball courts and softball fields
Off-leash dog park
Horseshoe pits
San Luis Obispo Botanical Garden
Additional Information:
Location: Pismo Beach, CA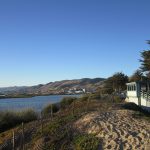 Pismo Coast Village RV Resort is located halfway between Los Angeles and San Francisco. The resort is walking distance to downtown Pismo Beach and is near many restaurants and shops. The resort itself offers many luxury amenities for you to enjoy. You will find this beautiful beach location is a perfect place to take an RV vacation.
Amenities:
400 full hook-up sites
Picnic tables and fire rings
Bathrooms and showers
30 and 50 amp electric
Wifi
General store
Swimming pool
Laundry service
Arcade
Bicycle rental
Playgrounds
Mini golf Courts and games
Pet-friendly: must be kept on-leashes (3 pets per site)
Location: Morro Bay, CA
Morro Dunes RV Park offers a balance between relaxation and outdoor adventure. The campground is located 9 miles away from the sites of Atascadero Beach and Morro Rock. From here you can enjoy some scenic sightseeing as well as the nearby attractions in Atascadero and Morro Bay.
Amenities:
170 sites
139 full hook-up sites
30 and 50 amp electric
Cable tv
Dumping station
Bathrooms and showers
Pet-friendly
Wifi
Fire pits
Location: Oceano, CA
The California Parks Association has named Pismo Sands RV Resort the "Best Medium Sized Park in California" three times. It is a few minutes away from Pismo Beach and has easy access to the Central Coast's many wonderful sites and attractions. This resort offers a variety amenities to make sure your stay is as relaxing and enjoyable as possible.
Amenities:
133 full hook-up sites
Pull-through and back-in sites
20, 30, and 50 amp electric
Wifi and cable tv
Heated pool and Jacuzzi
Quiet library
Laundry facilities
Bathrooms and showers
Horseshoes, basketball courts, shuffleboard
Propane for sale
Gated entrance
Camp store
Pet-friendly
Location: Santa Margarita, CA
Santa Margarita KOA is known as "the best-kept secret on the central coast." This campground is great for those who love outdoor activities such as biking, horseback riding, bird watching, hiking, boating, swimming, and much more. Nature-lovers will enjoy the natural environment and scenic views. One of the fun perks that Santa Margarita KOA offers is a Jumping Pillow for kids and adults alike.
Amenities:
30 and 50 amp electric
Full hook-ups
Back-in and pull-thru sites
Propane and firewood for sale
Pool
Jumping Pillow
Fishing and boating
9 hole disc golf course
Basketball
Camp store
Fire pits
Pet-friendly
Volleyball court
Activity and game rentals
BBQ grills and picnic tables
Bathrooms and showers
Location: Avila Beach and Shell Beach, CA
The KOA in Avila Beach is located just off the 101 freeway before Shell Beach at the Bob Jones trailhead and features wonderful amenities in a family friendly park. It's located near two of the most beautiful beaches in California. The campgrounds are close to Avila Beach, Shell Beach, Pismo Beach, area restaurants, Avila Beach Golf Resort, and other prime destinations.
Amenities:
102 campsites and cabins
Movie screen
Shuffleboard
Showers/Bathrooms
Basketball
Clubhouse
Hiking and mountain biking
Surfing
Kayaking
Swimming
Fishing
Sailing
Scuba diving
Pool/Sauna
Bob Jones Hiking/biking Trail
Pet-friendly
Additional Information:
Location: Oceano, CA
The resort is located in the Oceano Dunes Preserve and is an excellent spot for beach RV camping. There are many opportunities to visit nearby attractions like Hearst Castle, Central Coast wineries, and shops. If you enjoy horseback riding, there is the option of renting a horse for a ride on the beach.
Amenities:
Full hook-up
30 and 50 amp electric
clubhouse, game room, and meeting room
BBQ area and picnic table
Cable TV
Wifi
Horse rentals
Nature/hiking trails
Horseshoes
Pet-friendly
Laundry facilities
Bathrooms and showers
Camp store
Location: Los Osos, CA
The golden wildflowers that grow here give the park its name which translates to "mountain of gold." Montana de Oro offers a variety of hiking, mountain biking, and equestrian trails. Spooner's Cove is the park's best-known beach. Camping here entails beautiful views, natural scenery, and a look at the local wildlife.
Amenities:
Camp store
Beautiful views
Biking and hiking trails
Horseback riding
Historical/cultural site
Picnic areas
Fishing
Scuba diving and snorkeling
Windsurfing and surfing
Drinking water
Pet-friendly (allowed on-leashes in campsites, not on trails or beach)
Additional Information:
No hookups or electric
No restrooms or shower
Location: Paso Robles, CA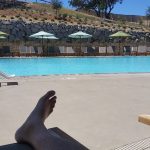 This resort is conveniently located close to the city of Paso Robles' restaurants, sites, and attractions. Here you can experience the fun events that the city has to offer. Cava Robles is a resort in every sense of the word and it is nearby many amazing wineries.
Amenities:
Two pools with sauna and jacuzzi
Restaurant
Game room
50 amp electric
Gas fire pits
Propane refilling station
Pet-friendly
Full hookup
Pull-thru sites
Bathrooms and showers
Massage therapy
Wine tasting/tours
Picnic tables and playgrounds
Wifi
Hiking
Biking
Golfing
Horseback riding
Clubhouse
Laundry Facilities and store