Maine is a great destination for outdoor adventures, as the state is well known for its beautiful beaches and lakes, mountains, and many hiking and biking trails. Whether you prefer the water or the mountains, nature lovers will enjoy a trip to this beautiful state. There is no end to the experiences you can have when you travel to Maine. Here are some of the top destinations in Maine, divided by region.
Image from campmaine.com
Aroostook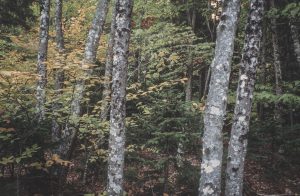 Aroostook is the largest and northernmost county in Maine. This is a beautiful location with many amazing destinations to explore, including the North Maine Woods, Grand Falls Gorge, and the Grand Lake chain of lakes. Many visitors are attracted to the opportunity for hunting and fishing in this area, along with a variety of festivals and exciting events.
Aroostook State Park
Aroostook State Park, created in 1938, was the first state park established in Maine. The park began with 100 acres of land donated by Presque Isle citizens. Since then, ensuing donations have allowed the park to grow to around 800 acres. Some of the park's highlights are Quaggy Jo Mountain and Echo Lake. Visitors can enjoy outdoor activities, such as fishing hiking, camping, and nature watching. The park's campgrounds can accommodate tents and RVs, and include picnic areas, fire pits, bathrooms, and showers.
Maine's Swedish Colony
In the 1860s, President Abraham Lincoln sent War Consuls to different countries as a way to further the Union cause. He sent William Widgery Thomas, Jr to Gothenburg, Sweden. Upon his return to Maine, he campaigned to bring a group of Swedes into the state to establish an agricultural colony. Thomas was named "Commissioner of Immigration" and brought over the first group of immigrants to the state. The colony is still in existence today and is alive with Swedish heritage and culture. The colony consists of the communities of New Sweden, Stockholm, Woodland, Perham, Westmanland, Connor, Madawaska Lake, and Caribou. Visitors will get a taste of traditional Swedish festivals and Smorgasbords with authentic Swedish food.
Midsommer Festival
The Midsommer festival takes place the weekend before June 21st and is the Swedish way of commemorating the summer solstice. Midsommar starts on Friday when people make flower wreaths for the girls' hair. The maypole, an important part of the celebration, is raised in Thomas Park. The festival also includes traditional Swedish music, dances, and storytelling and ends with a traditional dance around the maypole.
DownEast & Acadia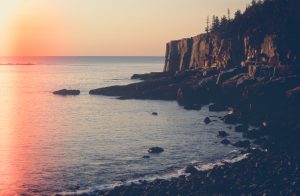 Maine's DownEast & Acadia region spans from the Head of Penobscot Bay in the west to Passamaquoddy Bay in the east. It gets the name "Downeast" because the ships that sailed here from New York and Boston had to go "downwind and to the east." The area is filled with amazing sites to explore, and a trip to this region will give you a good feel for the state's natural beauty and maritime history. The region is also home to Acadia National Park, one of the state's most popular attractions.

Acadia National Park
Acadia National Park is a must-see destination that is fun to visit all year-round. According to nps.gov, this is one of the 10 most-visited national parks in the US. The park is a gem with plenty of outdoor fun, including fishing, nature watching, biking, and hiking trails. If you are interested in camping in the park, there are plenty of campsites on Mount Desert Island to accommodate you. Taking a trip to Acadia National Park also presents a good opportunity to visit the town of Bar Harbor, which shares a border with the park.
Maine's Lakes & Mountains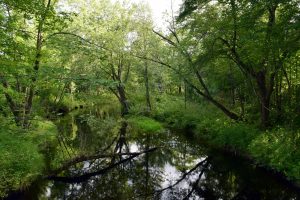 Maine's Lakes & Mountains region is located in the westernmost part of the state, about an hour outside of Portland. One of this location's most notable features is its four distinct seasons. The activities you get to do depend on what time of year you visit. In the winter, you can go skiing and in the summer, you can enjoy camping and hiking. Spring is an excellent time to go fishing, while fall offers an opportunity to see the leaves changing on the trees.
No matter when you visit, this is a true paradise for outdoor enthusiasts, with its beautiful mountains, lakes, and rivers.
Sebago Lake
Sebago Lake is the second largest lake in Maine. It is also the deepest lake in the state. Fun fact: Sebago Lake is thought of as one of Maine's purist lakes and provides the main source of water for the city of Portland. This is also a great lake for fishing, especially in the early spring when the water temperatures are still cool. In addition to fishing, you can also enjoy beaches, boating, and camping at one of the many nearby campgrounds.
The Fryeburg Fair
The Fryeburg Fair started in 1851 when a group of local farmers and merchants grouped up to display their products to the people of the community. Since then, the fair has grown to be the largest agricultural fair in Maine. The fair is eight days long and takes place during the first week of October. Visitors will get to see livestock, agriculture, and farming exhibitions. The fair hosts over 3000 large animals, including cattle, oxen, and horses, and many smaller animals, such as sheep and pigs. There is also an RV campground with a 2-night minimum reservation.
Kennebec Valley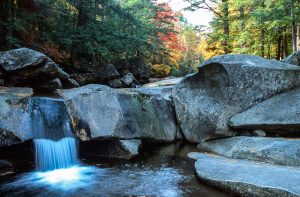 The Kennebec Valley is Maine's widest north-south region and spans over 5000 square miles. In the Kennebec Valley, you will find Main Street Maine, which includes towns such as Augusta, Skowhegan, Waterville, and Gardiner. The region is perfect for an outdoor adventure, with its trails and opportunities for water activities, camping, hunting, and nature watching.
Windsor Fair
The Windsor Fair began in 1888 and takes up over 50 acres. There are many interesting events and attractions for visitors to enjoy. The entertainment includes local and national talents. There are also many farm animal exhibits, harness racing, monster trucks, and much more.
Maine Highlands
The Maine Highlands, which is in the middle of the state of Maine, is home to the state's largest lake, longest river, and highest peak. The region is known for its natural beauty with mountains, waterfalls, undeveloped land, and thousands of miles of trails. In addition , you will also find Bangor, the third-largest urban center in the state.
Moosehead Lake
Moosehead Lake is a great destination for anyone looking to partake in some fun water activities. This is the largest lake in Maine and a great spot for enjoying some time outside. Visitors can go fishing, hike the nearby trails, and watch for the wildlife living in the area. If you visit in September the weekend after Labor Day, you can see the International Seaplane Fly-in, where hundreds of seaplanes fly over the lake. Overall, you won't regret adding Moosehead Lake to your itinerary.
Penobscot River
The Penobscot River is the longest river in Maine. The river has four branches and is surrounded by beautiful woods. This is a great location for fishing, as the river is home to many different species of fish. You can decide which branch of the river to fish depending on the type of fish you want to catch. The river is also a great place to go canoeing. There are some primitive campsites along the river's East Branch for people looking for an outdoor experience.
Baxter State Park
Baxter State Park is located in Northeast Piscataquis, Piscataquis County. The land for the park was donated in 1931 by Percival P. Baxter, the former Governor of Maine. In the park, visitors will find Maine's highest peak, Mount Katahdin. There are also several bodies of water, including three large lakes and some smaller ponds. The park is home to a variety of wildlife, including moose, black bears, and white-tailed deer. The park, which is made up of 210,000-acres of land, has 215 miles of trails, 46 peaks and ridges, 8 roadside campgrounds, and 2 backcountry campgrounds. There are also several individual backcountry sites for backpackers. To get the full effect of the park's beauty, it is best to enjoy the park on foot, rather than in a car.
Moose Watching
Maine is known for having a large moose population, making moose watching a big tourist attraction in the state. Visitors can find moose throughout the state, although there are some places you are more likely to find them. The Maine Highlands region is a great area for Moose watching because of its natural landscape. For a better chance of spotting a moose, you can join a moose watching tour (or moose safari). This will allow you to safely spot these creatures while also learning more about Maine's moose population.
Midcoast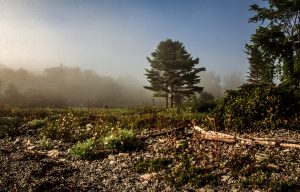 Midcoast Maine is home to tasty seafood, lighthouses, and beautiful beaches. This charming area is a great place to learn more about Maine's history. Here, you will experience coastlines, lobster traps, picturesque downtowns, and lively waterfronts. Visitors can explore the villages of Belfast, Camden, Rockland, Wiscasset, Brunswick, Bath, and Damariscotta. You can also visit the many historic museums and theaters in the area. An RV rental delivered to your campground is a convenient way to explore this area.
Reid State Park
Reid State Park is the first state-owned saltwater beach in Maine. Walter E. Reid, a Georgetown local, donated the land for the park. Visitors will experience long beaches, dunes, and local birds. From here, you can also view the nearby islands, including Southport, where Rachel Carson wrote her book Silent Spring.
Maine Lighthouse Museum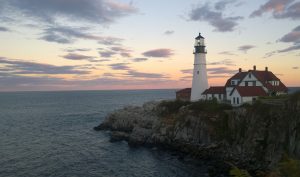 Lighthouses are an iconic feature of Maine's coastline. If you are interested in learning about the history of these lighthouses, you can visit the Maine Lighthouse Museum in historic downtown Rockland. The museum was founded by Ken Black, a decorated Coast Guard Officer, and began with his collection of artifacts. Now it houses the largest collection of lighthouse, lifesaving, and U.S. Coastal Guard artifacts in the U.S. The museum aspires to teach the public about America's lighthouse and Lifesaving services and the United States' Coastal Guard.
In addition to the lighthouse museum, you can visit Maine's historic lighthouses. You can tour these lighthouses, and some lighthouses even allow visitors to stay overnight for a unique experience. Make sure to make your plans ahead of time, as lighthouses are a popular Maine tourist attraction.
Maine Lobster Festival
Maine is known for its delicious seafood, especially lobster. This five-day festival is full of delicious lobster dinners, cooking contests, carnival rides, entertainment, and local craftsmen and artists. Not only is this festival lots of fun, but proceeds go back to the Midcoast Maine community.
Greater Portland & Casco Bay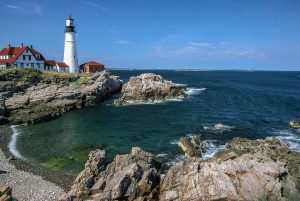 The biggest metropolitan area in Maine is located in the Greater Portland & Casco Bay region. In 1633, the British set up an establishment along Maine's southern coast, in what is now Portland. Portland is now known for its delicious food, entertainment, and arts. Within the Greater Portland area, you will find the towns of Scarborough, Yarmouth, Cape Elizabeth, Falmouth, and South Portland.
L.L. Bean
The L.L Bean Flagship store is one of Maine's must-see attractions. The store is open 24 hours a day, 365 days a year. Every year, the store gets millions of visitors. The store hosts free events, including concerts and outdoor excursions. L.L. Bean opened in Freeport, Maine in 1917 and has been a popular destination ever since. At the store, you will find everything from outdoor gear and apparel, to souvenirs, an aquarium, a café and a coffee shop. Outside is the iconic L.L. Bean boot that stands at 16-feet-tall.
 Maine Beaches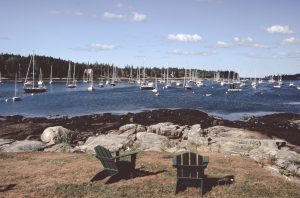 Beach lovers will appreciate the beautiful beaches along Maine's coast. Visitors and locals can enjoy beach activities like sunbathing, swimming, stand up paddle boarding. The beach is fun for all, from families with young children to friends taking a vacation. The Maine Beaches region is made up of seven beach communities, and each has its own unique draws. Doing some research ahead of time will ensure that you see all that you want to see.
The Kennebunkport Festival
Kennebunkport is one of the towns in the Maine Beaches region. The annual Kennebunkport Festival is a week-long summer festival of art, music, food, and wine. Money from the festival goes to local charities. The festival's main event is The Art of Dining Dinners. Guests get to enjoy delicious meals cooked by local chefs in the area's beautiful homes.  There are many events for the community to enjoy.
All of these amazing activities and sights to see are how Maine got its nickname "Vacationland." Whatever it is that you are interested in, you are sure to find something exciting to do. From beaches, to outdoor recreation, to charming towns, there is something here for everyone. There are so many wonderful places to stay in Maine, including many amazing RV campgrounds. Taking an RV trip to Maine is an excellent way to experience Maine's natural beauty, as well as enjoy many fun festivals and events. An RV rental delivered to your location of choice provides the perfect home base for exploring the incredible destinations Maine has to offer.
---