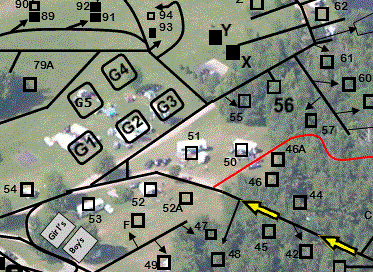 ---
Riverbend Campground is an ideal site for family and/or friends to get together with delivered RVs. By renting an RV, rather than driving one yourself, you save on all the hassles of driving the windy roads of Maine. The owner hooks up the RV once you arrive at the site and unhooks it at the end!
Riverbend Campground has the solitude you'll like. It's situated on the Dead River with access to Androscoggin Lake. Whether you're into fishing, or kayaking and canoeing, you'll find the quiet waters of the Dead River to be just what the doctor ordered.
Amenities
Riverbend Campground has sites for any size RV. All sites are equipped with water and electric hookups, as well as tables and fire rings. There's an RV supply and repair service on-site.
Riverbend is a pet-friendly park. They provide clean bathrooms and free showers, including a handicapped accessible bathhouse. There's an in-ground pool open from Memorial Weekend to Labor Day Weekend, two laundromats, a playground and game room, and horseshoe pits and basketball courts. They also have a lending library.
Surroundings
Thorncrag Nature Sanctuary and D.E.W. Animal Kingdom, Mount Vernon are only 30-minute drives away, respectively. Maine Wildlife Park is an hour away. Kennedy Skateboard Park features a 12,000 square foot area with in-ground concrete bowls, ramps, stairs, and half-pipes.
Springbrook Golf Club in Leeds is only a 10-minute drive away.
There are plenty of museums and art galleries just a half-hour drive away to suit anyone's tastes. And of course, foodies will find plenty of restaurants in Leeds and the nearby cities.
If you would like an RV rental delivered to your campsite, simply click the button to search RV rental options.
Riverbend Campground
1540 Route 106
Leeds, Maine 04263
Reservations:
Call: (207) 524-5711
Inquiries: Inquiries@riverbendcampgroundmaine.com