Best Luxury RV resorts that we have visited
We spend about 6 months out of each year traveling somewhere in our RV. So, we come across some pretty cool locations and occasionally we get to stay at what we'd call a "Luxury RV Resort".
Before we go on to detail the luxury RV resorts that we'd love to visit, let's define this description, "luxury RV resort" . Because like most terms involving adjectives, words can mean different things to different people.
What is a "Luxury RV Resort"?
For starters, I'll define an "RV resort" as an RV park located on or next to a desirable attraction or destination. It's also one that offers more and higher-end amenities than other RV parks, one that provides above average service, and one that has higher quality RV pads.  If these things are noticeable and improve your stay in a remarkable way, then I can put this in the class of a Luxury RV Resort.
I won't factor price because luxury is not only relative to the features and quality, but also the location. In addition, price is many times a function of supply and demand, not luxury.
One example of how price is driven up by low supply is Campland on the Bay in San Diego CA. During peak season, you can pay over $500 for two nights on a parking lot just a few feet away from your neighbor. Of course you're on Mission Bay in San Diego, but I wouldn't call this a luxury RV resort. I call it a fun family campground.
Fortunately, or unfortunately, we've only stayed at a few "luxury" RV resorts that I'd say qualify. I say unfortunately because it's only a few, but we are fortunate.
The luxury RV resorts we've visited and loved
Cava Robles RV Resort, Paso Robles CA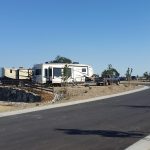 This is the Sun Resorts flagship property. Sun Communities is a Manufactured Home Community REIT that typically buys up RV parks, not builds them from the ground up. In this case, they wanted to show their stuff.
Cava Robles is a luxury RV resort that has two pools, a gym, two different hot tubs, vacation rental cabins, a putting green, a restaurant, pool tables and game room, a bar, meeting rooms, fire pits, golf cart rentals, and all the service you could ask for. Cava Robles definitely qualifies high on my list as a destination luxury RV resort with a ton of amenities.
It's located right in the middle of Paso Roble's wine country and about a mile away from one of the top golf courses on the Central Coast, Hunter Ranch Golf Course. Cava Robles RV resort and the surrounding area truly is a bucket list destination.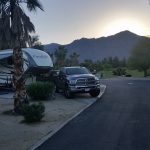 The Springs at Borrego, is an RV resort and golf course near Palm Springs, CA but just West of the Salton Sea. It is in the Anza Borrego Desert State Park which is absolutely gorgeous in the Spring.
Borrego Springs was one of the first trips we took after buying our 2017 Cardinal 5th Wheel. It was April 2017 and the weather was fantastic. Perfect for golf in the mornings, and pool time or spa in the afternoon. The golf course was in fantastic shape and fun to play. We don't play pickle ball or tennis, but the courts are there! Maybe we should learn pickle ball? It's getting very popular.
Anza Borrego Desert does qualify as a destination attraction to many whether it's the beauty of the desert, the wildlife, or the 4×4 trails and off-roading. All of this happens to be our thing, and when you top it off with golf….well, it's a clear winner!
Rancho California RV Resort
The "best kept secret" is how this RV resort describes itself. We visited this little secret in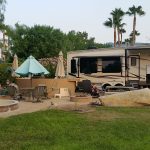 August of 2018 and really enjoyed it. The resort is actually a retirement community with many of the owners parking their RV on the pad for the season. Some leave their RV on their pad and live there year round. Each pad is uniquely appointed; some with having a BBQ and cooking island, gas fire pit, hot tub, landscaping, and tiki huts.
Rancho California is definitely a resort atmosphere with it's golf course, pool, and tennis courts. However, because it's a retirement community, the term luxury may not fit well. After all, this is daily living for the residents, not a vacation. We did enjoy the laid back lifestyle, pool, and golf.
The luxury RV resorts on the list to visit next
Our 2021 RV road trip is a Southern trek to Florida and a middle America route back. We left California mid-February and we'll be returning around mid-June.
As of this date we're not quite to our destination and the two luxury RV resorts we've booked are still in front of us. Most of our stays are either state or regional campgrounds, or they are smaller mom & pop private parks.
The two RV resorts we have booked are listed below, both quite different from the other with the first one being on par with the others we've visited. The second being totally different, but really really cool and we're looking forward to the second location the most.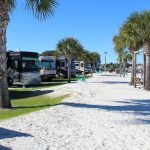 Perdido key RV resort is a small property with just 56 sites. They book completely in high-season and location is probably the number one reason, although the amenities come in at a close second. We chose this property for the location as we wanted to explore the area.
Located on the Fort Pickens Aquatic Preserve, just East of the Perdido Key State Park and West of the Gulf Islands National Seashore, it's just minutes from all that Pensacola has to offer.  Besides a pool, private beach, and other amenities, Perdido Key RV Resort has 23 boat slips in their marina. We don't have a boat, but if we have time, we may get out for some fishing on a charter.
To be specific, we'll be in site #78 which has it's own swim dock and tiki hut. In fact, almost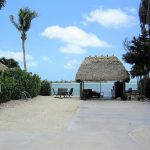 all of the sites at this resort have their own private dock and a tiki hut. Some are more elaborate than others, but the whole concept at this resort is sunsets on the water with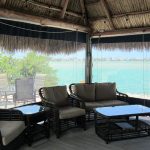 your RV and maybe your boat nearby.
Site #78 at Bluewater Key RV resort is on the water and facing due East, so we should have a great morning sunrise.
We're hoping to experience all that the keys have to offer but specifically for Bluewater Key, we're expecting that the main attraction is the lush landscaping and on-the-water experience. They do have a temperature controlled pool, clubhouse, and laundry, but no restaurant or bar. We'll need to cook all or meals at our site, but it's what we usually do anyway.
The top luxury RV resorts that we'd love to visit next
Rated from first through fifth:
Mountain Valley RV Resort – Located in Herber Valley, UT, the appeal with this property is winter camping in comfort and proximity to skiing at Park City. With all the amenities, a day on the slopes and an evening in the hot tub sounds pretty nice.
Normandy Farms RV Resort – This family campground is interesting because of it's location between Boston and Cape Cod. It's appeal is all the fun activities and amenities, but the location will give us a chance to explore the area with ease.
Oceanside RV Resort – This RV resort is on the rustic side as luxury goes, but the location is awesome! Located right on the beach, and at the mouth of Coos Bay, OR, this property owned by Sun Resorts is a gem. Not really a "luxury" resort, but when you can get on the ocean just North of a bucket list golf course like Bandon Dunes, it's got to make the top 5.
Hilton Head Harbor RV Resort & Marina – Location is a big plus with this RV resort. because the water sports in Hilton Head, NC are off the charts. A water front site with full hook ups and easy access to boat rentals is the draw here. Golf isn't too bad either.
Tiger Run RV Resort – The appeal with this resort is the possibility of doing some Spring skiing and some fishing on the same trip. Located in Breckenridge, CO it has all the amenities you would want after a day killing yourself on the slopes. Not only do you have some nice amenities, with 50 Amp connections, but you've got some great stream fishing all around.
Luxury RV Resorts Summarized
When it comes to luxury RV resorts, you have to consider the fact that you're still "RV camping". The point of camping, whether in an RV or in a tent is getting outside, doing outdoor activities, and enjoying nature.
Not all of us can still sleep on the ground, but we love being outside and glamping in a luxury RV resort allows comfort and convenience. Let's face it, camping on the ocean or on the side of an alpine mountain is about as good as it gets.