What are the top platform tools and features used by the most successful RV owners on RVPlusYou?
The most popular features include our Special Offer, Click to Call, and our Auto Login. Use these and other valuable tools and features to help grow your RV rental business. Want to see more tips for success? Click here. Your success is our success!
The Special Offer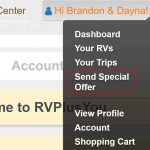 The "Special Offer" comes in two flavors. The first is the SEND. Send Special Offer allows Gold Host RV owners to proactively send an offer (quote) to a user who is NOT already on the RVPlusYou platform. Click 'Send Special Offer', fill out the quote, and your done!
Many RV owners use this tool to send offers to those prospects who inquire about an RV rental through their own website, Facebook Marketplace, or Craigslist. Our cost to RV owners is just 3% and comes with free damage and liability protection, so why not use it?
After receiving a request, you can EDIT your offer and reply. Your "Special Offer" can include changes such as:
Destination – Update the delivery destination to send an accurate delivery fee quote.
RV Type – If one rental is not available, you can choose any other listing on our site to offer.
Pricing – All pricing variables can be changed up or down depending on the situation.
Cancellation Policy – You can alter your policy based on the situation: Flexible, Strict, or Moderate
Click to Call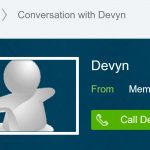 Located in the conversation stream of your inbox, all Gold Hosts have the Click to Call feature. This tool is unique to RVPlusYou and not found on other peer to peer websites.
By allowing trusted RV owners to call the renter prior to approval, a better experience can be had. Renters can also call RV owners before they book. Many novice renters simply don't understand the logistics of campsite reservations, hook ups, or size of the site. It's sometimes necessary to discuss details and logistics before you approve and before the renter books your RV.
Auto Login
All members of RVPlusYou have the AUTO LOGIN feature. Via SMS text messaging, we allow renters and owners to click a link on their phone which sends them straight to their message. Once enabled, each request and reply between RVO and RVR is sent via SMS texting and allows Auto Login with just one tap.
New Features Coming Soon
Fueling our growth are those RV owners who are in the trenches. They are using our software and providing quality service to their guests. We know this, and so we want to hear from you. What are your ideas for new features? What other features can make your business run smoother? What features will give your guests a better experience?
Want to know more about being a Gold Host, get in touch. Have insight to share? Let us know!