There are so many benefits when it comes to taking a family RV trip. RV camping is a great way for families to explore new areas, connect with the great outdoors, and enjoy fun activities such as hiking, biking, and fishing. Plus, staying in an RV allows you to save money on hotel expenses, while still providing you with many luxuries, such as beds, a bathroom, and a living area. RV camping also means that you skip out on all the hassles of setting up and taking down a tent. Another bonus is that an RV provides you more storage space for  toys, bikes, games, and any other fun extras you want to bring, and all of that extra space makes it much easier to stay organized.
All of that said, taking a successful family RV trip requires a good amount of preparation. Here are some of our top tips for planning an RV trip with kids.
Choose a Family-Friendly Location
One of the most important aspects of planning your RV camping trip is choosing a kid-friendly RV camping location. Luckily, many RV parks and campgrounds have playgrounds, swimming pools, and organized activities to keep the kids entertained all day long.
Do some research to find out if the location you're staying at has programs for kids, such as the NPS Junior Ranger Program.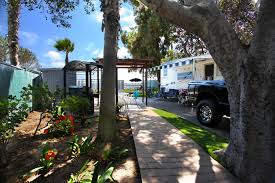 Families who love the beach might enjoy staying at Campland on the Bay in San Diego. This beautiful beach campground is known for offering  exciting planned events and activities for kids.
---
Pick the Right RV
When with kids, you'll want to make sure that you choose an RV with plenty of room so that no one feels cramped. It's also important to make sure that your RV has enough beds for everyone. RVPlusYou has many options for family-friendly RV rentals, such as this RV in Solvang, California.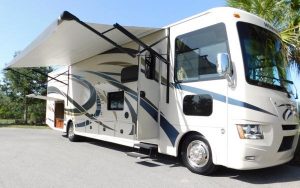 A delivered RV rental is a perfect option for a family RV camping trip. RVPlusYou's RVs are ready to be delivered to your campsite and set up for you. All you have to do is pick your RV, make your campground reservations, and show up. We take care of the rest!
Pack snacks
The last thing you want is to hear your kids complaining that they're hungry. Make sure to bring plenty of snacks that are easy to take on-the-go.
Bring a First Aid Kit
It is always smart to come prepared for anything that might happen while on your RV vacation. This is why it is a good idea to bring a first aid kit stocked with items like Band-Aids, antiseptic, medication, and anything else you might need.
Overall, the fun of spending time in the great outdoors combined with the conveniences of staying in an RV make RV camping an excellent choice for families with kids of all ages. Some careful research and planning ahead will ensure that your family has an unforgettable RV trip.