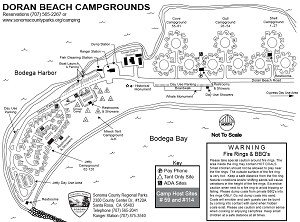 ---
Doran Regional Park Campground has 120 campsites available year-round, for access by tents, trailers, and RVs. Note that hook-ups aren't available, and that generator hours are from 8 am to 8 pm.
Doran Beach has four different campgrounds. Shell, Gull, and Cove campgrounds are on the other side of the road from Doran Beach. The Jetty campground is on the same side of the beach.
Doran Beach offers walking trails, and dogs on leashes are welcome. Boating, kayaking, and fishing are available. Birdwatching and flying kites are popular activities.
Beach wheelchairs are available.

If you would like an RV rental delivered to your campsite, simply click the button to search RV rental options.
Doran Regional Park Campground
201 Doran Beach Road
Bodega Bay, CA 94923
Reservations:
Call: (707) 875-3540