---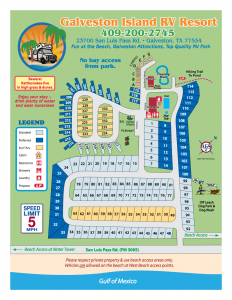 Galveston Island RV Resort is situated right by the ocean and features wide level RV sites and even an RV club event center with a wrap-around deck for stunning views of the Gulf of Mexico. This is the perfect place to stay for a family vacation.
If you're planning a trip to the Galveston Island RV Resort, why not opt for a delivered RV rental? You won't have to drive or tow the RV on our own and everything will be hooked up prior to your arrival. Ready to leave? No worries, the owner will come by and pick it up – nothing needed from your end.
Amenities
There are a plethora of amenities at the resort from easy access to the beaches that you can either walk or drive to, full hookups, a swimming pool, and even a lazy river and hot tub.
Sites at the resort are both spacious and eco-friendly, and there are also picnic tables and grills at all sites.
Feel free to play a game of volleyball, head to the private pond for crabbing and fishing, relax at the Clubhouse, and more.
If you've forgotten anything, you can also head to the convenience and gift store to stock up on supplies.
Attractions
There's plenty of attractions near the resort from The Historic Strand District to The Ocean Star Offshore Drilling Rig and Museum.
There's also Galveston Pleasure Pier if you're looking for some thrilling rides along with La Kings Confectionery for some delicious candy and ice cream.
Seawolf Park is also a great place to head to as it houses the remains of the WWI tanker – S.S. Selma, the largest. concrete ship constructed.
If you would like an RV rental delivered to your campsite, simply click the button to search RV rental options.
Galveston Island RV Resort
23700 Termini-San Luis Pass Road
Galveston, Texas 77554 
For more information:
Call: (409)-200-2745