---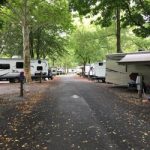 When it comes to RV Camping, Central Pennsylvania is a wonderful vacation destination that is filled with fun tourist attractions. There's Penn State, Amish Country, Gettysburg, and Hershey Park, just to name a few! This is our choice for top 10 RV camping destinations in Central Pennsylvania.
RV camping allows you to experience all that Pennsylvania has to offer while having the comfort of your RV to return to at night. Here are some of our top picks for RV camping destinations in Central Pennsylvania.
For a list of RV rentals that deliver to these campgrounds, click here.
Location: Hummelstown, PA
RV camping at Hersheypark Camping Resort is a great way to enjoy all of Hershey Park's wonderful attractions. Campers get to enjoy many benefits, including extended park hours and good deals on ticket prices. The array of fun campground activities, nearby attractions, and convenient amenities make this resort an enjoyable place to stay for the whole family.
Amenities:
Full hookups
30 & 50 Amp electric
Regular and pull-thru campsites
Bathrooms and showers
Dumping station
2 pools
Fire rings and picnic tables
WiFi
Laundry facilities
Ice, wood, and LP gas available
Volleyball courts
Horseshoe pits
Country store
Location: Lebanon, PA
Hershey RV & Camping Resort is located in Pennsylvania Dutch Country near many amazing attractions, including Hershey's Chocolate World and Zoo America. The resort has an activities director, programs for kids, arts and crafts, and more. There are so many opportunities for entertainment, plus the location is perfect for going out and exploring the local area. This ensures that everyone who stays here will find activities that they enjoy.
Amenities:
320 RV sites
Full hookups
30 & 50 Amp electric
Pull-thru sites
Laundry facilities
Pool & hot tub
Bathrooms and showers
WiFi
Satellite TV
Camp store
Clubhouse
Pet-friendly
Library
Fishing
Pickleball
Volleyball court
Basketball court
Tennis courts
Playground
Location: Elysburg, PA
Knoebels Campground is a great family-friendly campground in a forest setting. Campers can make reservations one year ahead of time with a minimum two-night requirement. Staying at this campground is wonderful as it allows you to enjoy the day at Knoebels and then return to the comfort of your RV at night.
Amenities:
30 & 50 Amp electric
Pull-thru sites
Bathrooms and showers
Laundry facilities
Water filling stations
Dump station
Pet-friendly
Play area
Pool
Location: Mifflintown, PA
Buttonwood Campground is located in Central Pennsylvania, in the Juanita River Valley. The campground offers a variety of planned activities for visitors of all ages to participate in. There are also plenty of options for on-site entertainment, including pedal carts, mini-golf, laser tag, hayrides, and playgrounds.
Amenities:
Full hookups
30 & 50 Amp electric
Pull-thru sites
Dumping station
Bathrooms and showers
Laundry facilities
WiFi
Propane
Firewood
Camp store
Golf cart rentals
Rec hall
Ice
Pet-friendly
Location: Robesonia, PA
Adventure Bound Eagles Peak is located in Amish Country and is a perfect location for you to experience all that Central Pennsylvania has to offer. Campers will enjoy all of the resort's on-site activities, including a splash park. Overall, this site does an excellent job of mixing the joys of spending time in nature with access to convenient amenities.
Amenities:
Laundry facilities
WiFi
Cable TV
Camp store
Recreation lodge
Two heated pools
Two playgrounds
Fishing pond
Pet-friendly
Mini golf
Camp store
Location: East Stroudsburg, PA
Otter Lake Camp Resort is a year-round campground located in the Pocono Mountains. The resort offers fun activities for every season, including softball, movies, Bingo, ceramics, and much more! In addition to planned activities, you can rent canoes, paddleboards, and rowboats, as well as go fishing in the lake.
Amenities:
Full hookups
30 Amp electric
Pull-thru sites
Lakefront sites
WiFi
Cable TV
Bathrooms and showers
Convenience store
Two Laundromats
Indoor, outdoor, and kiddie pools
Hot tub
Splash park
Tennis courts
Basketball court
Racquetball courts
Softball field
Four playgrounds
Horseshoes
Shuffleboard
Bingo
Rec hall
Game room
Location: Quarryville, PA
Jellystone is a perfect destination for those looking to explore the local area, as it is located near Amish Country as well as many other attractions. While visiting this resort, you can enjoy swimming, a jumping pillow, and many other exciting on-site activities.
Amenities:
Full hookups
30 & 50 Amp electric
Pull-thru sites
Back-in sites
Cable TV
WiFi
Camp store
Pavilion
Pet-friendly
Laundry facilities
Bathrooms and showers
Free trash pickup
Pic-A-Nic Basket food truck
Location: Gettysburg, PA
Gettysburg Campground is located in historic Gettysburg, Pennsylvania. The entertainment opportunities are endless here, with fishing in Marsh Creek, mini-golf, a game room, a swimming pool, and much more! History fanatics will enjoy exploring the museums and Civil War battlegrounds in downtown Gettysburg. There are also a variety of shops and restaurants to visit. Additionally, there are bus tours that take campers from the grounds to Washington DC and Gettysburg. A bonus about this campsite is that it has an RV repair facility on the grounds, in case you experience maintenance troubles. Whether you are looking to explore, enjoy the on-site activities, or just relax, you are sure to have an enjoyable stay at Gettysburg Campground.
Amenities:
Full hookups
260 sites
30 & 50 Amp electric
2 dump stations
On-site pump out service
WiFi
Cable TV
Camp store
Bathrooms and showers
Laundry facilities
Pet-friendly
Pool
Playground
Mini golf
Fishing
Hayrides
Sand Volleyball
Shuffleboard
Horseshoes
Softball field
Bingo
Game room
Firewood
Snack bar
Ice cream parlor
Recreation hall
Location: Northumberland, PA
Splash Magic Campground is a fantastic choice for a family camping trip with many options for on-site events and planned family activities. The grounds are located in the Susquehanna River Valley, and from here, you can easily access Central Pennsylvania's incredible attractions. Another plus is that the campground has an on-site certified RV mechanic.
Amenities:
Full hookups
30 & 50 Amp electric
Pull-thru sites
Laundry facilities
Bathhouses
Pet-friendly
WiFi
Playground
Pool
Camp store
Snack shack
Pavilions
Golf cart rentals
ATM
Propane station
Location: State College, PA
Penn State is considered one of the U.S.' top colleges for tailgating. There are a few different lots where fans can set up their RVs on game-day. Tailgating at Penn State is truly an exciting experience, as the fans are full of spirit. Remember to stock up on food, drinks, and any other tailgating essentials!