---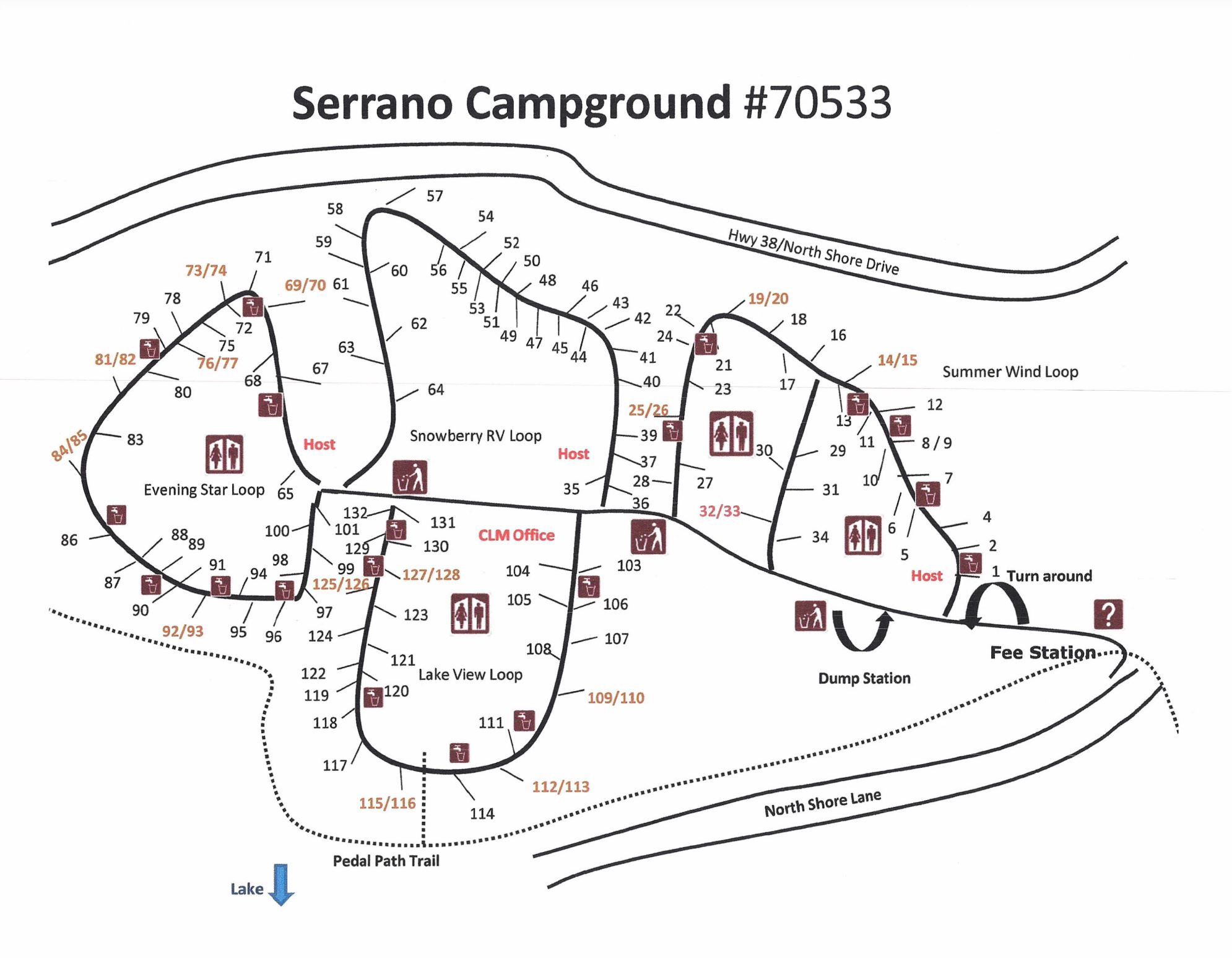 Serrano Campground is a scenic and modern campground that provides you with a variety of outdoor recreations. Nestled in a pine forest, the campground is within walking distance of Big Bear Lake. With 109 campsites, of which 16 are double sites and 29 have full hookups, Serrano Campground has what is necessary for your holiday getaway. Click here to find out more.
Amenities
Accessible Flush Toilets
Drinking-Water
Dump Station
Educational Programs
Electric Hookups
Entrance Station
Firewood
Flush Toilets
Interpretive Trails
Pets Allowed
Picnic Tables
RV Parking
Sewer Hookups
Showers (temporarily closed)
Fire Pit
Picnic Table
Food Storage Locker
Drinking-Water (hand pump)
Paved Parking
Trailheads
Paved Sites
Firewood Vendor
BBQ
Accessible Campsites
Accessible Parking
Accessible Grills
Accessible Showers
Paved Roads
Accessible Walkways
Parking Area
Accessible Picnic Area
Campfire Rings
Attractions
Serrano Campground offers a beautiful place for campers to come to enjoy beautiful Big Bear Lake. It is a scenic and fairly modern campground that provides access to a variety of outdoor recreational opportunities – such as mountain biking, road cycling, tennis, golf, paddle boarding, canoeing, kayaking and many more.
If you would like an RV rental delivered to your campsite, simply click the button to search RV rental options.
Serrano Campground
40800 N Shore Dr, Fawnskin, CA 92333
For more information:
Call: (909) 866-8550, (909) 866-8021
Email: https://recreationonestopprod.servicenowservices.com/external?id=external_contact_us