---
Reno is a popular vacation destination that is famous for its many casinos, wonderful museums, and ski resorts. Many people enjoy packing up their RVs and taking them to Reno, and there are many exceptional RV parks in the area. These are our top 10 recommendations:
Location: Reno, NV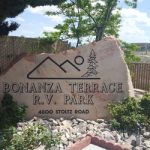 Bonanza Terrace RV Park is the perfect home base for a Nevada camping trip as it sits minutes away from Lake Tahoe, Virginia City, and Carson City. From here you can take part in all of the fun activities that this area has to offer, such as skiing, fishing, and golfing. Additionally, the park is three miles away from downtown Reno. The best part about staying at this park is its affordable prices. You get all the amenities that you need for an enjoyable stay at a reasonable cost.
Amenities:
80 full hook-up sites
20/30/50 Amp electric
Bathrooms and private showers
Laundry facilities
Cable TV
Wifi (office hot spot)
Paved interior roads
RV/Boat/Automobile storage available
Location: Reno, NV
River West RV Resort has a very interesting history. The grounds are located in Reno, near the Truckee River.  Originally, the land started out as Chism's Auto Camp in 1927. The campground continued to expand over the years, and after WWII, the property was used to house returning war veterans using the GI Bill to attend the University of Nevada. Eventually, years later, the property was transformed into an RV resort.
124 sites
Full hookups
30 and 50 Amp electric
Pet-friendly
Laundry facilities
Restrooms and showers
Cable
Wifi
Walking paths
Location: Sparks, NV
Sparks Marina RV Park boasts fun for the whole family with a playground for the children and an off-leash dog park. The park offers a multitude of amenities for those looking to embark on an RV trip to the Sparks/Marina/Tahoe area. The grounds sit next to a public park with a lake, which allows for boating and fishing. If you stay here, you will encounter well-maintained grounds and high-quality facilities.
204 sites
122 pull-thru sites
Full hook-ups
30/50 Amp electric
Cable TV
Free wifi
Laundry facilities
Clubhouse
Pet-friendly
Propane for sale
Putting green
Pool and spa
Bathrooms
Location: Sparks, NV
Victorian RV Park is a great option if you are looking to visit the Reno, Sparks, and Lake Tahoe area. The park is nicely landscaped with many beautiful trees. There are wonderful on-site amenities to enjoy, as well as a variety of nearby attractions. The park is only a short walk from several restaurants, casinos, shops, and the Sparks Marina Park. This is a great location for anyone looking to have an enjoyable RV vacation.
Amenities:
Pull-thru sites
Dump stations
30 and 50 Amp electric
Cable TV
Free Wifi
Telephone service
Incoming and outgoing mail service
Laundry facilities
Mini-market
Pet-friendly
Bathrooms and showers
Complimentary bike rentals
Virginia City RV Park and Market
Location: Virginia City, NV
This location is only a short walk from downtown. Some of the local attractions are restaurants, shops, museum, a train ride, and tours of the town. The on-site market includes video rentals, groceries, hardware, alcohol, and tobacco. Located just across the street are a public pool and park. There is no shortage on opportunities for entertainment at the Virginia City RV Park and Market!
Amenities:
50 full hook-up sites
1-50 Amp
Free wifi
Market
Laundromat
Propane tank exchange
Pet-friendly
Location: Reno, NV
Shamrock RV Park is just a few minutes away from downtown Reno. There are plenty of spaces for large RVs as well as parking for any additional vehicles that you bring. If you stay here, you will find yourself near many amazing trails, rivers, lakes, golf course, and ski slopes. From hiking, to boating, to fishing, and much more, here is no end to the activities that you can participate in.
Amenities:
121 paved sites
Full hookups
30 and 50 amp electric
Propane for sale
Bathrooms and showers
Wifi
Pool
Pet-friendly
Picnic areas
Laundry facilities
Gift shop
Exercise room
Location: Reno, NV
Reno RV Park is conveniently located near the many attractions that Reno has to offer, including the Reno Aces Ballpark and the Livestock Events Center. Pets are welcome, and the grounds have a dog run that allows your pets to get some exercise. The central location makes this an excellent option for those looking to stay near the heart of Reno.
Amenities:
46 paved and level sites
Full hookups
30 amp electric
Bathrooms and showers
Coin-operated laundromat
Pet-friendly
Wifi
Coded security gate
Location: Truckee, CA
Truckee River RV Park sits along the Truckee River and has a beautiful view of the Sierra mountains. It is located 18 miles from Lake Tahoe and is only a short drive from the many ski lodges in the area. This is an excellent location for those who love spending time in the wilderness. There is plenty of opportunity for outdoor activities, such as fishing, hiking, boating, golfing, skiing, snowboarding and much more! There are also many shops and restaurants to explore in the nearby historic downtown Truckee.
Amenities:
Full hookups
30 and 50 Amp electric
General store
Pet-friendly
Propane for sale
Wifi
Laundry facilities
Bathrooms and showers
Location: Reno, NV
Grand Sierra Resort RV Park has all of the features that you need for an amazing RV vacation, including large RV spaces. From here, you can enjoy all of Grand Sierra Resort's incredible amenities. This is a great option for those who are looking for the true Reno experience. Hit up the resort's casinos or hit up a show. The entertainment options are endless!
Amenities:
Full hookups
30 and 50 Amp electric
Pull-thru sites
Pet-friendly
Wifi
Bathrooms and Showers
Pool
Casino
Rec room
Camp store
Pyramid Lake Marina and RV Park
Location: Reno Nevada
Pyramid Lake is the historic home of the Paiute Tribe and is one of the largest natural lakes in Nevada. Those who stay on these grounds will experience many fun outdoor and water activities, including fishing, hiking, canoeing, boating, and much more. From here, you can conveniently access Nevada's many wonderful attractions, such as casinos, restaurants, The Discovery Museum, Mt. Rose, and the Reno Air Racing Association.
Keep in mind that if your RV is older than 1990, it will require inspection from The Park Ranger before it is admitted.
Amenities:
44 sites
30 Amp electric
Full hookups
Dump station
General store
Bathrooms and Showers
Pet-friendly
Laundry facilities
BBQ and grill